Home > Diving Philippines > Philippines Dive Resorts
Club Paradise
Palawan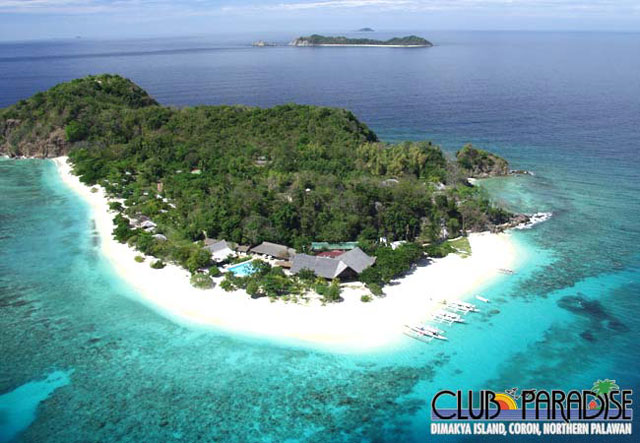 A mere 60 minutes by plane southwest from Manila, and another 60 minutes ride by land and by sea is the 19-hectare island of Dimakya, home to Club Paradise. This island resort, blessed with 700 meters stretch of sun kissed talcum soft white beach and turqoise waters, serves as a sanctuary to a wide array of unique flora and fauna.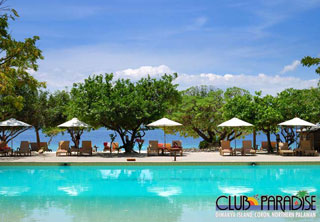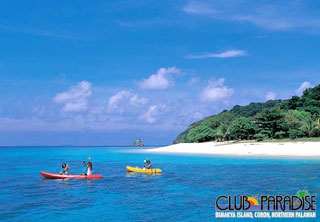 Accommodations
Guest rooms are divided into 3 phases, namely: Sunset Beach, Sunrise Beach, and Islandview. The architecture of the phases 1 and 2 is a modern version of the Filipino hut or bahay kubo. Phase 3 or the Islandview are the apartments and the junior suites housed in an apartment building. The structure is built on the side of a hill fronting the island's natural lagoon.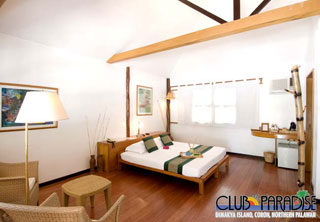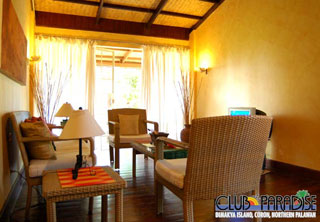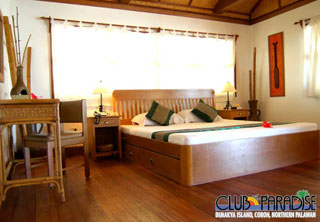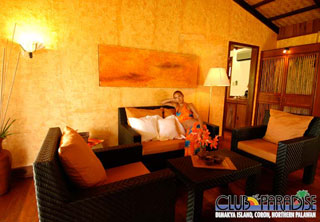 Dugong Dive Center
Club Paradise Resort is centrally located in a known Scuba Diving area. The reef surrounding the island, known as the Housereef, a favorite site because of easy access and its abundant fish life. Next to this reef is a known feeding ground for green turtles and the dugong (sea cow). A few other reefs can be accessed from the resort within 20 minutes. Another prime dive site, the Japanese freighter Kyokuzan Maru, can be reached within 30 minutes from the resort.
Moreover, with "M/V Karen Claire", divers can go to Apo Reef Natural Park, a world-class diving destination, or to the westernside of Busuanga where there is good number of wrecks from World War II.
Dimakya Island, home to Club Paradise, is a turtle nesting site. We boast an extensive hatchling rearing and release program.
Under protection for over 15 years, our House Reef is one of the best reefs around. With beach-entry, you just gear up and go whenever you like.
Dugong-watching is a professionally produced eco-tourism activity, takes divers and non-divers along the leghthy coast of Busuanga to see gentle dugongs in the wild.
The Apo Reef Natural Park, with more than 20 dive sites, will truly fascinate you with its magnificent walls and large fish species. The reef plateau will surely impress divers and snorkelers alike.
Dive the Coron Shipwrecks from World War II which are now amazingly covered with marine life. One of the best, the Kyokuzan Maru, is only 30 minutes away.
Overnight excursions will show you the best the sites can offer.
For longer and safer dives, we offer Nitrox.
Training Programs from PADI, SDI and TDI are available.