Home > Diving Philippines > Philippines Dive Resorts
Sampaguita Resort
Tongo Point, Moalboal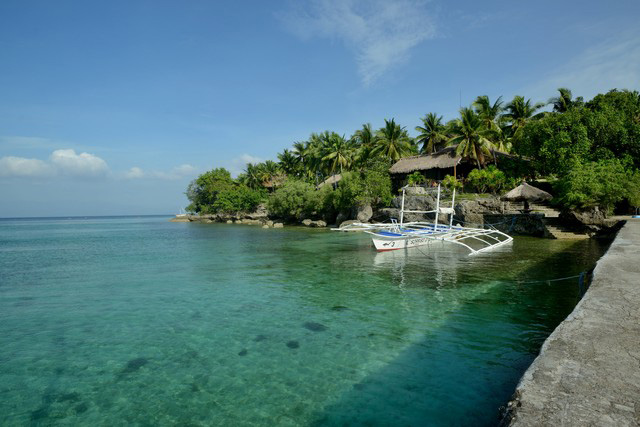 Sampaguita is located south of China and Taiwan, north of Malayan Borneo and Sulawesi Islands, among the Southern China Sea, Sulu Sea, Celebes and Philippines Sea. It lies where the Indian and the Pacific Ocean meet, in the heart of the Philippines archipelago (made of 7107 islands known as Smile Islands) and Visayas Islands.
The Resort is located along the south western coast of Cebu Island (called South Sea Pearl), in Tongo Point, facing Negros Island, in Badian bay, surrounded by a tropical garden, shadowed by gigantic palms, rustling in the marine breeze, lapped by crystal waters.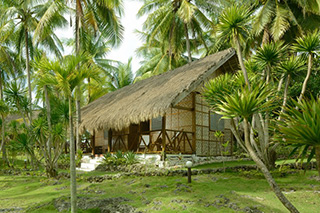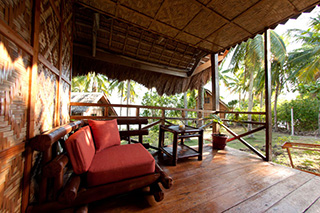 Accommodation
Sampaguita Resort is made of simple traditionally styled bungalows, in total harmony with the surrounding environment, plus an Italian touch due to the presence of Sergio Forti, diving instructor, who, few years ago, choose to settle down definitely in the simplicity of this secluded corner of the globe.
The environment is friendly, relaxed and casual. It is practically impossible to be left on your own, without making friends with other guests, many of them already at the second or even third "return to Sampaguita".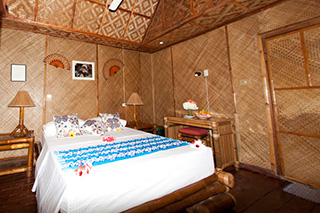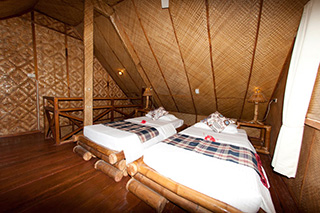 Rooms are essential, made of wood and wowed fibres panels; the roof is in cocoon, perfectly waterproof vegetable fibre, the floor in coconut bands. Each room, of about 20 square metres, has a double bed or twin beds, wardrobe, refrigerator and minibar with the relevant table. Furthermore it is available a gate-legged table, upholstered with anti-shock and anti-slide cover, equipped with professional lighting for care and maintenance of photo equipment, blade fan, hot and cold water services, patio with armchair and deckchair.
Rooms are 14, eight of them double or twin. Six of them, the largest ones, can be made available for three persons (family arrangement). Some of the rooms have double level, all but one, have sea view and are placed in heightened bungalows, each one of two rooms.
For all guests are also available a sea facing bar restaurant, TV corner, diving shop, solarium, ample garden. All the facilities are placed in a open air area under cocoon sheds. Meals are a selection and a mix of local traditional food, made essentially of fish specialties, often combined with Italian gastronomic specialties of ever loved "pasta".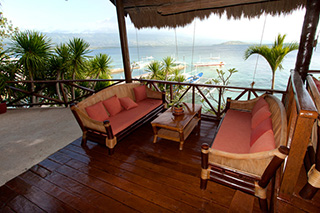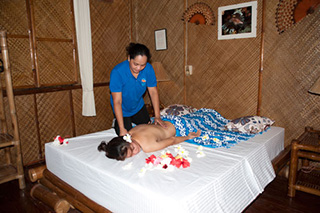 Diving
The Sampaguita Resort has got a directly managed dive shop, placed at about 20 metres from the restaurant and at about 100 metres from the last bungalow. The dive shop is fully equipped with about 20 complete high quality and full performance diving sets.
Equipment clearing pool, wide space for personal equipment and for photo and video equipments, drying racks, minor repairing emergency laboratory, are available to all. Naturally the equipment can be left at the diving shop custody.
Sampaguita Resort has two 15 metres large boats, each suitable to accommodate 20 fully equipped divers.
The two special boats, called Bangkas, built according to the marine Philippine tradition, with extended keel, minimum draught, typical side stabilizers which give the boat a seagull wing shape, can reach undamaged and without damaging the coral reef, the several different diving places in the area.
The nearest diving point, at only three and half miles from the Resort (about 10-12 minutes navigation), is Pescador Island, one of the most famous diving spots of the Indo Pacific area; the most distant (about 30 minutes navigation) is Sunken Island, a shoal, a not surfaced island, with its top at about 24 metres underwater, in the middle of Negros channel.
Diving sessions in these waters are always pleasant and relaxing for the water temperature that is never under 26 degrees Celsius, for the visibility that is rarely lower than 15 metres, for the kindness and professional aid of the "bankeros", who recuperate the whole equipment before returnig on the boat, for the competence of dive guides, who, as natives, know the diving sites as well as their own houses.