Home > Diving Galapagos > Galapagos Liveaboards
M.C. Seaman II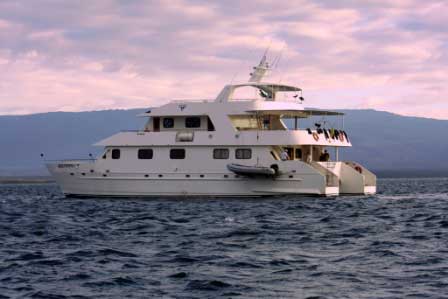 M.C. Seaman II is a first class catamaran that began sailing the Galapagos Islands in January 2008. She is a luxurious catamaran offering superior comfort, size, style, and stability. The Seaman II makes it possible to enjoy several cruises in the Galapagos with different itineraries that include amazing land tours on most of the Galapagos Islands. During these Galapagos cruises our guests will encounter many endemic species like Galapagos Giant Tortoises, Penguins, Land and Marine Iguana's, Frigate Birds, Blue Footed Boobies, and much more!
During one of the cruises each guest can enjoy the well-furnished areas offering comfort and privacy. Seaman II has a maximum capacity of 16 passengers allowing both intimacy and camaraderie at the same time.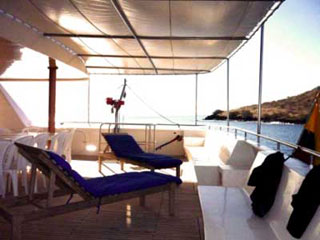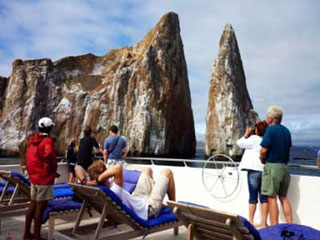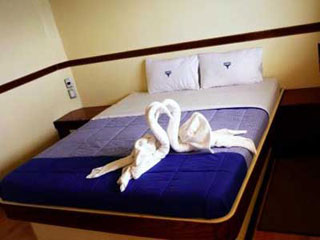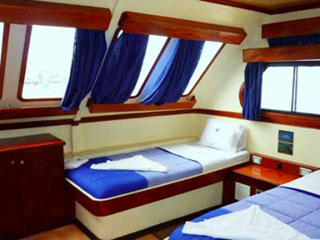 Excursions
All of our guides are certified by the Galapagos National Park and have gone through intensive training programs. They have several years of experience and a strong passion for sharing their knowledge of the wildlife, biology, geology and natural history of the islands. You will find that your guide is passionate with the conservation of the islands and is very strict when it comes to following and enforcing Galapagos park guidelines and rules. Your guide will be eager to share his/her knowledge, giving on-sight briefings during your shore excursions, as well as evening lectures.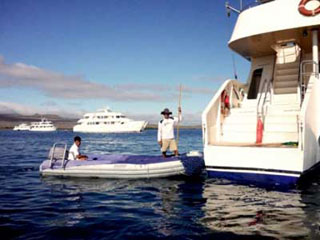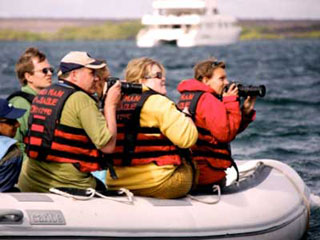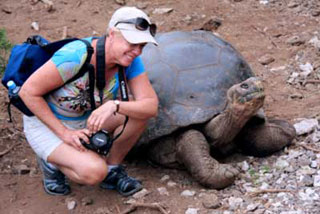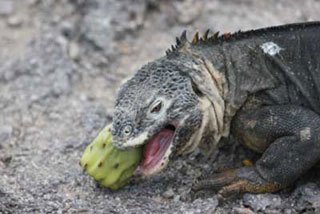 Nature Lectures
After a full day of visits you will get to learn a little more about the sights you visited and will be able to ask your guide specific questions about wildlife, geology, marine life, biology, and other topics that interest you regarding the Islands. You will find your evening briefings are also a great opportunity to get to know your fellow travelers and share anecdotes from the day's activities.
Service On Board
Each meal on board is a treat for the taste buds as our chef prepares the finest international and local dishes using fresh ingredients of the highest quality. All meals include the choice of meat, poultry or seafood. We can also cater for vegetarians and individuals with other dietary choices and needs. Salads are freshly tossed and fresh fruit is always available. We also have a selection of the best wines from around the world to compliment your meals. In addition we serve a variety of alcoholic and non-alcoholic beverages to your fancy.
Specifications
| | |
| --- | --- |
| Type: | Motor Catamaran |
| Category: | Luxury Naturalist Liveaboard |
| Material construction: | Fiberglass |
| Length: | 90 feet (27.6 meters) |
| Beam: | 36.08 feet (11 meters) |
| Draft: | 4.75 feet (1.45 meters) |
| Year build: | 2007 |
| Main engines: | 2x Cummins 350 hp IMO |
| Electric system: | 2x 50 kw IMO |
| Electric power: | 110v and 220v AC/DC |
| Cruising Speed: | 10 knots |
| Water capacity: | 3000 gallons |
| Diesel capacity: | 2500 gallons |
| Passengers: | maximum 16 |
| Crew: | 9 members |
| Diving: | Sport platform |
| Equipment for sports: | Snorkeling (free use of equipment), sea kayaking and surfing |