Home > Diving Galapagos > Galapagos Liveaboards
Galapagos Master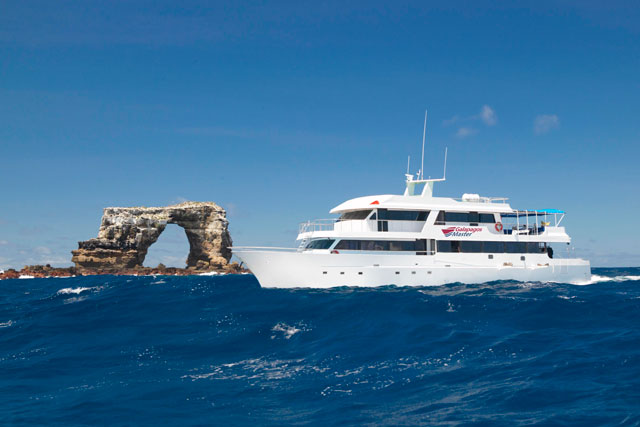 Built of steel and with a cruising speed of 12.5 knots the Galapagos Master is set to be the most eco-friendly, dive liveaboard in the Galapagos Islands.
She has 9 well-appointed modern cabins, a spacious interior and generous outside space for relaxation and dive gear preparation.
Our experienced crew of 10 is waiting to welcome you aboard and show you the best of the Galapagos, both underwater and on land.
Yacht Information
Built in 2004 the yacht, known as Deep Blue, is set to join the Master Liveaboards brand and undergo a full refit in November 2014. The refit will be supervised by the experienced yacht builders of Worldwide Dive and Sail, Jan & Frank van der Linde, who have also brought you the Siren Fleet.
Communal areas comprise of a spacious indoor lounge, on the middle level, with cushioned bench seating and plasma screen for movie and photo viewing. Adjacent to the lounge is our indoor dining area complete with cocktail bar. An indoor camera set-up station, with numerous charging points (US round pin plug) and storage drawers is situated to the rear providing ample room for a full photography charter group. Further camera preparation areas can be found on the rear deck next to the dive deck.
The upper level has shaded outdoor bench seating with cushioned loungers from where our guests can enjoy the fresh air and views of The Galapagos. For those who enjoy to relax in the sun there is the top level sun-deck or upper level bow area with additional cushioned loungers provided for your comfort.
Guests are free to take advantage of the gangways on both the port and starboard sides to walk around the yacht or visit the Captain in his bridge on the upper deck.
The dive equipment set up is found on the aft deck of the lower level. We provide individual set up areas, with under bench storage for all your personal items. Rinse tanks are conveniently located for washing dive equipment and camera gear, whilst there are 2 shower heads for those wishing for a quick post-dive rinse down. A further 2 deck heads are situated on the starboard side of the boat, just in front of the salon entrance.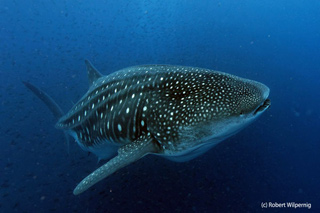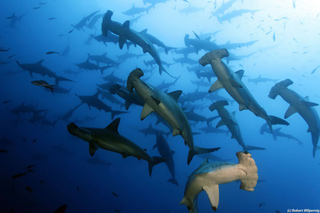 Diving the Galapagos
The most spectacular pelagic diving on the planet!
The Galapagos is one of those rare places where you can dive through hundreds of hammerhead sharks to find a whale shark cruising along. Toss in silky sharks, sea turtles, giant morays and schooling fish in their thousands… And that's just the first dive at Darwin!
At Wolf Island you can expect huge Galapagos sharks and eagle rays up close whilst dives at Cabo Marshall will put you face to face with giant manta rays and inside a school of millions of black-striped salemas. Mola mola (sunfish) may be seen in the depths too.
Macro life is plentiful. Black coral bushes shelter seahorses, blennies, nudibranchs, hawkfish and frogfish. Sea iguanas are a unique sight, along with speedy penguins and playful sea lions.
This is but a mere taste of why divers consistently proclaim the Galapagos to have the healthiest marine life in the Pacific.