Home > Diving Galapagos > Galapagos Liveaboards
Nortada

Nortada was built in France by Naval Builder Guy Couach in 1986. The 18 meter / 60 foot fiberglass yacht served as a naturalist cruise boat and dive live-aboard for nearly 15 years.
In early 2012 the Board of Directors of Rolf Wittmer decided to rebuild Nortada as a private charter dive live-aboard for small groups of up to 8 guests. This new live-aboard concept targets groups with specialized diving needs, maximizes the value of live-aboard dive departures and offers unprecedented privacy, even for small groups.
Nortada will regularly offer 7 night itineraries to Wolf and Darwin. Some of the specialized products Nortada will offer to her clients include full rebreather and technical diving support, photo – video oriented departures, citizen science programs maintained in partnership by leading research institutions and private celebrity expeditions. High and Low season itinerary options are available.
Areas and accommodation:
Upper Deck: Fly bridge, sun deck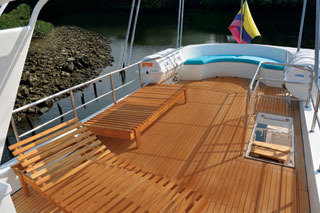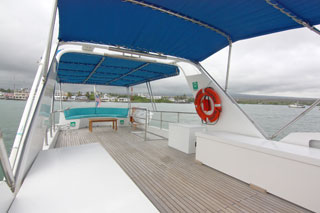 Main Deck: Bridge, Galley, Air Conditioned Dining Room and Lounge. Dive platform with ample benches, outside showers, camera tables and rebreather rinsing facilities.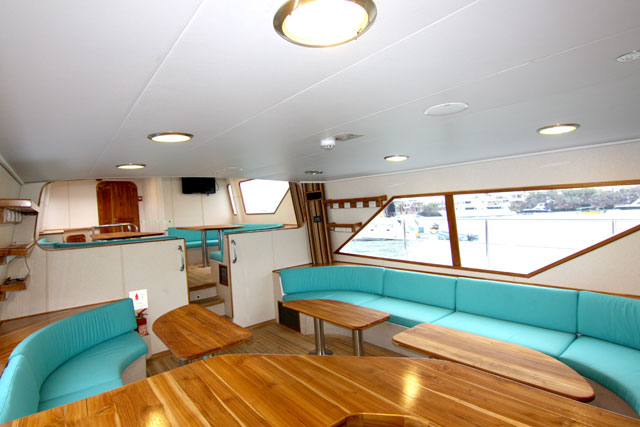 Lower Deck: (4) fully air conditioned cabins with two single lower berths and one single upper berth. Each cabin has: private bathroom, lockers and drawers.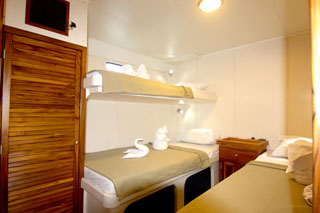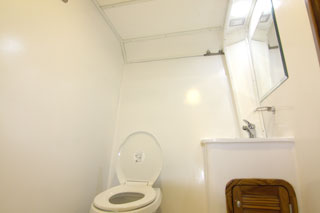 Dive Equipment And Facilities:
Gas Filling: Twin Nuvair HP compressors, one electric one Diesel; Nitrox / Trimix LP system features compressor, membrane and Helium intake. Redundant Oxygen Clean Haskell Sport Boosters. Portable Tri Hunter 3000 Gas mixing stick.
Cylinders: 30 aluminum 80 cu ft / 12 liter cylinders, 15 for air and 15 for Nitrox; 15 aluminum 100 cu ft / 15 liter cylinders. All cylinders fitted with XS Scuba PRO DIN Insert valves. 10 nitrox compatible 40 cu ft / 6 liter aluminum bailout cylinders rigged as stage / sidemount. 20 steel 19 cu ft / 2 liter rebreather cylinders fitted with various valves.
Gas Analysis: 02 Nuvair Nitrox analyzers. 01 Analytical Industries Trimix Analyzer.
Diver safety: 10 Nautilus Lifeline bi-directional VHF/DSC marine radio with GPS; 10 Dive Alerts; 10 Reef hooks; 10 emergency strobes; 10 DSMB's.
Miscellaneous: Complete toolkit and a selection of solid lead weights and trim soft pouches.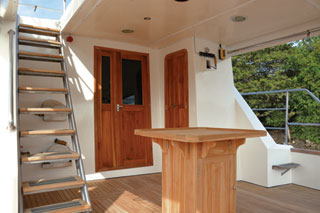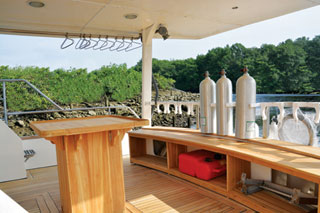 Diving
View Sample Itinerary [pdf]