Home > Diving Galapagos > Galapagos Land Tours
7 Night Itinerary
Galapagos Island hopping 3 Islands: Santa Cruz, North Seymour, Isabela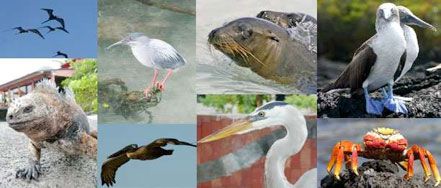 HOTELS
Moderate
Santa Cruz - Galapagos Suites
Isabela Island - Casa Marita
COST: Please request pricing
Included in Prices:
Hotels (double occupancy)
Breakfasts
Tours
Lunches included with specified tours
Inter island transport by boat
Not Included in Prices:
Inter-island flights (instead of ferries)
Humboldt Explorer
Isabela Island Exit Tax ($20)
Dinners or lunches except where specified
Transfer hotel to pier/water taxi Santa Cruz
Breakfast on day of return from Isabela
Note: Isabela activities may be rearranged according to flight times, tour times and tides.
ITINERARY
Day 1
Arrival to Santa Cruz Island. Visit to the highlands of Santa Cruz to see the giant tortoises and lava tunnels.
Day 2
Tour of North Seymour (pickup 8:00 AM - returns late afternoon)
Easy to Moderate - even terrain, snorkeling optional in Seymour
30-45 ft. boat - maximum capacity 16-20 passengers
Transfer by taxi or bus to Baltra Island about 1 hour
Boat transfer to Seymour Island (approx. 30-60 min.) or Plazas
Tour the island to see bird colonies, as well as the unique flora and fauna, and topography of the island. This is an ideal opportunity to observe booby and frigate colonies at very close proximity.
Lunch included
Optional snorkeling(short time period)
Return to Puerto Ayora, Santa Cruz Island
Day 3
Free morning in Santa Cruz
2 p.m. Transfer to Isabela Island by boat (included)
Day 4
Tour to Volcano Sierra Negra (8:00 AM - about 2pm)
Strenuous - hiking over uneven terrain
transportation to the highlands
three hour strenuous hike to the world's second largest volcanic crater
on a clear day enjoy the view of the northern volcanoes of Isabela and Isla Fernandina from Volcan Chico
Hike back down to the bus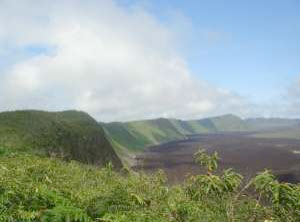 Tintoreras/Bay Tour of Isabela (3:00 PM depending on tide)
Easy to Moderate - kayaking
Kayaks - maximum capacity varies
look for the small Galapagos penguins on the rocks or fishing
snorkel in the bay with sea lions, white-tip sharks, rays, sea turtles and reef fish (snorkeling is a very small part of the tour)
paddle through lava formations that are other-worldly
visit a marine iguana colony and a sea lion colony near by
Day 5
Tour to Los Tuneles
(time of day depends on tide)
*Boat transfer to Los Tuneles (approx. 45-60 min.)
*Tour the interesting rock formations by boat to see blue-footed boobies, penguins, turtles. Enjoy the arches, overhangs and other unique topography of the this area
Optional snorkeling to sea seahorses, turtles
*By most visitors to Isabela this is rated the best day tour - a "hidden gem"
Day 6
Free day in Isabela on your own - suggestions:
visit the tortoise breeding center
walk back to town on a boardwalk through the wetlands
look for flamingos feeding in the lagoons
Visit the Wall of Tears
Day 7
6:00 am transfer to Santa Cruz Island
Free day to enjoy Santa Cruz island, visit Tortuga Bay Beach or Charles Darwin Centre
Day 8
Transfer to Baltra
to connect with flight to mainland Ecuador
For more information
Contact:
Dive Discovery
@
1 800 886-7321
(415) 444-5100
or
Request Info