Home > Diving Galapagos > Galapagos Liveaboards
Celebrity Xperience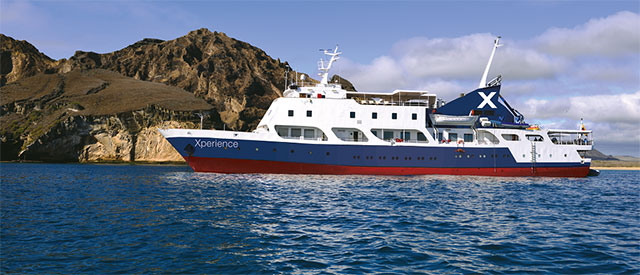 Celebrity Xperience is an upscale expedition vessel that offers unparalleled levels of comfort and service. Large enough to travel the Pacific in comfort and safety, small enough to dock at remote ports and negotiate inter-island landings with agility, Celebrity Xperience is the perfect size for an expedition-style adventure and the choice for travelers who prefer the intimate, comfortable atmosphere and attentive service of a smaller boutique vessel to a larger cruise ship. She features outstanding open-air spaces, comfortable cabins, and spectacular al fresco dining.
Our 24 spacious staterooms accommodate up to 48 passengers – just half the number usually found on a ship this size. This means that passengers can enjoy the generous accommodation of a larger vessel, while preserving the atmosphere and exclusivity of a smaller yacht. Exploring with a small group of like-minded fellow travellers, guests can experience our unrivalled itineraries led by certified naturalist guides.
Our expert naturalist guides offer nightly briefings and lectures on the day's discoveries and specific topics related to the islands.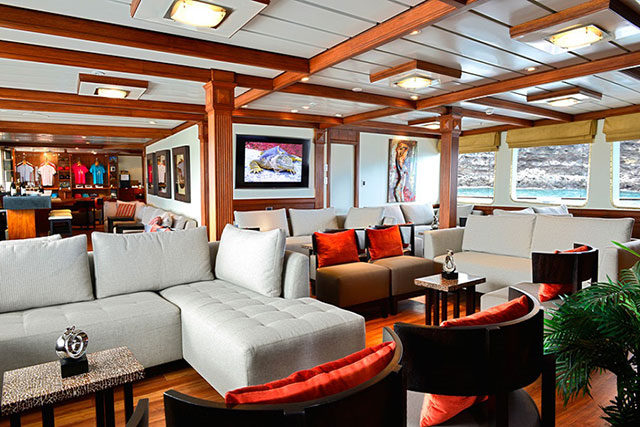 Staterooms
The Celebrity Xperience offers accommodation in five cabin categories, all stylishly decorated and equipped with private facilities, air conditioning, and ocean-view windows or portholes. The spacious cabins have either a queen or twin bed arrangement, and all twin beds can be converted to king-size beds upon request. The well-appointed bathrooms include biodegradable toiletries, as well as the complimentary use of bathrobes. Cabins are serviced three times a day.
Deluxe Staterooms
Situated on the Boat Deck, our Deluxe Staterooms boast large scenic windows and a complimentary one-time fully stocked minibar. Two of the four Deluxe Staterooms have an extra bed for triple occupancy.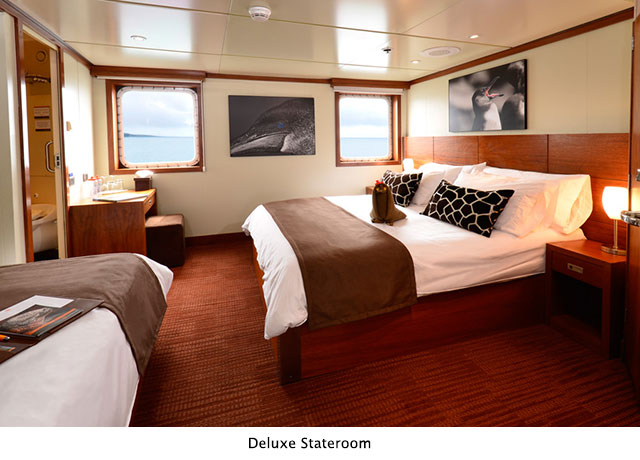 Superior Staterooms
Our eight Superior Staterooms, also located on the Boat Deck, feature picture windows that provide a wonderful natural light. Two of the Superior Staterooms have interconnecting doors to accommodate families.
Main Deck Staterooms
Our seven Staterooms on the Main Deck feature all the same amenities as our Superior Staterooms, the only difference being that they have porthole windows. Two of the Staterooms have interconnecting doors to accommodate families.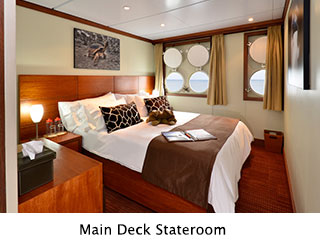 Standard Staterooms
Situated slightly closer to the engine rooms on the Main Deck, our five Standard Staterooms offer an unrivalled Galapagos experience at an attractive price. These cabins feature all the same amenities as our Staterooms, with porthole windows.
Single Staterooms
Solo travelers can be accommodated in a well-appointed cabin without a single supplement. Our two Single Staterooms with porthole windows are in the bow of the Celebrity Xperience's Main Deck.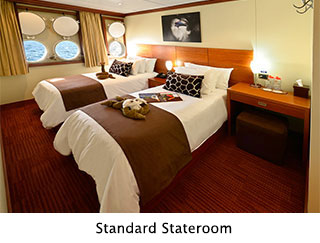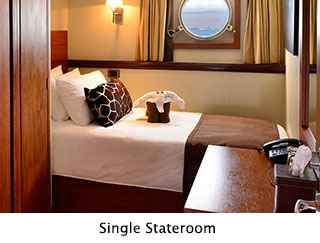 Dining & Social
Passengers appreciate the "non-cruise" atmosphere aboard the Celebrity Xperience: informal and unregimented with a warm sense of camaraderie. While you might like to change out of your beach clothes for dinner, you won't need a wardrobe any dressier than "smart casual" wear.
Indoor Dining
The Celebrity Xperience's chic indoor dining area features panoramic windows, and all guests can be accommodated in one sitting. Our cuisine is a blend of international and local flavors, freshly prepared and served buffet-style. Whether it is a hearty breakfast, a themed lunch or a delicious dinner, guests can enjoy quality meals combined with efficient service and outstanding views.
Al Fresco Dining
The Celebrity Xperience is the only mid-size vessel in the Galapagos that serves a large proportion of its meals outside. Located at the stern of the ship, our al fresco dining area means that guests can savor a scrumptious meal with the islands' stunning scenery as a backdrop. The al fresco area also features a bar, which is open at lunchtime and in the evening.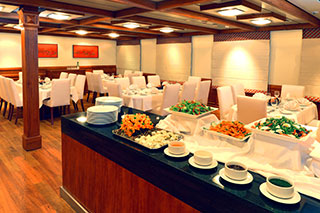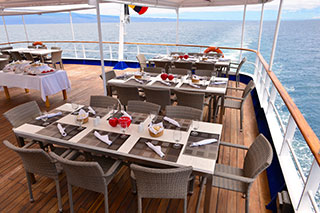 Lounge
The main lounge provides a relaxed atmosphere for socializing, watching documentaries or sipping a cocktail at the lounge bar. There is comfortable seating, perfect for the nightly briefings and lectures given by our naturalist guides who bring this complex region to life and illuminate your time in the Galapagos.
Sun Deck
One of the most popular areas on board is the Sun Deck, ideal for stargazing, soaking in the Jacuzzi, or relaxing in the comfortable sun loungers. In addition to shaded seating areas and exercise machines, the best seats in the house for wildlife viewing are found at the observation point – an excellent spot for whale and dolphin sightings.
Library
Our well-stocked library is a quiet place to catch up on some reading, play a board game or watch a documentary.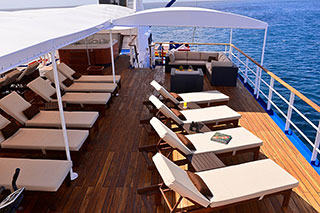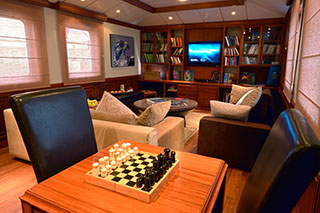 Island Excursions
On island excursions, you will have a unique opportunity to interact with the natural world to a degree that is virtually impossible anywhere else on the planet. Our certified naturalist guides are there to educate you on evolution and showcase the uniqueness of each individual island. Celebrity Xperience anchors offshore at the visitor sites, and motorized dinghies carry you to landing points.
On the islands, you follow marked trails, walking at a leisurely pace, with your guide explaining the unusual sights you see. Activity levels range from Easy to Difficult, so guests can select walks that match their interests and abilities.
Snorkeling
Throughout the cruise there are several opportunities to delve into the spectacular underwater world of the Galapagos Islands. It is not unusual to share the marine environment with rays, sea turtles, sharks, flightless cormorants, penguins, marine iguanas, a multitude of fish, and of course the ever playful sea lions.
We offer two types of snorkeling: from the beach, which is suitable for beginners, and deep water snorkeling from a motorized dinghy. The use of snorkeling equipment and wetsuits is complimentary on Celebrity Xperience.
Kayaking
For those who don't want to snorkel, kayaking provides a wonderful opportunity to observe the wildlife up-close along the cliffs and in the water. When the water is clear, it is fairly common to spot sea turtles, sea lions, rays and even dolphins. Your guide and a motorized dinghy are always nearby for safety, and no prior experience is required.
Whale Watching
Although sightings are not guaranteed, with a keen eye and some luck you may see some whales during your cruise, especially between June and September. An announcement will always be made if a whale is spotted from Celebrity Xperience.