Home > Diving Tanzania > Tanzania Dive Resorts
Kinasi Lodge
Mafia Island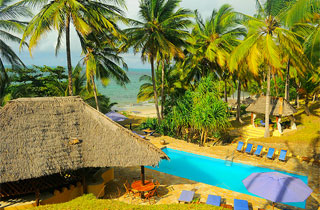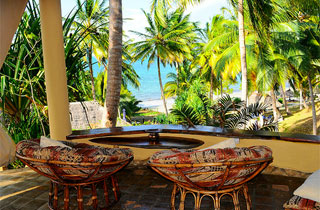 This intimate and lovely resort, situated in an old cashew and coconut plantation, provides a luxury stay amidst stylish décor and magnificent natural surroundings of the protected marine park.
We have stamped Kinasi with a personality, ambience and originality that ensure guests know that Kinasi is much loved by its owners. And this extends to the service that we offer you, a personalized caring and happy blend of African hospitality with the unique touch of "Island Life.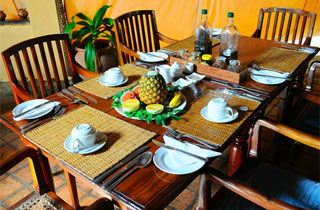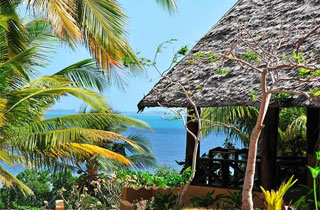 Our Rooms
The room designs, furnishings and finishes are eclectic, combining elements of coastal Tanzania, African, Indian and Arab cultures into a historically accurate "Shirazi" style that is unique to Kinasi.
All cottages are ensuite with hot solar-heated water and have ample hanging space, a desk and chair, verandah chairs and table, double chaise (for full relaxation), full-length mirror, ceiling fan for cool air and power outlets in the bathroom for hair dryers and electric shavers.
The cottages have walk-in mosquito nets that cover the beds completely, and have been designed for through-ventilation and coolness in all seasons.
Sea Front Room
5 Sea front cottages with very large and comformtable king size and twin beds. All with a complete bathroom equipped with solar panels. On the front of each room there are open verandas with cushion seats or hammocks to feel the blow of a welcome breeze. The floor is covered with an impressive oriental rug.
Garden Sea View
8 Garden Sea view cottages with the same character as the Sea Front Room. One of the rooms is the Owners suite , an upstairs bedroom with a king size bed , air conditioned, mini bar and lounge area.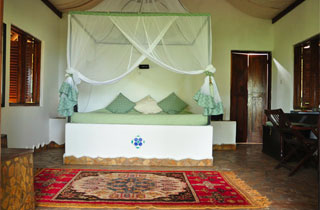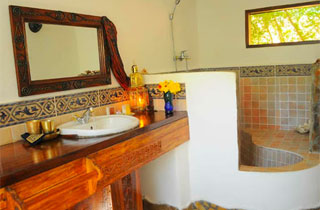 Diving
KINASI offers great diving for advanced and novice divers in safety under professional instruction. We take great snacks and picnic lunches aboard our dive boats and stay out for two-tank dives or, after diving, enjoy the rest of the day with a visit to other islands or historic and interesting sites.
The snorkeling on the shallow reefs surrounding the many islands in and around Chole Bay is a great attraction for non-divers and divers alike.
Novices, adventure diving, (night, wall, reef and drift dives) are regular features of an active diving program. For groups of up to six guests a cruise can be planned to take in the marvelous destinations of Ras Mkumbi, Forbes Bay, Kitutia Reef, Okuza and Nyuni Islands and the reef complex surrounding Songo Songo and Njovi islands.
These safaris offer superb diving and snorkeling over exquisite coral gardens in excellent visibility, and have rarely been dived. Trained diving assistants handle all equipment, help divers and check their equipment, so that you are free to enjoy the dives and all other activities during each day. We have a fully equipped dive centre with equipment for up to twenty divers. The Blue World Diving and Water Sports centre is managed by our resident Dive Instructors.