Home > Diving Tanzania > Tanzania Dive Resorts
Matemwe Lodge
Zanzibar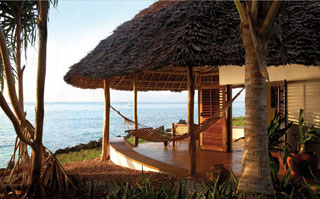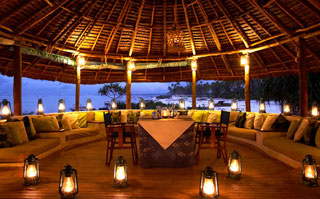 Matemwe Lodge is located on a coral outcrop right opposite the spectacular diving and snorkeling reefs of the Mnemba atoll.
Built from local materials and surrounded by beautiful lush gardens, Matemwe's 12 bungalows exude a sense of relaxation and intimacy.
Each spacious suite has a private veranda with a hammock and sofa and expansive views of the Indian Ocean with its constantly changing hues of blue. Here you can watch the fishermen head out every morning at dawn or listen to the songs of the village women as they harvest seaweed on the low tide for sale on the international market.
The large bathrooms have both a deep bathtub and walk-in shower and all beds are enclosed by mosquito nets.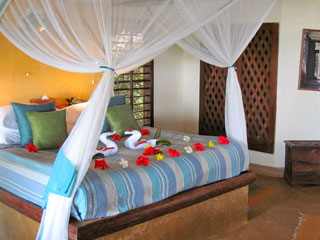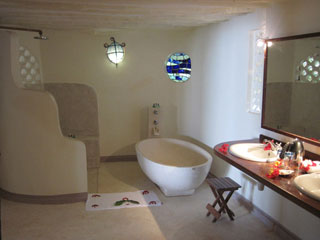 The open-air restaurant sits just above the sea and has a tranquil lounge area with beautiful views of the palm fringed beach and gently rocking dhows. Seafood is the specialty of the house, with all produce bought daily from the local markets. Lunch is a buffet offering a delicious mix of African and European flavours. Dinner offers a choice of main courses with fish, meat and vegetarian options. Matemwe has a multi-level swimming pool surrounded with lounge chairs overlooking the ocean. Freshly mixed cocktails are served at the poolside bar.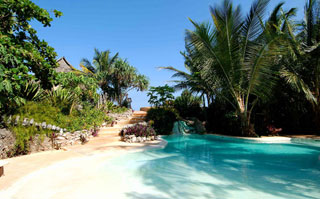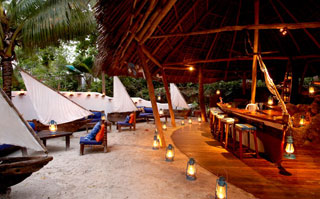 Ngalawas, fleets of traditional wooden sailing boats, pass by Matemwe - delivering a dream opportunity for any photographer - and the lodge is a daily stop for the fishermen who sell fresh crab, lobster and fish to Matemwe for lunches and dinners.