Home > Diving Solomon Islands > Solomon Island Liveaboards
Solomons PNG Master
Solomons PNG Master features six Upper Deck cabins all with ensuite facilities and six Lower Deck cabins with shared bathrooms. All cabins are fully air conditioned and come with reading lights, towels, bedding, charging stations, fire warning systems, and fire extinguishers. Hair dryers and iPod docking stations are available on request.
Cabins
Premium Double Upper Deck (CABIN 2)
Our largest cabin, this spacious suite has a double bed, private sitting area, lots of storage and a full ensuite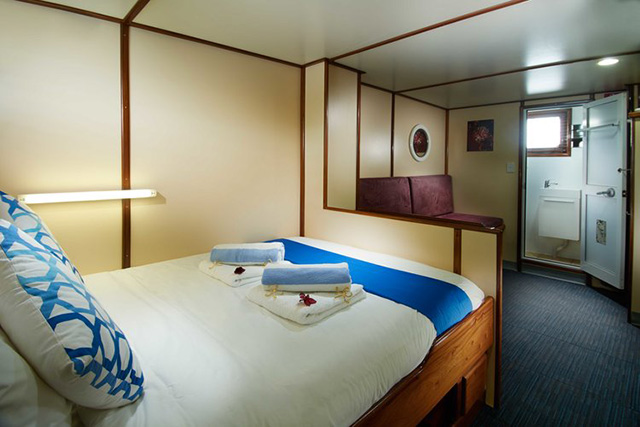 Classic Twin/Double Upper Deck (CABIN 3, 4, 5, 6)
These spacious rooms feature a double bed with a twin bunk above and are suited towards a couple or buddy team. Each cabin has a seating area, ample storage and a full ensuite bathroom.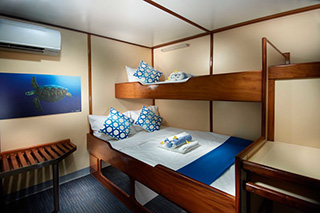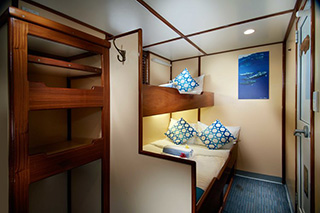 Classic Twin Upper Deck (CABIN 1)
Located on our upper deck, Cabin 1 is ideally suited towards a buddy team. This cabin is fitted with twin bunks, two storage areas and an ensuite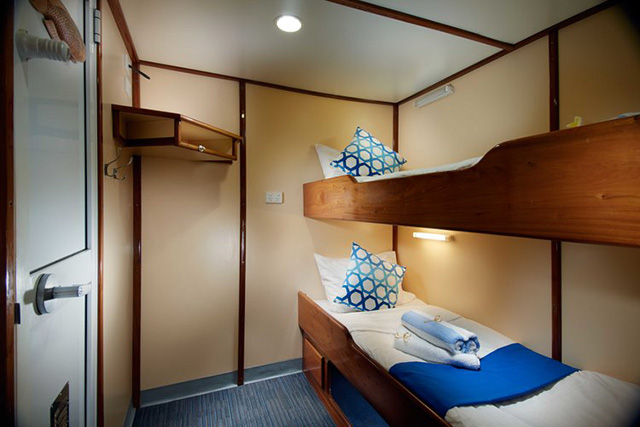 Single Standard Lower Deck (CABIN 9, 10, 11, 12)
We have four cabins that may be booked on a single basis. Each cabin has two twin bunks - one for sleeping and one for storage. Five bathrooms, located on mid deck, are equipped with toilet, sink and shower and are shared.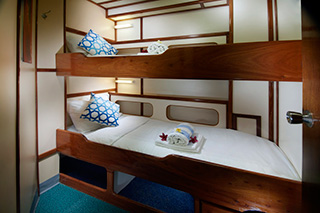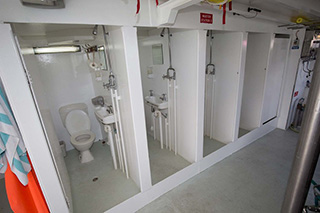 Twin Standard Lower Deck (CABIN 7, 8)
Two large cabins are available on a twin share basis. These cabins have four bunks each - two for sleeping and two for storage. These cabins are perfect for travelling dive buddies or photographers with plenty of equipment. Five bathrooms, located on the mid deck, each equipped with toilet, sink and shower are shared.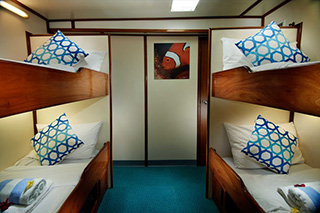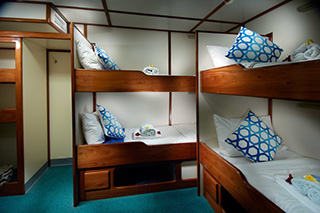 Diving Facilities and Schedule
Our diving facilities are second to none. We have a large dive deck with individual storage for gear, racks and hangers for suits, warm freshwater showers, separate rinse tanks for photo gear. As the bulk of our diving is done directly of the boat - we offer an open dive deck at each site. Tanks are filled at the end of each dive then rigged for the next one. Our crew are trained to expertly handle your tanks and other gear. The only time you have to touch your tank is when you're diving and it's on your back!
A briefing will precede each dive, and our Trip Director will outline the type of dive, what you can expect to see and recommendations regarding current, depth, and activities. Divers set their own profile in conjunction with their buddy, their computer and their previous diving activities, and are welcome to discuss their plans with the crew for assistance and advice. The first dive of every trip is always guided and we offer at least three guided dives each day. We usually schedule 4 dives per day and you can often find our staff in the water for all of them. You are free, however, to explore our dive sites at your leisure (within the confines of your training and experience).
The dive schedule is set by the Trip Director and will be posted each day. We do our best to take your requests for sites or marine life into considerations, however, safety factors must always be a priority. An evening briefing usually outlines the plans for the next days diving.
The reefs start very close to the surface which means there is little need for deep dives. Often the reefs drop off gradually allowing you to explore extensively at relatively shallow depths. You will find walls, however, often in close conjunction to a reef, making it excellent for computer assisted diving. Computers are mandatory for all divers - so if you do not have your own, we will organize a rental for you.
Nitrox
Nitrox is available at a cost of $10 per fill. We offer a flat rate when you choose to dive Nitrox for the entire trip. If you wish to use Nitrox, be sure to bring your certification card with you. If you are not yet certified, we can offer you Nitrox training on board.