Home > Diving Solomon Islands > Solomon Island Dive Resorts
Uepi Island Resort
Morovo Lagoon

Uepi Island Resort "The Ultimate Escape"
You are on a small tropical island perched on the edge of the longest lagoon in the world, accommodated in a relaxed and comfortable resort, effortlessly absorbing the natural wonder and character of this authentic and exciting part of the Pacific. As you arrived at this remote but accessible destination the everyday demands and pressures of modern living simply faded away, overwhelmed by your awareness of a beautiful and natural world, that is Uepi.
And you need share this unique experience of paradise with relatively few other people.

Accommodation at Uepi
One of the attractions of Uepi is the small number of guests sharing this beautiful island. Although there are 26 beds, approximately 20 guests is considered to be a full house. There are six spacious, well appointed bungalows for families or couples, two units and two guest rooms.
All rooms have private bathroom with ambient temperature showers and toilet facilities.
Bathrooms are supplied with a range of natural plant/mineral based toiletries; hand wash, body wash, shampoo and conditioner. These toiletries are made by Western Australian company, Envirocare Earth, are 100% biodegradable and are based on organic, locally sourced ingredients.
Beach towels are provided in all rooms.
All accommodation is screened and all bedrooms have fans.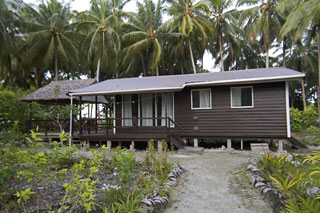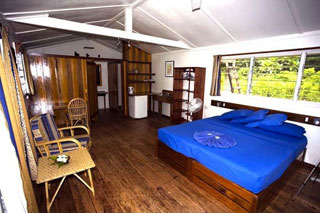 POWER: 24 hour power is provided by way of 240v generator. All rooms are equipped with Australian style power points.
DINING & BAR: Breakfast and the evening meal are served in the "leaf haus" dining deck at the main house. Lunches are delivered to your accommodation.
All meals are based on fresh locally grown organic produce sourced from nearby villages and the freshest premium seafood. Uepi has a kitchen garden on site, growing most of the resort's salad vegetables and fruit. Excellent chickens and eggs are also produced locally for the resort. Meals are prepared by our talented local chefs and are a highlight of your stay. Special dietary requirements can be catered for with adequate notice, consultation and cooperation.
Our comfortable 'leaf haus' bar adjoins the dining area and offers selected imported wines, the well regarded local "Solbrew' beer plus limited imported beer, a variety of spirits and mixers. Green drinking coconuts are available. Cool breezes and cold drinks make this a most popular meeting place.

Diving
Uepi offers the unique opportunity to dive first-class sites that are only minutes away from the dive shop; conveniently located either off the edge of the island or just a short boat trip away. Diving is based on multi-level planning, beginning at 30 metres or less and ascending slowly throughout the dive, so Dive Computers are required. It is common for divers to stay in the water for an hour or so on each dive because the top 5-10 metres have endless species to discover, allowing a diver to get maximum value from each dive. Rarely will you view such diverse concentrations of marine-life in such a varied environment, ranging from lagoon coral gardens to vertical drop-offs into 2000 metres of ocean (The Slot), mostly within the confines of a three kilometre stretch of reef.
The same basic dive rate applies to shore dives, night dives and boat dives on Uepi Island sites (see excursion dives later). The majority of expense for diving at Uepi relates to the cost of maintaining the reef and environs, as well as providing dive guides and a dive facility in such an isolated area.
Because of the location of Uepi Island, waters may be very clear with visibility in excess of 30m or visibility may be less. Tidal current interchanging to & from the Marovo Lagoon and The Slot makes the deep water passage immediately adjacent to the resort a prime habitat for a colourful population of filter feeders such as corals & sponges as well as for reef-fish, sedentary animals and pelagics.
Our aim at Uepi is to provide the chance to enjoy the fabulous Marovo environment, in particular the marine environment. With that in mind our dive supervision is aimed at achieving this in a sustainable and safe manner. We certainly welcome divers of any background, certification and experience level who want to explore, discover and share a rich and diverse marine environment. We will do our best for you.