Home > Diving Solomon Islands > Solomon Island Dive Resorts
Fatboys Resort
Babanga Island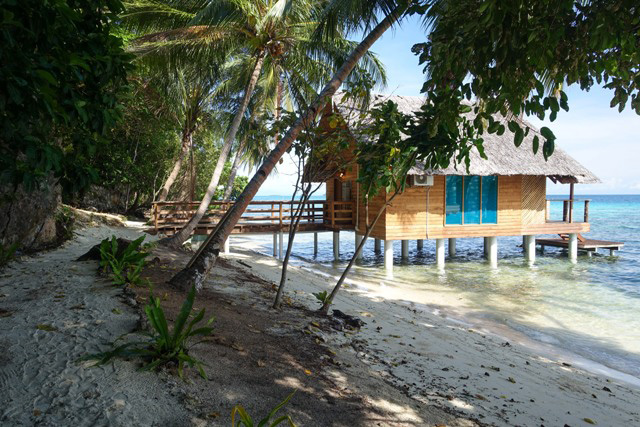 The name "Fatboys" is derived from the character "Joe" from the book "The Pickwick Papers" by Charles Dickens. Joe-the "fat boy" consumes great quantities of food and constantly falls asleep in any situation at any time of the day; the Fatboys life revolves around drinking, eating, sleeping and making every conceivable effort to avoid work.
Whilst at Fatboys Resort the customer becomes "Joe the Fatboy". Enjoy an ice cold bevy, a plate of fresh crayfish pan-fried in lime juice and butter, a game of pool, or simply kick back and be mesmerized by the myriad of tropical fish swimming underneath you.
Fatboys Resort, Bar & Restaurant is situated 100 metres out atop the crystal clear waters of Babanga island. A 10-minute boat ride from the airport and 15 minutes from Gizo, the provincial capital of the Western Solomons. We have 5 bungalows that offer you with spectacular views of an early morning sunrise watched straight from your bungalow.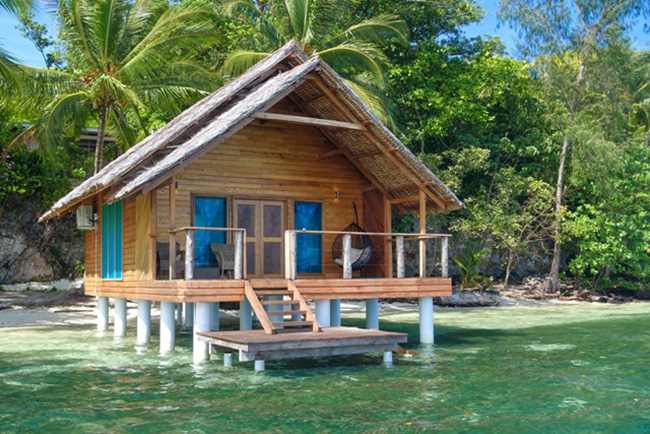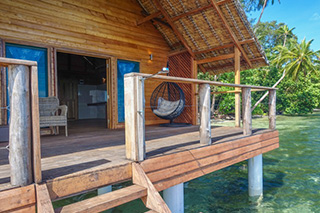 Accommodation - Beach Bungalows
Fatboys Resort offers a completely unique hideaway and is the ultimate tropical beachside Reef experience.
Our bungalows are constructed of traditional leaf and local hardwoods, which are designed to take advantage of the magnificent surroundings. Featuring four private bungalows and one Beach-House each with large veranda's capturing the seductive views of Solomon Islands famous Crystal Clear water and stunning natural scenery. Quality imported furniture and bedding will ensure your stay is better than anywhere in the western province.
All accommodation is situated on the water's edge with a short stroll to Fatboys Restaurant & Bar located along our private jetty, 100m out over the reef. Please note that we have a 3-night minimum stay.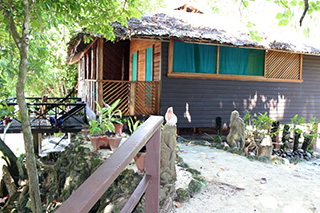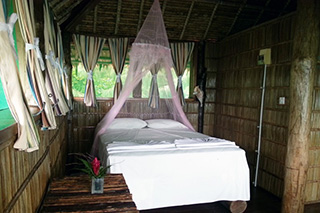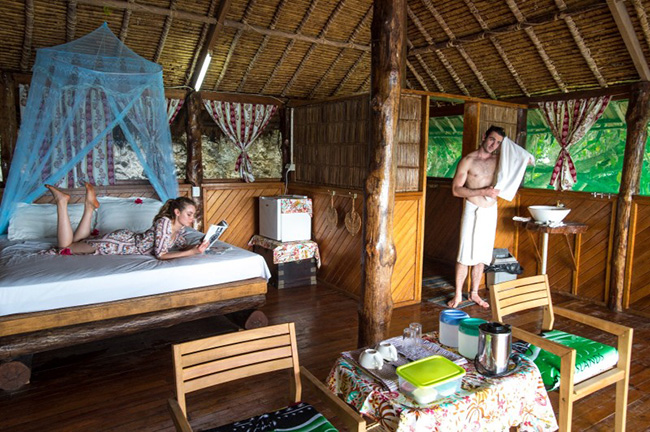 Services & Features
Complimentary tuck down service
Five star bedding
Mosquito screened bedrooms
Ceiling fans
Hammocks
Hot water in private bathrooms
Laundry service and daily housekeeping
Tea and coffee making facilities
Large verandas with views across to Kennedy Island and Mt Kolombangara
Tour bookings
Cafe | Bar | Restaurant
Fatboys Bar & Restaurant is reknowned as a favourite dining destination
Diving
The Solomon Islands are renowned for having the most diverse and exciting diving to be found anywhere in the world from World War II wrecks to numerous offshore reefs, spectacular coral formations, plummeting walls, manta rays and abundant marine life. All dives are boat dives Water temperature averages 28 degrees Celsius. Visibility is usually upwards of 20 metres. Troublesome currents are rare.
Swim and Snorkel
The waters surrounding Fatboys are tropically warm and exceptionally clear with an abundance of corals and colourful reef fish. You can choose to swim and snorkel around the safety of Fatboys or venture a little further each day. If you are more adventurous, charter a banana/long boat and explore the spectacular underwater world the Solomon Islands have on offer. You will be truly amazed. Kayaks, stand-up paddle boards (SUP) and snorkelling gears are freely available for in-house guests. Fatboys Snorkel Tour: Fatboys to Munda/Zipolo Resort/Skull Island- on the way down, you can snorkel WWII Hellcat Fighter Plane in 9 metres of crystal clear water, then onto Zipolo Habu Resort, on return visit Skull Island. Then snorkel one of the fringing reefs on some of the pristine Islands in the lagoon.