Home > Diving Maldives > Maldives Liveaboards
MV Virgo
Constellation Fleet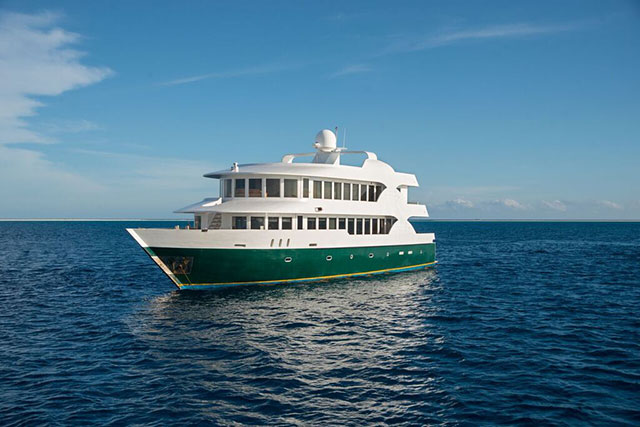 MV Virgo is part of the "Constellation Fleet" - a guarantee for professional cruise management and safe diving. 105 feet long and 30 feet wide, with 15 berths over eight en-suite guest rooms.
The Maldives is warm and fascinating, and provides rich marine life with coral reefs teaming with activity, visited by schools of fish and playful dolphins.
With 26 atolls consisting of outer and inner reefs, The Maldives is one of the most diverse scuba diving destinations in the world. Amazing channel dives draw animals from the deep, which will leave you spellbound. Mountainous pinnacles (thila) rise from 35m and taper to 8m, which make them ideal for those slower, more relaxing dives.
The average water temperature is 27C (80F) and current can be strong at about 1.5 knots, which is ideal for shark and manta ray encounters. Fasten your seat belts and glide into the blue for the most awe-inspiring experience of your life.
Join MV Virgo with the mantas & whalesharks in sunny Maldives.
Boat Specification:

Length: 105Ft
Engine: 500HP
Generators: 2 x 33KW
Water Makers: 1.2 ton per day
Beam size(ft) 30
Draft size(ft) 8ft
Built refit 2012
Cruising speed 10
Maximum speed 12

Deck Formations:

Lower Deck: 5 Twin/DBL Rooms
Main Deck: 1 Single Cabin, Bar, Dining Area, Lounge Area
Upper Deck: 1 Jacuzzi, 2 Twin/DBL Upper Deck Rooms
Sun Deck: Numerous Sun Loungers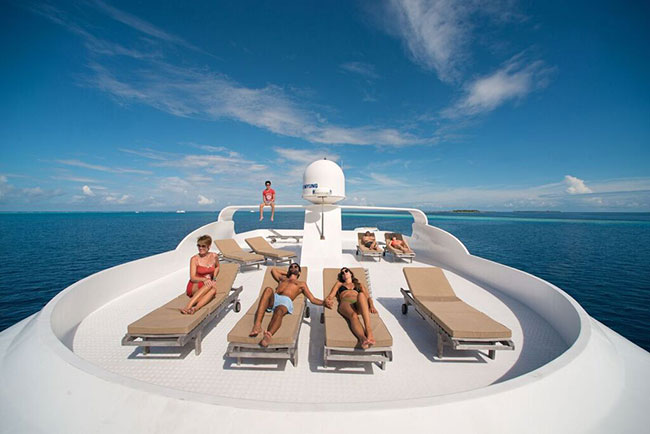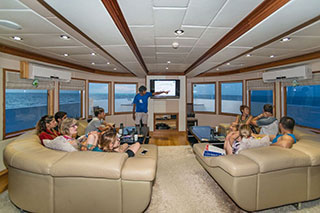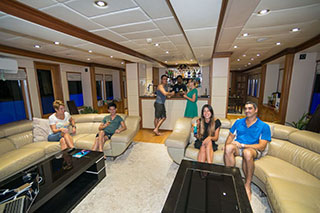 Accommodation:
There are eight guest rooms, two of which are suites. Every room ihas double/twin beds and one is a triple. All are ensuite with air-conditioning, DVD player, safe deposit box and mini-bar. All rooms have beautifully tiled bathrooms with toilet and hot shower facilities. Room and towel service is provided daily.
The 105 feet boat offers plenty of space for only 15 guests - you will always find a good place on one of the decks or in the comfortable saloon.
Internet
WiFi internet is available on board although the availability and signal strength depends on the area. Internet may not be available while cruising. WiFi access is USD 20 per week. Please ask for details on board. Please note we do not provide laptops/computers/other devices to use internet on board. You should have your own computer to use our Internet facility.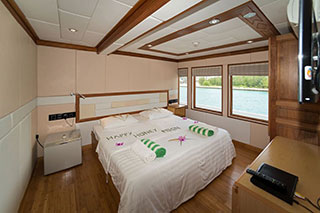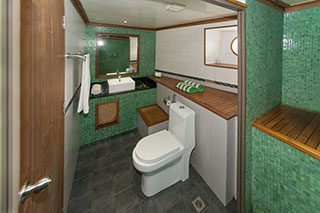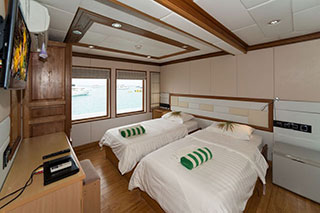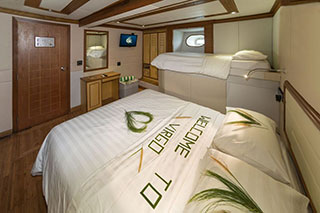 Dive Boat (Dhoni):
All scuba diving is done from our 45' diving dhoni. The dhoni is a traditional Maldivian boat and is the main means of transport in this island nation. For scuba diving the dhoni is more maneuverable and allows our experienced crew to take you to the most remote and beautiful reefs in the Maldives. While you are diving, the dhoni will remain close by and the crew will be ready to pick you up when you surface.
Our diving Dhoni carries all your dive gear, Oxygen kits, 30 scuba tanks, NITROX and two compressors.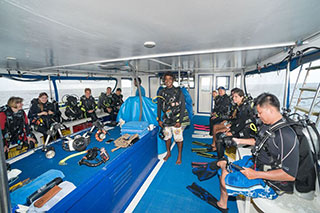 MV Virgo Routes and itineraries:
Best of Maldives
Day 1 - Pick up and Check In from 13 PM, Male Airport
Day 2 - Dive North Male Atoll, Cross to Rasdhoo
Day 3 - Dive Rasdhoo & North Ari Atoll (Grey Reef Sharks and Hammerhead Sharks)
Day 4 - North Ari Atoll (Mantas and Famous Maaya Thila Night Dive)
Day 5 - South Ari Atoll (Mantas & Whalesharks)
Day 6 - South Ari & Male Atolls (Sharks and Pelagic Action), Desert Island Dinner
Day 7 - South Male Atoll (Pelagic Action), Male City Tour
Day 8 - Check out 7&9am, Male Airport
By Special Request for Charters:
Manta Madness
Season: August - October
Day 1 - Pick up and Check In from 13 PM, Male Airport
Day 2 - Dive North Male Atoll Cross to Baa Atoll
Day 3 - Baa Atoll Hanifaru Bay Area
Day 4 - Baa Atoll Hanifaru Bay Area, Cross to Rasdhoo
Day 5 - Dive Rasdhoo & North Ari Atoll (Grey Reef Sharks and Hammerhead Sharks)
Day 6 - North Ari Atoll (Mantas and Famous Maaya Thila Night Dive)
Day 7 - North Male Atoll Manta Point, Male City Tour
Day 8 - Check out 7&9am, Male Airport
Deep South (Min 10 nights)
Season: February-March
Area Toured: Huvadhoo
Day 1 - Meet and Greet Kahdheedhoo Airport, Gaafu Dhaalu Atoll
Day 2 - Dive Thinadhoo Area, Dhevadhoo Area, Villingilli Area
Anchor Whaleshark spot
Day 3 - Vilingilli Kandu Area
Day 4 - Nilandhoo Kandu Area
Night Dive Hyatt Reef
Day 5 - Mareehaa Kandu Area
Day 6 - Gazeera Thila, Vaadhoo Corner, Vaadhoo Thila
Day 7- Mareehaa Kandu Area
Day 8 - Kondey Kandu Area
Day 9 - Mareehaa Kandu Area
Cross to Kahdheedhoo
Day 10 - Depart from Kahdheedhoo Airport, Gaafu Dhaalu Atoll
South Central
Season: January - April
Area Toured: Male, Vaavu, Meemu, Thaa, Laamu
Day 1 - Meet and Greet Male/Kadhdhoo Airport
Day 2 - Dive North and South Male Area
Day 3 - Dive Vaavu Atoll. Beautiful Corals
Day 4 - Dive Vaavu Atoll. Channels with action dives and Night Dive with nurse sharks
Day 5 - Dive Meemu Atoll
Day 6 - Dive Thaa Atoll
Day 7 - Dive Laamu Atoll
Day 8 - Check out at 7&9 am