Home > Diving Maldives > Maldives Liveaboards
MV Sea Spirit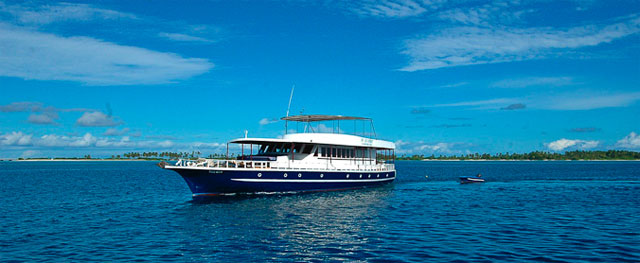 Sea Spirit offers comfortable accommodation for 12 guests in six large and airy air-conditioned cabins; two double berth and four double/twin berth. Each cabin has an en-suite bathroom with hot and cold water shower.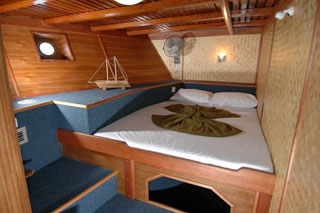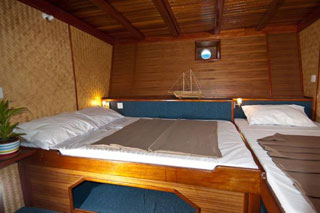 On the main deck there is a comfortable saloon which has seating and table areas for dining and relaxation. The saloon is equipped with a TV/DVD player with multi-system home theatre surround sound. For underwater video and photography enthusiasts there are plenty of recharging points and edit playback facilities. We have a DVD library for guests use, including a good selection of documentaries. There is also a library of marine identification books and a swap library for some light reading! For photographers, the saloon has ample storage for cameras and recharging points. The MV Sea Spirit is fully licensed to sell alcohol and the bar in the saloon is stocked with beer, wine and spirits. Soft drinks, tea and coffee are freely available throughout the day.
The foredeck of Sea Spirit is partially shaded and offers an ideal place for guests to relax between dives. Meals are generally served at a table outside to the aft of the boat so that guests can enjoy the wonderful beauty of the Maldives. There are steps from the rear deck that lead up to the sundeck - a great place to watch the sun setting. On the aft deck there is a swim platform with ladder giving easy access to the water. There are also fresh water showers and camera rinse buckets.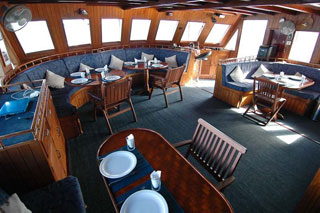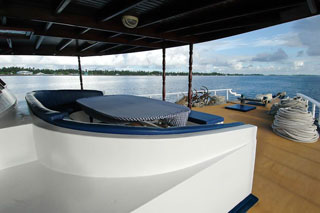 There is a 24 hour supply of 220 volt AC electricity on board and an emergency 12 volt DC lighting circuit. Power is supplied by two soundproofed generators. 110V convertors are available. MV Sea Spirit is equipped with a water maker with a capacity for producing three tonnes of water per day. There is plenty of hot and cold water for use throughout the day and night.
The joy of the Sea Spirit is the wonderful open foredeck table. In good weather we are able to enjoy lunch and dinner outside with wonderful views of the archipelago. It is a very sociable experience enjoyed by all.
Our boats are well-known for the excellent quality of food served on board. There is a good variety of both local and European dishes. If guests are vegetarian or have special dietary needs, we will, of course, do our best to cater for them. Breakfast and lunch are normally served buffet style and dinner is generally served seated around the large table on the foredeck.
Dive Support Vessel Numath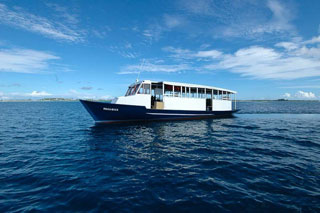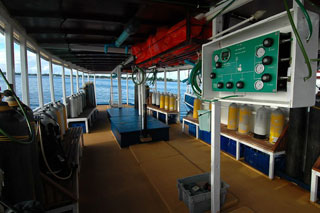 To dive safely and to reach the best dive points in and around the narrow channels and shallow reefs, you need a special type of boat adapted to these local conditions.
Our Dive Support vessel, "Numath" is 14m (45ft) long and comfortably seats 12 divers each with their own storage bin. Equipment is assembled and remains in place on the dive boat making this really easy comfortable diving. Cylinders are filled by the two onboard K14 compressors and nitrox is available on request. The sides of the vessel are low and only a simple step-in entry is needed for diving.
At the end of the dive, it's easy to pull yourself up the stable stainless steel ladder back onboard the dive support boat. Crew are attentive at all times helping with equipment and precious camera gear.