Home > Diving Maldives > Maldives Liveaboards
Scubaspa Ying & Scubaspa Yang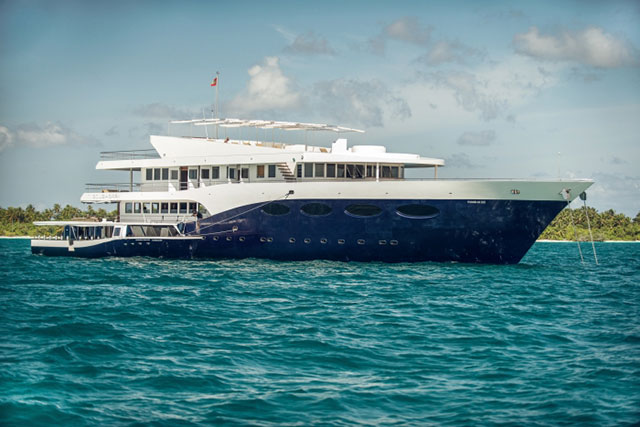 Scubaspa Ying
Scubaspa Ying is an inspiration second to none, offering an unforgettable holiday of a lifetime on board a luxury safari vessel. Whether diving or enjoying daily treatments in the sumptuous Spa, you will receive the finest and very best from both worlds. The Scubaspa experience will remain with you long after your journey home.
Floating in a sensuous and romantic ambience of light and space, beautifully styled in every detail, you will discover many places on board to socialise and relax. With panoramic views of the ocean, intimate areas for privacy as well as specially designed terraces for sun worship, you will find your place to dream.
Scubaspa YingIn our restaurant we present the best traditions of fine dining with an international flair. Our chef will be offering a varied cuisine combining fresh produce with the finest wines, whilst delicious refreshments are in constant supply throughout the day from the two bars onboard.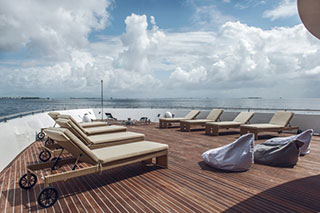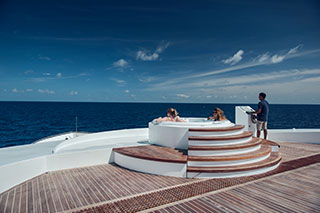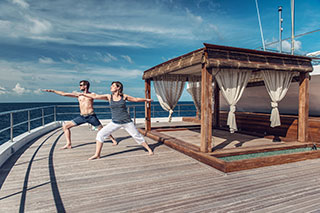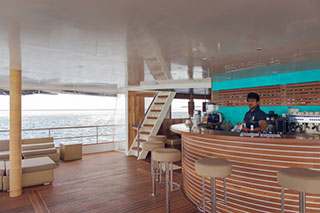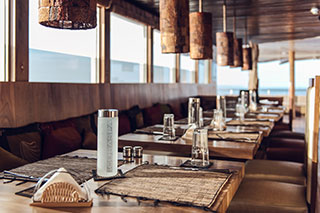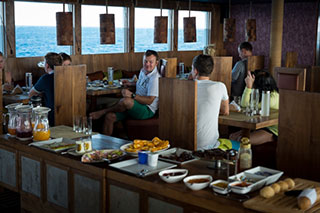 As you would expect, our boat crew are all highly professional both as individuals and as working unit, and so they should be. Our amazing crew views your safety and comfort as their primary concern. From your captain to his deckhands, from the cruise manager to your waiter, they all want to show you just how very important you are to us. We want you to return time and again, we want you to view Scubaspa as the place you come to when you need to "reconnect". Our elite team is here to help that happen.
Once you get onboard we will guide you through the safety procedures that have been put in place for your safety and protection. There is nothing more important to us than that you enjoy your experience without coming to any harm.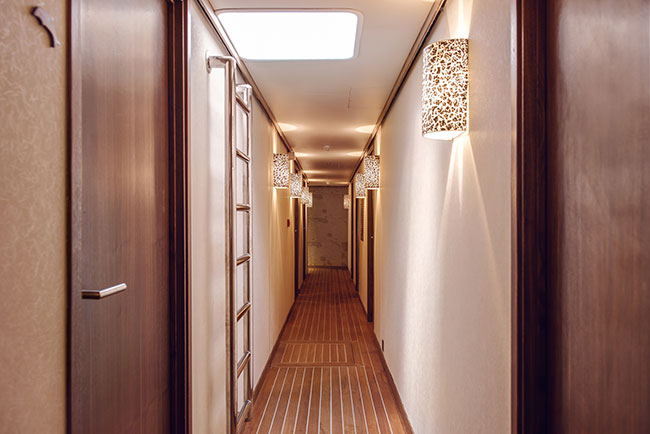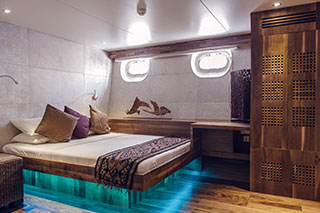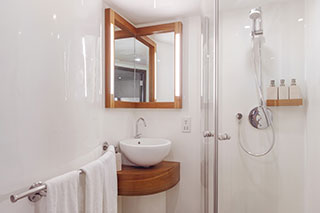 Sea Star Cabin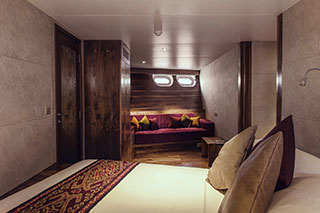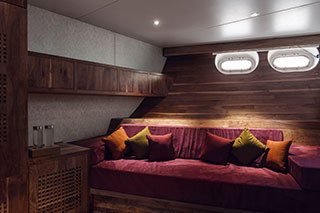 Cowrie Suite Cabin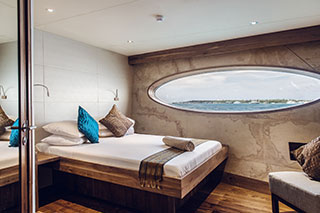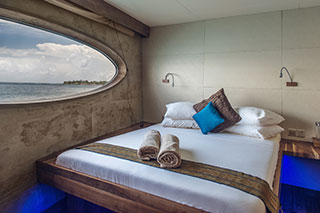 Dolphin Suite Cabin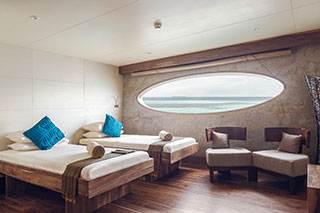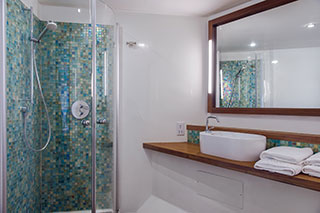 Manta Suite Cabin
Scubaspa Ying has been designed with these things in mind and is fitted with:
state of the art fire detection/alarm systems
fire hoses fed via a seawater booster pump
fire extinguishers
designated escape routes
trained fire team headed by a Fire Marshall
emergency escape ladders from both lower and main deck evacuating to foredeck
emergency lighting to all decks and escape routes
dive dhoni designed to act as evacuation vessel and capable of carrying all guests and staff
edge protection around vessel to European height standard
ample number of life jackets with emergency whistles
safety ring buoys
defibrillator
oxygen
First Aid kits (key staff members are trained in first aid)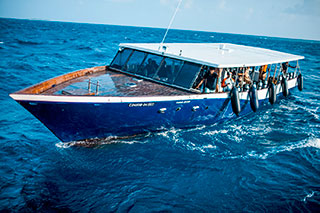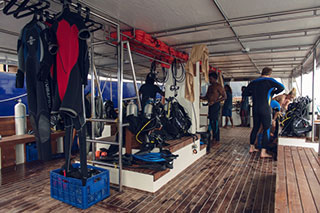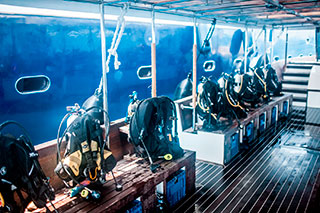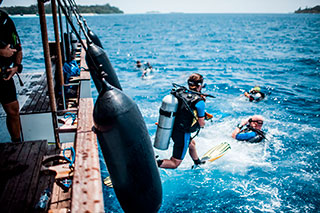 Our Spa
All therapies at the Spa are from Asian, Ayurvedic, Thai, Balinese and traditional European origins, offering slimming and forming treatments, beauty scrubs, body wraps, beauty treatments, facials for both men and women, as well as manicure and pedicure.
Our Spa is located on the upper deck where a welcoming reception will help guests choose the most beneficial treatments and products with expert help from our therapists.
The facilities at the Spa include 6 treatment rooms, with one offering couple sessions, a specially designed Ayurveda Room and a Beauty. There is also a relaxing room with views on the adjacent Outdoor Lounge, with gentle music and beautiful views across the ocean, where Spa guests can relax and enjoy refreshments. The open air Thai Pavilion, is situated on the on the secluded sky deck which can be found one level above the upper deck and is only accessible from the Spa. This is where Thai massage, as well as Yoga Classes are offered.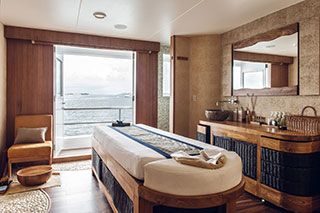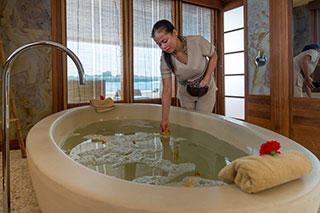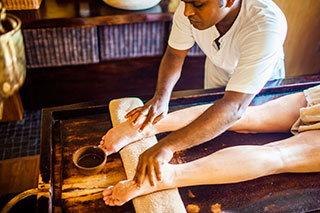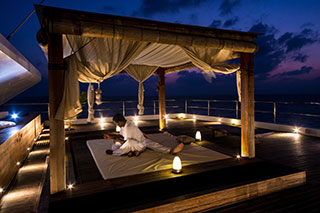 Scubaspa Yang
Scubaspa Yang is a sister vessel of Scubaspa Ying. They both are identical in service and standard.