Home > Diving Maldives > Maldives Dive Tours
Maldives Blue Force Dive Safaris
Maldives - Southern Hemisphere 2017 & 2018
On board Maldives Blue Force One
28 January to 25 March 2017 & 27 January to 24 March 2018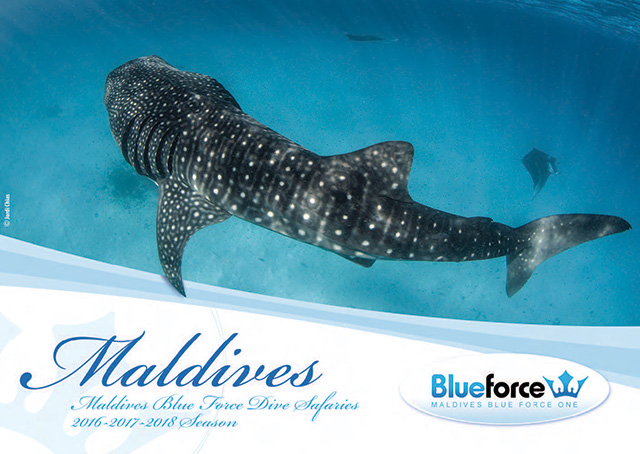 We recommend you a cruise aboard Maldives Blue Force One out of all the traditional diving routes in Maldives, the Southern Hemisphere.
The Maldives Blue Force team has planned the next cruise season in the Southern Hemisphere in Maldives in the precise months where there are optimal conditions in this part of the country.
The liveaboard will depart at the end of January Southern part in the archipelago where it will stay without returning to Male for 8 weeks with operation located in the Equatorial zone.
The route is unique and out of any other traditional circuits. The quality of dives is extraordinary. The amount of life (school of fish, schools of sharks and pelagic, whale shark by night, mantas, tiger shark, mola mola, sailfish, …). The quality and exuberance of the reefs, thilas with corals as it was Maldives 25 years ago, the British Royalty (the biggest wreck in Maldives), turn this route into the BEST OF MALDIVES.
Itineraries
1) Deep South Descend / Deep South Ascent: North Male, South Male, Ari, Vaavu, Meemu, Thaa, Laamu.
Route Objectives: Mantas and whale shark in Ari, pelagic canals in Vaavu, Meemu, Thaa & Laamu.
2) Southern Hemisphere (Intermediate stage): Gaaf Alif - Foamulah - Addu / Addu - Foamulah - Gaaf Alif. Embarking and disembarking in Gan & Kooddoo depending on the stage.
Route Objectives: Pelagic in the Deep South canals, this with corals like Maldives 25 years ago, Canals for shark watching, pelagic and the possibility of ocean watch. The whale shark by night, dive with mantas and the 62-year-old British Royalty shipwreck, which is 110 meters length and the biggest in Maldives.
2 Weeks Route Male - Gan / Gan - Male: Making 2 ongoing weeks is highly recommended. It goes from the central Atoll up to the Deep South in Maldives or the other way round adding to the stage Deep South Descent (departing from Male) or Deep South Ascent (arriving in Male) a week in the Southern Hemisphere (arriving or finishing in Gan).
Southern Hemisphere Cruise Program 2017 & 2018 [pdf]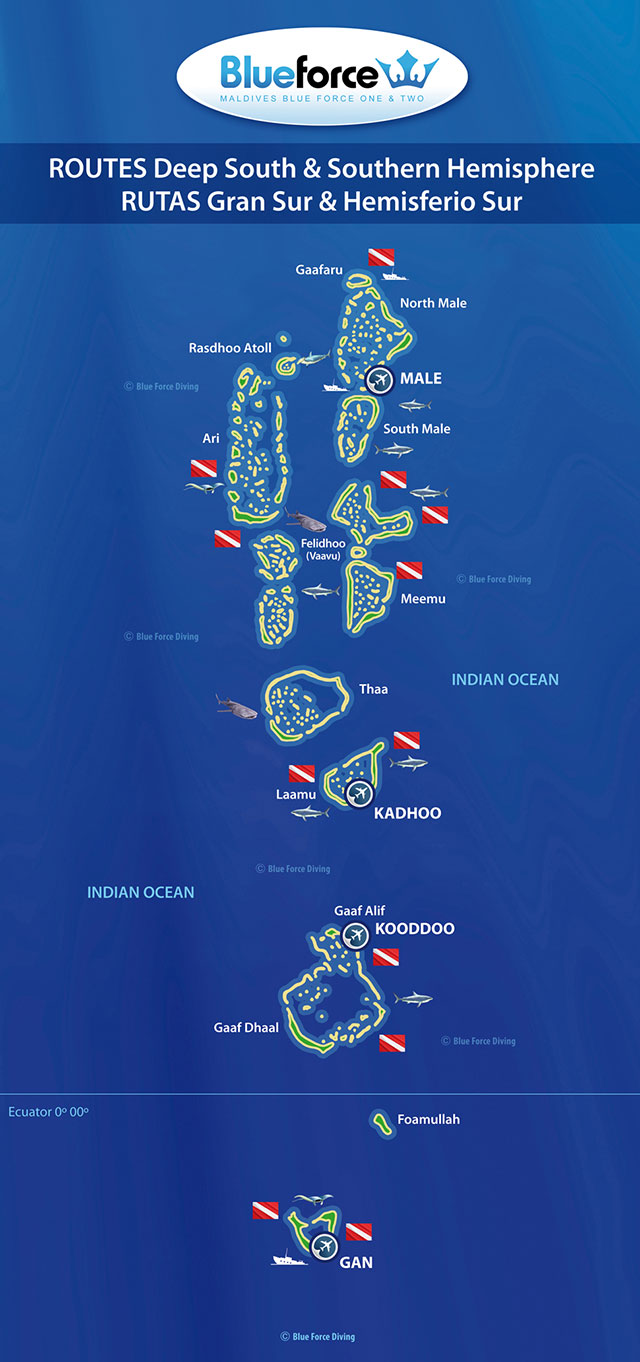 COST: from $2,190 per person
Inclusions:
Airport - boat - airport transfer
Accommodation in double shared cabin on board Maldives Blue Force One full board
Water, tea & coffee
18 dives including tanks (12 litres), NITROX, weights, guides and diving boat (Dhoni)
WIFI
Trade, dive and cancel insurance
Exclusions:
Flights to Male, Domestic flights in Maldives
Onboard payments: Cruise taxes $125, Green tax $42, Service tax $130
Optional: soft drinks and alcohol
"Poolside" Hotel in Male (Direct payment)
For more information
Contact:
Dive Discovery
@
1 800 886-7321
(415) 444-5100
or
Request Info