Home > Diving Mexico > Mexico Dive Tours
6 Day Magical Magdalena Bay Whale Watching and Kayak Tour
Baja, Mexico
The Baja Peninsula is defined by the Gulf of California on the east and the Pacific Ocean on the west. The peninsula is only 25 mile wide at its narrowest point and 200 miles at its widest. Yet, each coast is quite distinct, each with its own beauty. This tour focuses on the Pacific Coast side and specifically, Magdalena Bay. One of the four main birthing lagoons of the gray whales, Mag Bay, as it's known, is defined by several islands that create a barrier between the vast Pacific and mainland Baja. On one of these islands sits our whale watching camp, the most beautifully set in all of Baja.
This six-day adventure starts here with an overnight at our private whale-watching camp and two sessions of whale watching. On each session we board small skiffs that allow intimate encounters with the gray whales. After a day at our camp, we begin our paddle south for five days, through a protected body of water, with marvelous sand dunes on the east side and labyrinthian mangroves, full of life, on the west. Our camps are set within the undulating dunes where open space beckons the explorer. In camp there's plenty of time for wandering and discovery, learning about a fascinating ecosystem where life if bountiful, but not obvious. The trip is supported by a motorized panga that carries our camp gear and arrives at camp earlier than the kayakers, so camp can be partially set up by the time the group arrives.
Because the bay is protected by the islands, we don't have to worry about winds interfering with our paddling. As we paddle south on the protected waters, we may encounter gray whales sharing the same currents. In addition, dolphins sometimes visit these waters. We also have time to glide among the mangroves that filter the water and provide protection and food for a wide variety of fish species and are home to a host of seabirds who both feed and nest among the thick branches.
We paddle approximately 40 miles in our five-day journey, making this a beginner to intermediate sea kayaking trip. Easy access into Loreto, by air from the US and Canada, as well as flights from Tijuana, make this trip convenient to reach. We provide all kayaking and camping gear required, making your travel more convenient. We invite you to join us to discover a part of Baja that few visit and, is rich with rewards for the curious paddler!
The gray whales are generally in Baja from late December to late April. Because Magdalena Bay is the furthest south and thus the farthest point away from the migration's starting point in the Arctic, the whales tend to arrive a little later and leave a little earlier compared to the other two lagoons. Thus, to make sure we have the best chances of seeing whales in Magdalena Bay, we offer these trips in February and the first two weeks of March. Once latter March has arrived the whales are on their way north again.
Feb 9, Feb 16,
Mar 1, Mar 8, 2020
Sea Kayaking
Whale Watching
Sea Kayaking with Whales
Camping
Multisport
Loreto, Baja California /
Loreto, Baja California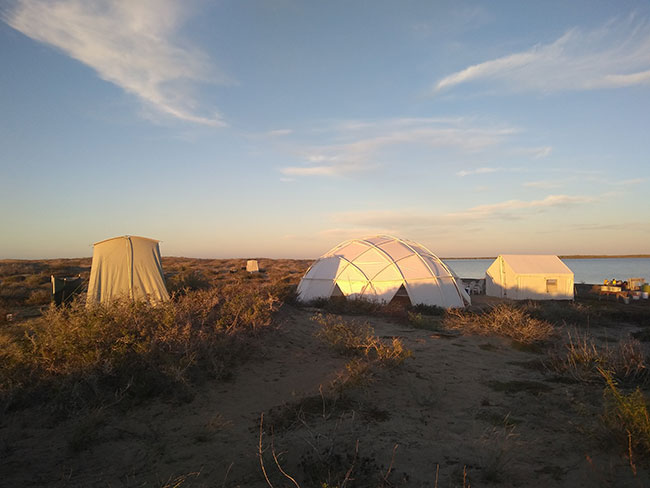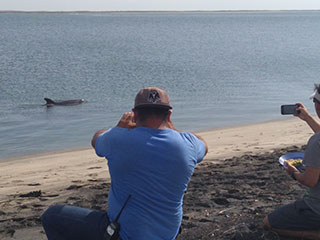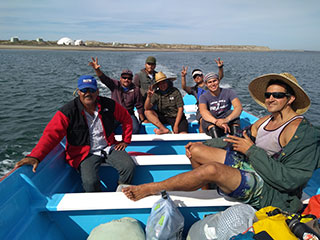 Itinerary
Day 0: Arrive in Loreto
Upon arrival at the Loreto Airport take a quick cab ride to your hotel. After checking in (Not included in the tour cost) you are on your own to explore Loreto, take a walk down the malecon, or relax by the hotel pool before your evening orientation meeting. At the orientation meeting you will meet your guides who will give you details about the plan for the next morning and answer any questions you may have.
Accommodations : (not included)
Day 1: Travel to Lopez Mateos, Whale Watching, Arrive at Whale Camp
We depart from Loreto, Baja, Mexico early in the morning and drive about two and a half hours across the Baja peninsula to the coastal town of Lopez Mateos. Here we board our whale-watching panga (motorized skiff) for a two-hour whale watching session. We discuss a few "rules of respect" relative to whale-watching and head out. There is palpable excitement in the air as we see whales blow, perhaps breach and swim in the protected waters of Magdalena Bay. When we find a whale that seems relatively stationary, we cut our motors and float. It's then up to the whale to engage with us or not. Sometimes they choose to swim away. Sometimes they approach us, coming right up to the edge of our 22' (7 meter) boats. If we don't interact with the whales, they quickly lose interest and leave.
After our two hour session, we arrive at our island camp. After a brief camp orientation and moving baggage to the tents, we sit down for a delicious lunch. After lunch it's time for a walk across the dunes, led by our naturalist guides. We learn about the various dune plants, insects, birds, reptiles and mammals. Soon we arrive at lapping Pacific waves on the beach. Time to take off shoes and let the tingle of sand and water soothe the spirit. Spend as much or little time as you want sauntering along the beach, and make your way back to camp.
In late afternoon we meet in our large camp dome for appetizers and our first presentation on the natural history of the gray whales. Guests love these interactive sessions where we all learn about the lives of these giant sea creatures. Our guides have a depth of knowledge they love to share. Some are marine biologists and others grew up in fishing families. They bring passion to their talks and hope to create more advocates for the protection of whales and the world's oceans.
Soon we sit down for dinner, inside the dome or under the stars, depending on weather conditions. We enjoy typical Mexican fare prepared by our local cooks. After dinner, kick back and enjoy the stars, or retire your own walk-in tent replete with cots and air mattresses.
Accommodation : Whale Camp
Meals Included : Lunch, Dinner
Day 2: Whale Watching, Sea Kayaking, Beach Camp
Get up with the sun, or later, as you wish. After breakfast we pack up and load back into whale-watching skiffs for another exhilarating session with these gentle giants. We motor out into the lagoon, watching for whales and absorbing the beauty of the bay. We make our way back towards Lopez Mateos as the morning turns to noon. Once back at the town beach, we enjoy lunch, a safety and paddling orientation, and then board our kayaks to start off into the bay. We paddle about three miles today, making for a nice warm up and giving us plenty of time to arrive and set up camp in the dunes. Sunset here is magnificent and those with energy may wish to hike west across the dunes to the Pacific to watch as the sun disappears into the shimmering waters. Soon it's time for appetizers, then dinner and star-gazing. We tuck into our kayak-camping tents and dream of whales.
Accommodation : Beach Camping
Meals Included : Breakfast, Lunch, Dinner
Day 3: Sea Kayaking, Whale Watching, Wildlife Viewing
We rise soon after the sun and wake up with a morning beverage. After breakfast we put on our kayaking skirts and set out for another day of fun and discovery. We spend some of our time paddling through the narrow channels amid the mangroves. Other times we hug the shore to peer down into the clear water at fish and underwater plants. It's a beautiful day. By the time we arrive in camp we hope you feel more at one with nature and yourself. We transition to another evening of camaraderie and story-telling, dinner and laughter.
Accommodation : Beach Camping
Meals Included : Breakfast, Lunch, Dinner
Day 4 - 5: Sea Kayaking, Sand Dune Hiking, Wildlife Viewing
More days to relish life and wide open spaces. Very few people visit this area, so the sense of isolation and raw nature is palpable. Wind-swept dunes rise above the salt water, providing a home for many species of plants and animals. Your guides share their knowledge of this ecosystem, but the main reward comes from simple observation. Back on the water, we continue our way south. We paddle through the narrowest channel our trip, the Curva del Diablo. We fall into a peaceful paddling rhythm, soaking in the salty air while also enjoying each stroke. We paddle among the mangroves and along the edges of the dunes. Our lunch stops give us more time to explore and rejuvenate. Late afternoon we arrive at camp, each slightly different, but all offering options for walking, relaxing with a book, or simply watching the sea.
Accommodation : Beach Camping
Meals Included : Breakfast, Lunch, Dinner
Day 6: Sea Kayaking, Puerto San Carlos, Return to Loreto
We rise early today to start our final paddle. It's a good stretch of paddling, about ten miles total, past more beauty and onto the fishing town of Puerto San Carlos. On arrival we enjoy lunch, then load into our van for a three-hour ride back to Loreto. After time at your hotel, we gather for a festive farewell dinner, sharing memories of a wonderful week.
If you have the time, we encourage you to extend your trip by joining one of our one-day excursions from Loreto. These include a day of blue whale watching, hiking in Tabor canyon or a visit to the mission town of San Javier.
Meals Included : Breakfast, Lunch
For more information
Contact:
Dive Discovery
@
1 800 886-7321
(415) 444-5100
or
Request Info