Home > Diving Thailand & Myanmar > Thailand Tours
River Kwai Tour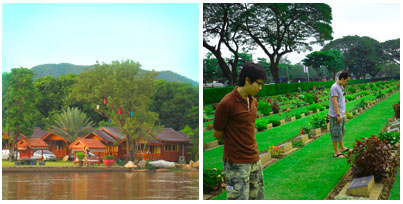 The infamous Bridge over the River Kwai is probably the most visited attraction in Kanchanaburi Province which lies 130km west of Bangkok.
Visit the allied soldier cemetery to see the final resting places for thousands of prisoners of war who died during the construction of the railway during World War II. Here row upon row of graves are set side by side in a beautiful well tended garden.
See the world renowned bridge of the River Kwai and take some time to walk over it and take photographs.
Take the train along the Death Railway, a section of the Thai-Burma line which was built to support the Japanese occupation of Burma during World War 2. At Wang Po the train crosses a spectacular wooden viaduct which supports the railway line as it snakes around a cliff wall above the river.
For more information
Contact:
Dive Discovery
@
1 800 886-7321
(415) 444-5100
or
Request Info