Home > Diving Thailand & Myanmar > Thailand Tours
Chiang Mai and the Unknown Northwest

Go beyond Chiang Mai to visit long-necked tribes and sleepy towns shrouded by mist.
Highlights:
Explore Chiang Mai, the most important town in North Thailand with over 300 temples
An exhilarating long-tailed speedboat ride and an elephant trek through the jungle
See the 'Long-necked women' of the Padong tribe with their numerous brass neck rings
Discover the sleepy town of Mae Hong Son surrounded by misty mountains.
Buy traditional Thai handicrafts direct from the craftsmen
Day 1 - Chiang Mai
Arrive in Chiang Mai, a 700 year old Northern city, which has successfully managed to combine its rich history and traditions with its increasingly modern side. The original city layout still exists as a neat square surrounded by a moat with a fortified wall and four main gates. Overlooking the city is the Doi Suthep Mountain, on top of which is the temple, Wat Phra That Doi Suthep. Built in 1383, the temple has a chedi that houses holy Buddha relics and attracts Buddhist pilgrims from all over the world. You will reach the temple by a steep Naga staircase comprising of 290 steps and will be rewarded with an exhilarating view of Chiang Mai city and surrounding countryside. Overnight in Chiang Mai (lunch).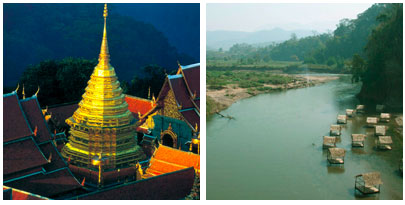 Day 2 - Chiang Mai
Early morning drive out of the city into the lush green countryside to an elephant camp to see how these gentle beasts are employed to work in the forests. Chiang Mai is famous as the centre of handicrafts and you can visit several workshops to see silversmiths and wood carvers at work and to see how beautifully painted paper umbrellas are made. Overnight in Chiang Mai (breakfast/ lunch).
Day 3 - Chiang Mai to Lamphun to Mae Hong Son
Travel to the town of Lamphun to see the most beautiful temple of the Mon Kingdom, the Wat Phratat Haripoonchai. Located on the bank of the river, this 9th century temple is one of the most worshipped shrines in Thailand. In the afternoon fly from Chiang Mai to Mae Hong Son and check in to your hotel located on a secluded and scenic hill surrounded by dense forest. After dinner visit the small night market in Mae Hong Son to shop for local handicrafts. Overnight in Mae Hong Son (breakfast/ lunch/ dinner).
Day 4 - Mae Hong Son
Explore the small city of Mae Hong Son. Situated in a small valley in the middle of misty mountains, the town is home to quaint side streets and Burmese style roofs. More than half of the province's population are members of a hill tribe, the largest group being the Karen. Visit several old temples of Burmese origin and discover a cave with a fresh water spring where hundreds of fish wait to be fed by visiting tourists. After an afternoon of relaxation take a guided bird watching tour in the National Park behind the hotel followed by a romantic BBQ dinner in the hotel. Overnight in Mae Hong Son (breakfast/ lunch/ dinner).
Day 5 - Mae Hong Son to Chiang Mai
Travel along the Pai River aboard a long tailed speedboat to a small elephant camp to enjoy an elephant trek through the jungle. Continue by car to a Padong Village close to the Burmese border. There you will visit the famous "Long-necked women" who wear brass, cane or lacquer coils around their necks, legs and arms. The women spend their days weaving and making local crafts while the men are out labouring in the fields. Fly from Mae Hong Son to Chiang Mai. Overnight in Chiang Mai (breakfast/ lunch).
Day 6 - Depart
Transfer to the airport in Chiang Mai for your onward flight. (Breakfast).
For more information
Contact:
Dive Discovery
@
1 800 886-7321
(415) 444-5100
or
Request Info