Home > Diving Thailand & Myanmar > Thailand & Myanmar Liveaboards
SY Diva Andaman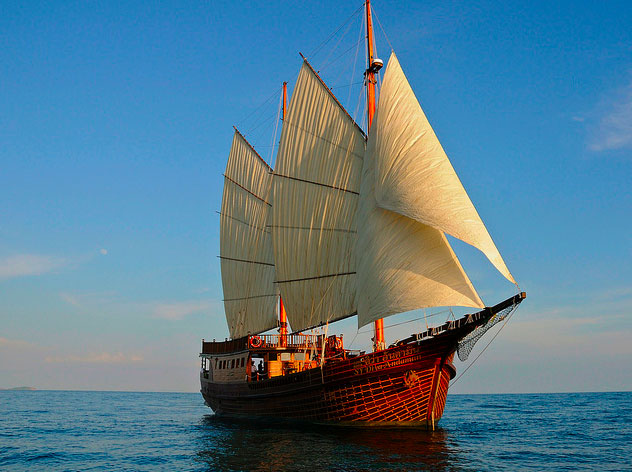 The SY Diva Andaman offers fantastic journeys into the past aboard a classic sailing yacht. During the tour you will appreciate our broad range of activities and be delighted by our fine Thai, Asian and international cuisine with world-renowned Thai hospitality and sense of service. Most other boats in the Phuket area have cooks; we have a chef and she lives up to actual four or five star standards of meals and presentation. The boat features two specially designed wine 'cellars' to keep wine at the correct temperature in the tropics. The chef will surprise you with such delicacies as foie gras prepared in front of your eyes. Nothing about this vessel, crew or trip is ordinary.
Besides a relaxing luxury cruise with idyllic panoramas, you will also enjoy our broad range of activities included in our package, such as scuba diving under professional guidance for certified divers, island touring and kayaking. Within the supplementary services offered aboard you will appreciate the traditional Thai massages, a relaxing moment with a cocktail as well as a selection of fine wines and Grands Crus.
The large brand new sailing boat SY Diva Andaman is 35 meters (115ft) in length with a seven meter (24ft) beam and over 200 square meters (2200 sq. ft.) of deck area. She offers eight comfortable fully furnished cabins with marine seawater cooled air-conditioning, en-suite bathrooms and LCD screens with DVD players (or plug in your iPod or iPhone). She takes a maximum of 16 guests which guarantees that each have a real feeling of privacy aboard. She has six cabins with double beds and two cabins with twin beds. She has a total of 10 bathrooms or heads on board complete with hot and cold showers. She carries 4000 liters of water, but can make up to 5,000 liters per day from her water maker. You'll never go dry.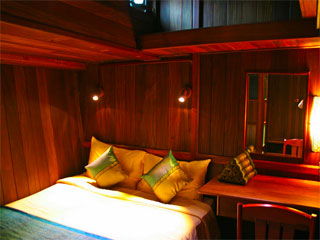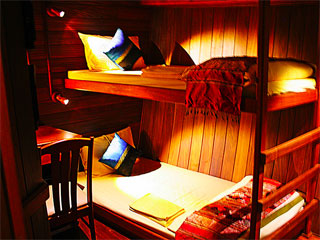 The boat was designed and built by a Belgian engineer here in Thailand. She is a schooner-rigged, classic junk-type vessel which were popular in Southeast Asia in the late 19th and early 20th Centuries. She has 400 square meters of sail, with two main sails and two jibbs complete with classic shrouds. She displaces 185 tons. She has two assembled hollow masts which rise 25 meters (83ft) above the sea.
On arrival and departure, you will also benefit from our exclusive lounge in Phuket where you can relax and refresh. For transfers from/to the airport or hotels, transportation can be arranged by our staff. With that we welcome you aboard and wish you a Bon Voyage!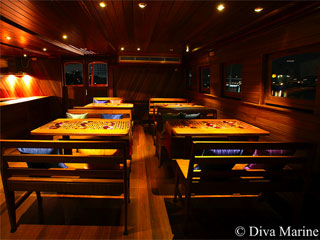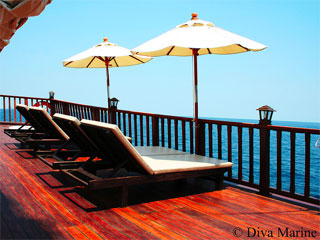 SY Diva Andaman Yacht Features
6 Double Bed Cabins En Suite
2 Twin Bed Cabins En Suite
Huge Saloon with TV, Library, Sound System
Air Conditioned Saloon
200 Sqm Of Deck Area
Fine Cuisine
Traditional Rigging/ 400 Sq. M Of Sail
Indoor and Outdoor Dining
Free Hot and Cold Beverages
Complimentary Bottle of Champagne
Camera Station
2 Large Tenders/ 4 Single Kayaks
Complimentary Toiletries
Thai Massage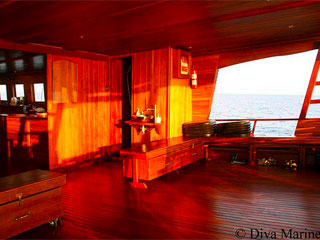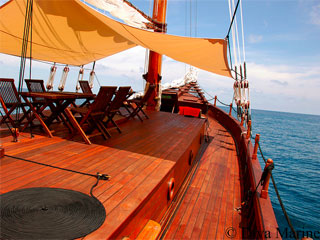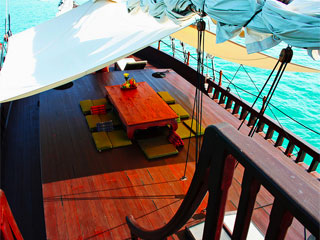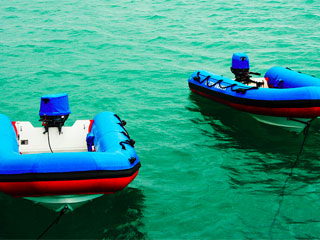 5-days & 6-nights: Similan, Bon, Tachai, Richelieu Rock
Departs from Chalong, Phuket. These trips are scheduled from November until April
Departure
18:30 Hotel pick ups from Phuket areas
20:00 Departure for Similan Islands
21:00 Dinner served on board
No Dives
Day 1
07:00 Small Breakfast
08:00 Dive 1 at the Similan Islands
09:00 Big breakfast
11:30 Dive 2 at the Similan Islands
13:00 Lunch
15:00 Dive 3 at the Similan Islands
18:00 Dinner
19:30 Night dive at the Similan Islands
~4 Dives
Day 2
The next days will follow roughly the same schedule as above. Day number two is diving at Koh Bon and Koh Tachai.
~4 Dives
Day 3
Today you'll dive at the Surin Archipelago. Most dive boats don't dive here as they simply do not have time. The advantage of a five-day trip is the opportunity to spend the day here.
~4 Dives
Day 4
A full day of diving at both the Surin Islands and the famous Richelieu Rock, four full dives and maybe a fifth if you're up to it.
~4 Dives
Day 5
We'll spend the final day diving at the Similan Islands after an overnight sail from up north. We'll arrive late in Chalong tonight after three or four dives.
~3 Dives
Day 6
07:00 An early breakfast, pack your bags, and be transported to the beach and then to your hotel. You may fly today in the afternoon.
No Dives
10-days & 9-nights Thailand - Burma (Mergui): Mergui Archipelago, Richelieu Rock, Koh Tachai and Koh Bon
Departs from Ranong, returns to Phuket. These trips are offered in February and March
Day 1
Morning transfer to Ranong Pier by mini-bus for boarding @ 2 PM-3 PM. Welcome cocktail, Thai Immigration procedure, safety and trip briefing. Cruising to Kawthaung followed by Burmese Immigration. Dinner on board while cruising to the Mergui Archipelago.
No Dives
Day 2
Two morning dives at Hi-Rock or Pineapple Island, then moving to Three Islets for the remainder of the day.
4 Dives
Day 3
All day diving at Black Rock.
4 Dives
Day 4
All day diving at the Burma Banks.
4 Dives
Day 5
Diving at North and South Twin Islands.
4 Dives
Day 6
Two dives at Western Rocky and Fan Forest Pinnacle. Depart for Thai border.
2 Dives
Day 7
Diving at Richelieu Rock.
4 Dives
Day 8
Diving at Koh Tachai and Richelieu Rock.
4 Dives
Day 9
Diving Koh Bon and Boonsung Wreck near Khao Lak.
4 Dives
Day 10
One dive at Boonsung Wreck then afternoon disembarking at Phuket Island.
1 Dive
Note: Two Thailand - Burma (Mergui) trips are available now on:
Feb 2 - 11, 2014 and Mar 9 - 18, 2014