Home > Diving Thailand & Myanmar > Thailand Tours
Ayutthaya Tour by Car & Boat

Ayutthaya was founded in 1350 and became the capital of the kingdom of Siam, a title it held for 417 years. During its time it is said to have been one of the most magnificent cities in Southeast Asia.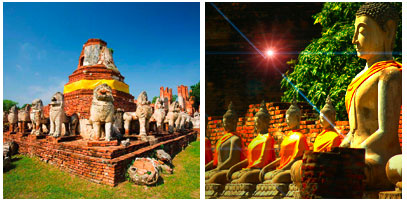 The city is located along the Chao Phraya River about 80km north of Bangkok and hosts some of Thailand's most important historical landmarks. It is estimated that Ayutthaya had a population reaching one million making it one of the world's largest cities at that time. However in 1767, the city was destroyed by the Burmese army, resulting in the collapse of the kingdom. Today, the impressive ruins of the temples, palaces and fortresses give an idea of the past splendour of this once magnificent city. The Ayutthaya historical park is recognised internationally as a UNESCO World Heritage Site.
Along the way to Ayutthaya stop at Bang Pa-In Summer Palace, first used by the royal court as a summer retreat in the 17th century. The palace was destroyed with the fall of the Kingdom of Ayutthaya and was restored by King Rama IV in the mid-19th century.
The palaces, pavilions and chapels represent a variety of architectural styles including neo-gothic, Italian, Thai and Chinese. Scattered around the extensive gardens are European statues as well as monuments ordered to be built by King Rama V in memory of members of his family, one of them a much-loved queen, who drowned in a boating accident.
Cruise back to Bangkok along the Chao Phraya River aboard a river cruiser. En route observe the scenic river life as you enjoy a sumptuous buffet lunch.
For more information
Contact:
Dive Discovery
@
1 800 886-7321
(415) 444-5100
or
Request Info