Home > Diving Socorro Island > Socorro Island Liveaboards
Rocio Del Mar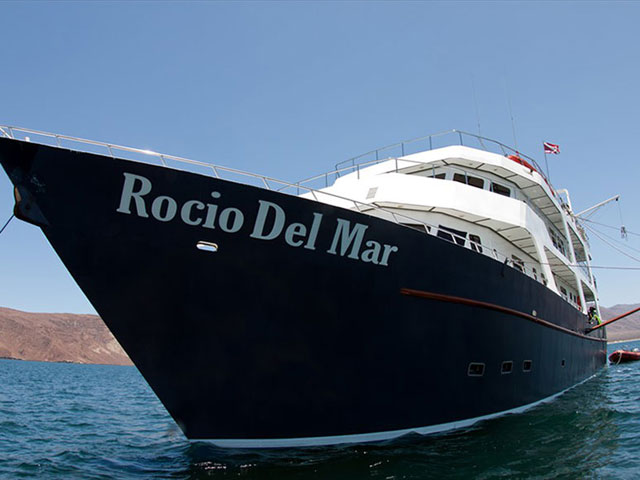 Accommodations & Comfort
Staterooms: 10 comfortable guest staterooms on two decks. All have private bathrooms with hot shower stalls, western style toilets, lavatories, and above height window. Each cabin is carpeted and air conditioned. There are room length windows with privacy curtains and convenient gear and clothes storage drawers beneath the beds. We recommend any private valuables be safely stored in the boat's secure vault.
There are two staterooms on the second deck behind the bridge on the port and starboard side. Each features a full size lower bed and a single size bed on top with adjustable reading lights.
Eight cabins on the main deck - four on the port and starboard side. Each feature two parallel single beds with an aisle in between and night table at the pillow end. Adjustable reading lights to focus the illumination without disturbing your cabin-mate.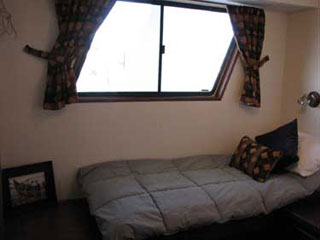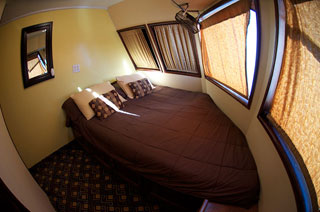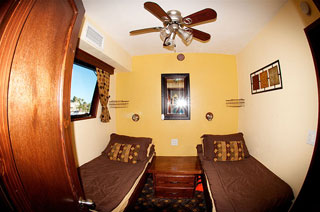 Smoking allowed only on the top sun deck.
Wet gear storage is available on the diving deck, so there is no need to lug gear or clutter your stateroom with it.
The spacious dining area is in the lower forward part of the boat to minimize any sense of movement during meals.
We will carefully select anchorages to minimize any wave action on the 200 ton stiff steel vessel while anchored for the night.
Oversize engines designed to operate at low working loads with high efficiency, producing less engine noise and vibration at normal cruising speed.
Deep V hull design and wave breaking bow knuckle to minimize surface wave action against the hull as the Rocio Del Mar moves forward through the sea.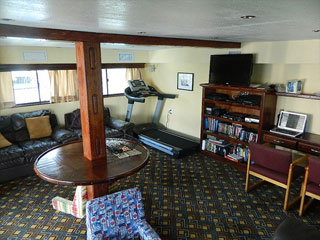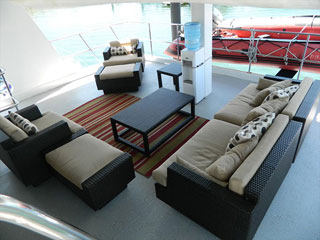 Diving the Socorro Islands
The Revillagigedo Islands (also Revillagigedo Archipelago or Islas Revillagigedo) are a group of four volcanic islands in the Pacific Ocean, known for their unique ecosystem. The islands are home to many endemic plant and animal species, and are sometimes called Mexico's "little Galapagos". Socorro island is the most diverse in flora, fauna, and topography.
The islands lie 250 miles off Baja Mexico's southern shore. When embarking on a trip to the Socorro Islands; possible destinations on the itinerary are San Benedicto, Socorro, Roca Partida and Clarion Islands.
These islands are a spectacular magnet for the largest ocean pelagic animals in the world. Schooling Hammerhead sharks, dolphins, silky sharks, Galapagos sharks, clouds of jacks and barracuda, tuna, wahoo, marlin, oceanic white tips sharks, whale sharks and mantas.
Mantas are the claim to fame for Socorro Islands; the island on which they seem to congregate the most is San Benedicto! The magical dive site called "The Boiler" is a submerged sea mount and cleaning station. More than a half dozen Mantas frequent this pinnacle regularly. The Mantas here are the friendliest I have ever experienced, they seem to enjoy the presence of humans. This is truly an exceptional place if you wish to really experience the Manta Magic.
Humpback whales visit during the winter months of December through March. This is a splendid time to hear the sound of the singing mating male escorts underwater. This destination can only be dived by a live aboard dive vessel. It takes approximately 24 hrs one way to reach the islands. This is an excellent dive destination for large pelagics due to the open ocean nature of the islands, which sometimes include currents and choppy conditions. The underwater topography consists of rocky outcroppings, boulders and some walls. There is not much in the way of coral as this is a cooler water destination.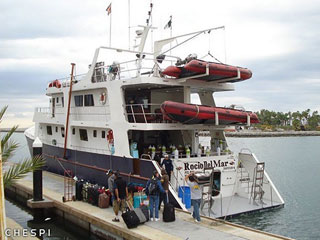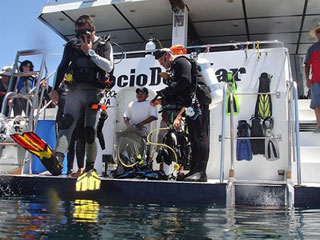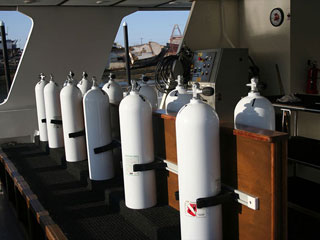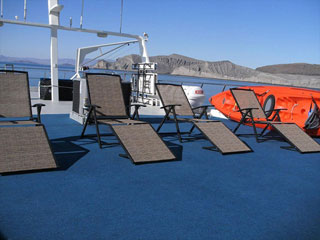 Itinerary
Arrive a day before departure, dinner will be served at 7 p.m. on the boat for those who wish to join us. Guests are asked to spend the night on the boat for early departure.
Day 1 - Departure 11:00 p.m. - 1:00 a.m.
Day 2 - Rocio del Mar arrives to San Benedicto around 6:00 a.m. Start Diving! 4 dives scheduled...
Day 3 - San Benedicto, 4 dives scheduled.
Day 4 - Roca Partida, 3 dives scheduled.
Day 5 - Roca Partida, 3 dives scheduled.
Day 6 - Socorro Island, 4 dives scheduled.
Day 7 - San Benedicto, schedule 4 dives. At the end of this day we will start our departure to San Jose del Cabo.
Day 8 - Arrive at San Jose del Cabo. Guests may sleep on the boat.
Day 9 - Disembark after breakfast.