Home > Diving Socorro Island > Socorro Island Liveaboards
Nautilus Explorer

About the Nautilus Explorer
There are hundreds of vessels in the worldwide fleet of large, liveaboard dive boats. We pride ourselves and differentiate the Nautilus by offering a recently built ship that was custom designed for divers to the highest possible level of comfort and safety with a layout that utilizes every square foot of available space. Our crew takes exceptional pride in keeping the boat spotlessly clean and running smoothly. Everything is first class and certified to the same exacting international SOLAS and ISM standards as the largest cruise ship.
A Safe, Comfortable, Well-run Ship
Your comfort is our priority everywhere onboard. The Nautilus Explorer is a happy ship and carefully designed to be very safe with heavy, strong steel construction and extensive soundproofing. The vessel's hullform, passive stability system and bulbous bow provides for a remarkably easy ride while heavy-duty commercial grade systems ensure that you have a smooth-running voyage. A water level platform aft of the dive deck provides easy entry into dive skiffs, kayaks and Laser sailboat.
Imaginative and fresh cuisine is one of the cornerstones of our business. Soups are homemade; Bread, pastries and deserts are baked onboard and there is always lots to eat with up to 4 meals a day, a choice of entrees and plenty of snacks (including some that aren't good for you!). We offer a mix of both buffet and table service with a menu that combines North American and European tastes and also a touch of Mexico. Having a chef and 2 hostesses means that we can take excellent care of our guests. Most special dietary requests can be cheerfully accommodated with advance notice (including "quasi-kosher").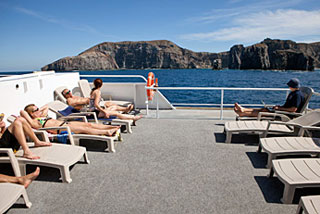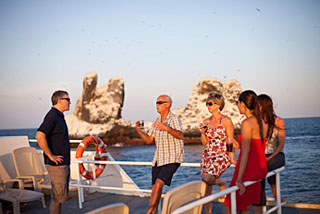 Ship Accommodations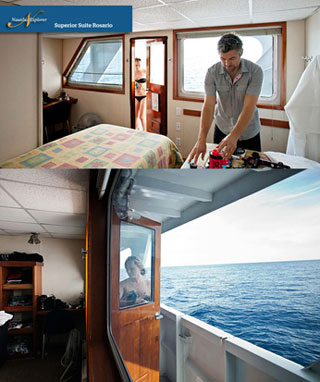 For a small ship, the Nautilus feels "plenty big" (or so our guests tell us). There is ample room to find a quiet place to read, chat, fill out your divelog or journal or work on editing the images you shot that day - whether in the separate dining room, main salon or one of the upper sundecks. And there is nothing like a soak under the stars in the sparkling clear fresh water of our hot tub after a day of diving or exploration. The main salon also serves as the ship's entertainment centre with very "comfy" couches, a great library, a well stocked bar and select evening video showings, presentations and slide shows.
We offer accomodation on the Nautilus Explorer to suit all price levels and preferences ranging from a luxurious premium suite on the hot-deck to a cost effective triple occupancy stateroom on the lower deck.
All nine lower deck staterooms have private heads with separate shower stalls, central air conditioning and measure 90 square feet. Six of the staterooms have side by side beds. Two of the staterooms have large double beds and additional storage area. One triple occupancy suite has a double bed with 2 single bunks facing.
Three superior suites on the hot-tub deck measure 145 sq. ft and have large exterior windows. They each have private facilities, a desk and either bureau or wardrobe. Two of these suites have doors that open directly outside. The third suite boasts a large flat screen TV and DVD player.
Our premium suite is also located on the hot-tub deck and is twice the size of the other suites. It has a separate bedroom and lounge each with a large flat screen TV and DVD player, private facilities with a full-size bathtub and shower plus large private windows looking out on an ocean view. In 2011, the lounge in this suite will be refitted with a beautiful floor to ceiling picture window.
Specifications
The Nautilus Explorer is a Millenium Boat Built and Launched in Vancouver, B.C. in 2000
116' long, 27' wide. Small ship size with a much bigger feel.
11 - 12 mph cruise speed.
Steel hull and superstructure for your safety.
7000 gallon fresh water capacity and 3600 gallons-per-day water maker allowing you to shower as often as you like.
Quiet twin 70 kw gensets operating 24 hours per day with precise voltage and frequency control. Ship's power is 110 volts ac , 60 Hz)
Air-conditioning and heating throughout. Comfort in every climate.
Wi-Fi available onboard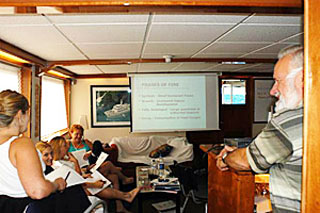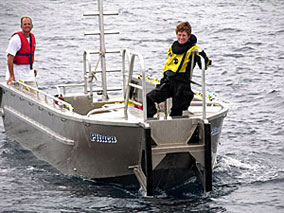 Diving in Socorro Island
The Nautilus Explorer voyages out to Socorro Island to dive and interact with the friendliest giant mantas in the world. This is by no means a trivial goal. Our highly experienced crew have spent many years diving these waters which gives you the edge needed for a truly spectacular experience. These are true giant mantas, Manta birostris (aka manta ray), and should not be confused with the regular and smaller Mobula species, which can be seen far more often and practically everywhere. The giant Pacific mantas which you will meet at Socorro are the largest of the rays and we believe they are the most majestic creatures in the ocean. They swim by moving their wing-like pectoral fins, which can grow up to 7 meters wide, but usually average about 5 - 6 meters. At Socorro, these giants choose to interact with divers! They come in very close - less than 1 meter! - make eye contact with you and then swim along beside you - totally on their terms. What is even more extraordinary is that the local population of bottlenose dolphins have learned to mimic the behaviour of the giant mantas. It is very likely that these wild dolphins will also move in close and intimate to divers during your trip.
Shark sightings are also very good at Socorro Island with common sightings of silky, galapagos, hammerhead, white tip and silver tip sharks. Whale sharks are usually spotted at the beginning of and the latter part of our season. A population of 1200 humpbacks moves into the island's waters in January and chances are excellent that you will have encounters with these mighty giants. You may even hear them singing through the hull of the ship at night as you lie in your bunk. Schooling hammerhead sharks may be seen at any time but the best chance to see large schools up close is April - June.
View Our Trips & Dates