Home > Diving South Africa > South Africa Dive Tours
Great White Shark Cage Diving
Seal Island - False Bay, South Africa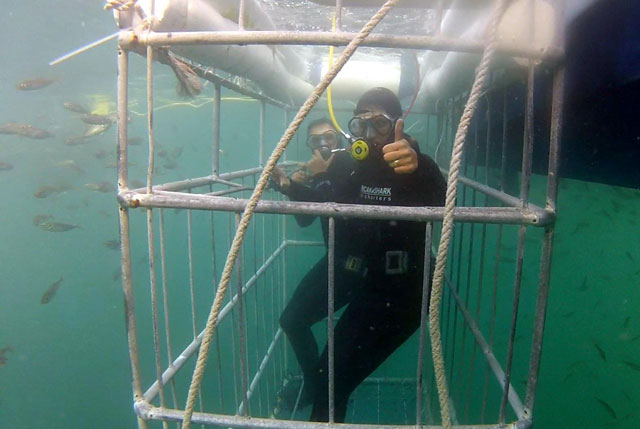 The adventure begins in Simon's Town, just 45 min from Cape Town. A 20 minute will take you to Seal Island False Bay.
NO QUALIFICATIONS for shark cage diving are necessary! The cage floats just under the surface of the water, and it is situated alongside the boat. Only two enter the cage at a time. We are the only one to offer scuba diving on all our trips. No experience needed all scuba equipment stays on board and only the scuba hose enters the cage. You are welcome to snorkel as well if you don't wish to scuba dive.
The crew is highly trained and safety is of utmost importance for your shark cage diving trip.
Good Advice: Our guides try to chat with all the guests but its very hard if you are not open to talk "shark". So, please ask questions and engage with the guides. They love to share their knowledge andyou will have a nicer trip if you are open, talkative and show interest in the sharks.
Transfers: Optional: Return transfers from designated pickup points in Cape Town
Duration: Approx 5.5 hours. The trip departs from Simon's town at 7am sharp and returns at 12h30.
How many guests on the boat?
12. We don't want you just to be a number, which is why we choose to take out only small groups, making it a more personal experience and to spend enough time sharing our love and knowledge of the great white shark with you.
How many divers in the cage?
2 maximum. Not 5-8 like a lot of other operators.
Do you offer scuba?
Yes All diving equipment is supplied. No diving experience is necessary.
Does using scuba affect the sharks coming to the boat?
No. In our experience working in False Bay since 1996, we have found that the bubbles or scuba noise have no effect on the great white sharks.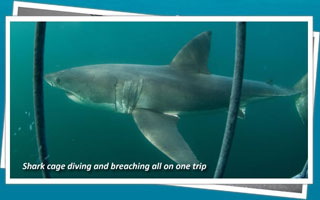 Shark Cage Diving Itinerary
Here is the itinerary of what you need to bring and know before your trip.
• Pick up in Cape Town (Optional)
• Meet at the Simons Town Pier 06.40 for a saftey briefing and overview of day. PM Trip to meet in shop at 12.30pm
• Departure 07.00 AM /13.00 PM. Departure to Seal Island False Bay. This is a 25 min boat ride.
• Do not be late. The boat will not wait for you.
• The boat will do a tour around Seal island, doing an inspection lap with the aim of choosing the best spot to anchor up with regard to wind and swell direction and start diving.
• The cage is lowered into the water and secured alongside the boat. A bait line is put in the water as well as the carpet seal decoy. These are used as attractants for the sharks. They are surface feeders and are very curious animals. Please note that the aim is not to feed sharks. We are NOT an adrenalin outfit and we do not touch sharks.
• Start diving. All dive gear is provided. We use scuba gear and snorkel.
If you do not wish to dive, you will still have excellent views of the Great White Shark as we have a lovely viewing deck on the boat.
We have a cooler box with snacks and drinks on board which you are welcome to help yourself too.
• 12.30/16.00 PM Return to Simons Town. Coffee Vouchers and a dive certificate will be handed out.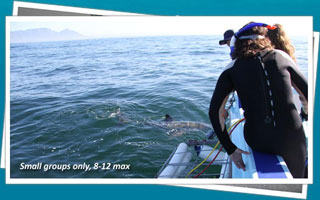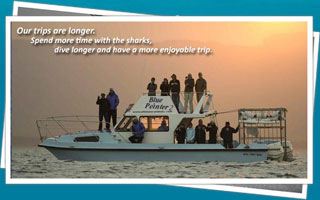 What to bring
Rain/wind jacket
Sun block and Hat
Beanie and scarf
Your swimming costume
Camera (we sell disposable underwater camera's)
Take sea sick tablets
Do not over indulge in alcohol the night before as you will be horribly sea sick.
For more information
Contact:
Dive Discovery
@
1 800 886-7321
(415) 444-5100
or
Request Info