Home > Diving Malaysia > Malaysia Dive Resorts
Sipadan Kapalai Dive Resort
Text by Costas Christ
Photograph by Peter Wong/Courtesy of Sipadan Resort
"Take out a pen and an atlas (Nat Geo, naturally). Draw a line connecting the Philippines, Indonesia, and the Solomon Islands. What do you get? The single richest marine ecosystem on Earth, aka the Coral Triangle. Spanning nearly 2.3 million square miles, it contains 75 percent of all known coral species and more types of fish than there are birds in the Amazon. And yes, like all other reef systems, it too is in danger. Which is where travelers come in. Across the region, eco-conscious lodges like Malaysia's Sipadan Kapalai Dive Resort serve as important reminders to local governments that their underwater inhabitants are worth more alive than dead. While you won't be solving ocean acidification, your presence—and tourist dollars—can help keep commercial fishing fleets at bay. Sipadan Kapalai's 51 stilted bungalows sit just off the famed Ligitan Reefs near Sipadan Island, where vibrant coral walls, schools of whitetip reef sharks, and mating mandarin fish draw divers from across the globe."
Sipadan Kapalai Dive Resort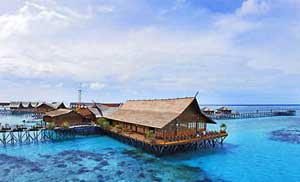 A few minutes by boat from the islands of Sipadan and Mabul but a full world away from it lays the exhilarating Sipadan Kapalai Dive Resort, sitting on its sturdy stilts on the shallow sandbanks of the Ligitan Reefs. Planned and built in full style as an airy, comfortable, sunny water village with no land in sight, it boasts a mile-long sandbank of powdery white sand where one can suntan at complete leisure while gazing out to the miles of brilliant turquoise stretching into the horizon offering the purest image of natural serenity.
Dive spots are extremely close and can be reached in just a few minutes by speedboat and some of them, actually, just by swimming from the dive center pier. For those who are ready to venture more and aside from the tiny marvels of the macro life of Kapalai can, in just a few minutes, dive in Sipadan (where big fish and turtles abound) or in Mabul (where silky and muddy bottoms offer different and equally pleasant experience and opportunities to the lovers of "muck diving").
With a combination of sun and water in a unique and serene setting with friendly staff, Sipadan Kapalai is an ideal destination for diver and non diver alike seeking a great holiday experience!
Sipadan Kapalai Dive Resort is accessible through Semporna, Sabah Malaysia where our Pulau Sipadan Resort and Tours Jetty Office is. Advance booking is necessary to avoid any inconveniences.
Facilities
Innovative in concept with a touch of traditional Kampung (means 'village' in Malay Language) design; Kapalai's chain of chalets are all linked by miles of wooden walkways for those who like to take their morning jog while looking at thousands of fish swimming just a few feet beneath.
"Broadband Internet Access, satellite phone, fresh water from mainland, no flies and no mosquitoes" are some of the words uttered by our customers.
All 59 wooden chalets offering twin and triple sharing accommodation are attached with a cleverly thought-out balcony which offers the total sought out privacy by the lovers of sunbathing and sun tanning. Chalets are also equipped with bathrooms with shower and bathtub, basic toiletries, coffee and tea making facilities and 220 volts electrical points. From the windows of the elegant and spacious rooms, one can spend endless hours looking at the sea as if it has a life on its own just dancing to its never ending tune just a couple of feet below.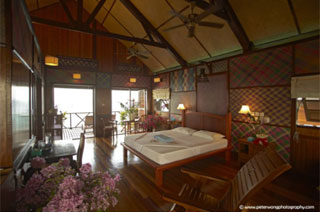 As for dining, enjoy a sumptuous meal served in buffet style under the terraced, open central structure. A big western sundeck with sitting area allows divers to have an evening drink or an after-dive chat with a view of Kapalai's fabulous tropical sunset. It is also the perfect place to share your underwater images and videos after dive. Others enjoy reading while immerse in the cooling sea breeze of Kapalai.
Diving
Other resort facilities includes dive centre which provides diving, snorkeling and kayaking gears and equipment for rental, souvenir shop, game room and internet access. For those who are yet to venture into diving sports but would love to; our PADI Dive Instructors offer a variety of PADI courses here at Kapalai, including:
• Discover Scuba Diving
• Open Water
• Advanced Open Water
• Introduction to Night Diving