Home > Brazil > Brazil Tours
Ilha Grande, 7 Days

Ilha Grande has an amazing history and has been, at different times, a pirate's lair, a leper colony and finally a prison for Brazil's most twisted and violent criminals. This juicy and unsavory history had kept developers at bay, resulting in the pristine beaches and virgin forest found today. It´s considered the second wonder in Rio de Janeiro State, and has an Environmental Protection Area of Mata Atlântica, responsible for the protection of endangered animals and plants. The island is divided in two areas: Ilha Grande Park and Reserva Biológica da Praia do Sul, whose access is allowed only to researchers and visitants authorized by IBAMA. The protected areas are intended to ensure protection of the large reserve of Atlantic forest still existing and sea life surrounding the island.
Itinerary
Day 1: In / Rio De Janeiro or Paraty – Ilha Grande – Praia Vermelha (LD)
Departure at 05:45* from Rio de Janeiro or Paraty and transfer by car to Angra dos Reis, where we take a boat to Ilha Grande, arriving at Praia Vermelha around 11:00. Check in at the pousada, Lunch (included) afternoon at leisure. Briefing about the trekking, dinner (included) and overnight at the pousada.
*The transfer has to be early since there is only one departure from Angra to Praia Vermelha at 9:00 AM. Therefore, it is needed to arrive in Rio de Janeiro or Paraty, the day before (not included).

Day 2: Praia Vermelha – Gruta do Acaiá (BLbD) / 10 km – 2h
Free morning to relax on the beach or for optional tours. Diving in the afternoon. Each day of diving includes: transfers, 2 dive tanks, weight belt, English speaking instructor or dive master and the boat.
Gruta do Acaiá:
It is a beautiful combination of a cave with the sea water. The entrance is a small hole on the floor, and it's 8m deep, inside, its around 30m wide and 1m high, so it's sometimes necessary to crawl, getting your clothes easily dirt. From the inside, it is dark and you can see the seawater lit by the sunlight showing turquoise flow, which is an amazing nature spectacle. The hike from Praia vermelha to the grotto is easy level and the terrain is not so rough.

Day 3: Praia Vermelha – Maguariquessaba (BLbD) / 12 km – 4h
After breakfast, depart for a hike towards Maguariquessaba Beach starting our coastline trekking along the following 3 days. Lunchbox included. On the way, we will pass through Araçatiba Village, Green Lagoon and Long Beach. Arrival at Maguariquessaba for dinner (included) and overnight at the pousada.
Highlight – Green Lagoon:
This is a little bay of shallow, transparent, and calm waters. It is one of the only locations in Brazil that has green corals at the bottom of the ocean, with many fish and starfish. Lagoa Verde is a perfect place for swimming and snorkeling.

Day 4: Maguariquessaba – Japariz (BLbD) / 8 km – 3h
After breakfast, we depart early in the morning towards Japariz Beach. On the way we will pass through Sitio Forte, Bananal Beach and Freguesia de Santana. Lunchbox included. Arriving at Japariz, there is an optional tour to Blue Lagoon where is possible to do some snorkeling (locally paid). Accommodation and dinner (included). Overnight at the pousada.
Freguesia de Santana and Japariz:
Freguesia de Santana was the first place in Ilha Grande to be populated. In the last century it was the center of economical development of the island and housed a large slave colony. Today it is an important historical site.
Japariz Beach has several restaurants specialized in seafood, which are managed by fishermen families, who usually serve their delicious fresh fish.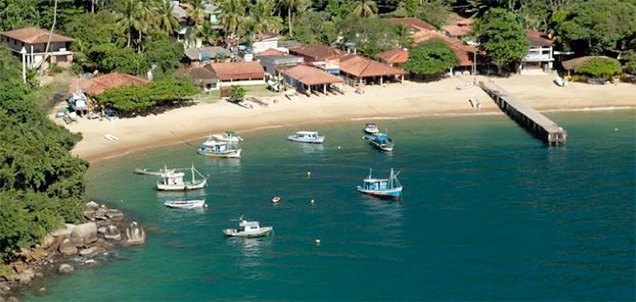 OPTIONAL TOURS (not included)
Blue Lagoon (paid locally):
The Blue Lagoon is one of the postcard of Ilha Grande that has daily tours, where you can find stunning places that preserve the wild and natural. Between the two islands, there is a stop where we find in the shallow, clear waters and blue background beautiful coral and many colorful fish that can be hand fed.

Day 5: Japariz – Abraão Village (BLbD) / 13 km – 4h
After breakfast, we depart towards Abraão Village the main point of arrival in the Island. On our way we will pass through Saco do Céu, Camiranga and Feiticeira beach, and we will also visit Feiticeira Waterfall. Lunchbox included. Arrival at Abraão Village for dinner (included) and overnight at the pousada.
Vila Do Abraão (Main Village):
The main point of arrival to the Island is Abrãao village, regarded as the capital of the island. Arriving at Abrãao bay, the enchantment begins with the beautiful scenery, the imposing Parrot´s peak, the exuberant Atlantic Forest and the green tones of the sea. The rustic village is another surprise: a place that seems to have stopped in time, where cars are circulating only for basic public services, such as state park, fireman, ambulance, police, garbage and the University of Rio de Janeiro. At night you can have a candlelight dinner, facing the ocean and tasting delicious local dishes. Also sandwiches, crepes and pizzas. Downtown Abraão, where the historical church of San Sebastian is located, there is a square where most of people drink and at certain times enjoy a forró or other Brazilian music as MPB.
Day 6: Abraão Village – Lopes Mendes (BLbD) / 6 km – 2h
After breakfast, we depart for our last trekking day. Today we will visit Lopes Mendes Beach (one of the top 10 in Brazil). The trail is from Abraão village to Pouso beach and then, over the hill towards Lopes Mendes. Free time to enjoy the beach. Lunchbox included. On the way back, we hike up and down the hill again, to Pouso Beach, from where we take a boat back to Abraão Village. Dinner (included) and overnight at the pousada.
Lopes Mendes:
Lopes Mendes, without a doubt, is one of the most beautiful beaches in the world, thin fine white sand and crystal clear waters captivates all the visitors. This beach has waves that suit the swimmers as well as the experienced surfers. Ranging 2,4 KM in extension, a small creek runs into the ocean at the end of it, in addition to a small chapel and a mosaic done by Silvio Cavalheiro on the ruins of a ship.

Day 7: Ilha Grande / Rio De Janeiro / Out (B)
After breakfast, we take the boat back to Angra dos Reis, and from there, a car to Rio de Janeiro Airport or hotel.
COST: please contact us for rates
For more information
Contact:
Dive Discovery
@
1 800 886-7321
(415) 444-5100
or
Request Info