Home > Diving Dominican Republic > Dominican Republic Liveaboards
Turks & Caicos Aggressor II
Aggressor Fleet's Liveaboard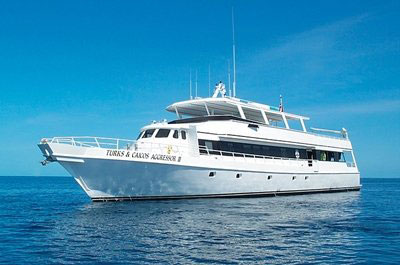 The Turks & Caicos Aggressor II is built to U.S. Coast Guard and A.B.S. standards with a full complement of safety equipment. This all aluminum monohull is designed to provide the utmost comfort and safety. Registered under Cayman Island Shipping Registry with S.O.L.A.S. Standards. She has a Cayman registered Load Line.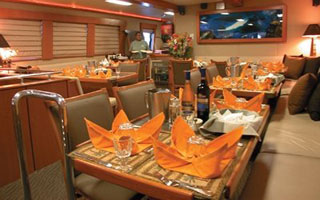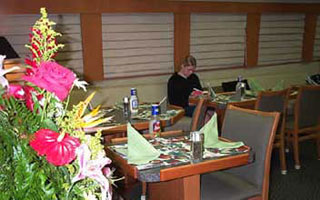 EQUIPMENT
2,000 gallon per day water maker
(2) 3406 Cat. engines, 400 h.p. each
(2) 3304 Cat. 65kw generators
(2) 48-mile radars
(3) VHF radios
(1) GPS
(1) GPS/plotter
(1) skiff with outboard motor for shore excursions. Two skiffs are used during whale charters.
200 Gallon per day Headhunter sewage treatment system
Security Camera System which monitors the machinery spaces, dive deck, and dive platform
(1) Kaiser 150 psi 32% Nitrox rotary screw compressor with cascade storage
Registered under Cayman Island Shipping Registry with SOLAS Standards.
STATEROOM FEATURES:
(1) Luxurious, "Master" stateroom with queen size bed, lavatory, private head and shower, closet, port light, granite floors/shower and flat-screen DVD player.
(6) "Deluxe" staterooms with double and single berths, lavatory, private head and shower, closet, port light and flat-screen DVD player.
(2) "Twin" staterooms with (2) single berths, shared head and shower, lavatory, closet, port light and flat-screen DVD player. *The two twin cabins have adjoining bathrooms which are entered through the cabin.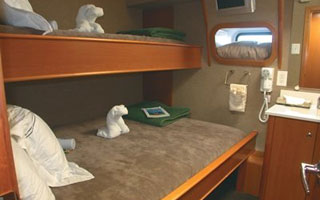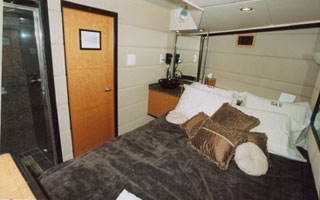 Deluxe & Master Stateroom
OTHER AMENITIES:
Computer station with (2) computers and flat screen monitors. For a fee, e-mails may be sent via satellite phone.
Partially covered sun deck with wet bar, hot tub, ice machine, Corian table tops, bar-b-que grill and chaise lounges.
Full-service galley with freezer and refrigerator storage.
8' x 16' covered swim platform with (2) warm, freshwater showers, fin storage and (2) water exit ladders.
Dive deck with personal gear lockers for in-place air/nitrox fill, rinse tanks and three-tier camera table with low-pressure air hoses.
Weights, weight belts, 80-cu. ft. aluminum tanks with standard "K" valves for use with standard yoke regulators
Rental scuba gear, rental UW cameras free use of kayaks and underwater scooters.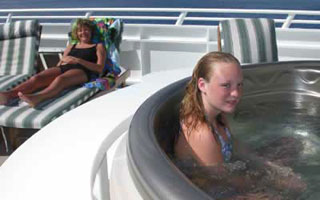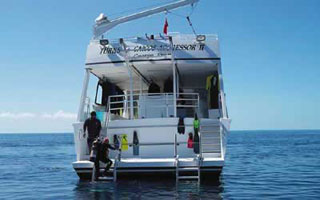 Welcome to the Dominican Republic (Sat to Sat)
Humpback Whale Season Dates: January 26, 2013 - April 6, 2013 January 25, 2014 - April 5, 2014
Humpback Whale Snorkel Adventures - The beautiful Turks and Caicos Aggressor II offers an exciting itinerary from January - April to the Dominican Republic to snorkel with Humpback Whales at the Silver Bank. This area, twenty square miles in size, is located north of the Dominican Republic and approximately the same distance from the Turks & Caicos Islands.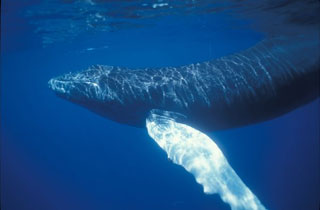 Designated as a Marine Sanctuary, the Silver Bank provides a safe wintering haven for the entire North Atlantic Humpback Whale population who gather here from January through April by the thousands to court, mate, calve, and rear their young. Humpback whales find the area ideal for mating and giving birth. The banks offer safety and protection to females and their calves until the young are strong enough to make the trip back to the North Eastern U.S. coast. This sanctuary, also known as the "Sanctuary for the Marine Mammals of the Dominican Republic" is one of three places in the world where humans can swim and snorkel among the whales.
During the week, guests will observe the whales at close range which includes above the water and soft in water encounters.You'll see them spin and play, hear their haunting songs resonating through the water and sense the power and grace of some of the most intelligent mammals on earth - it's a life-changing experience! All whale charters depart from Puerto Plata, Dominican Republic.
The Turks & Caicos Aggressor II is one of the few yachts permitted access to the Silver Bank during the Humpback mating and breeding season.