Home > Amos Nachoum > Big Animals Expeditions
Trinco Blue Whale
Big Animals Expedition, Sri Lanka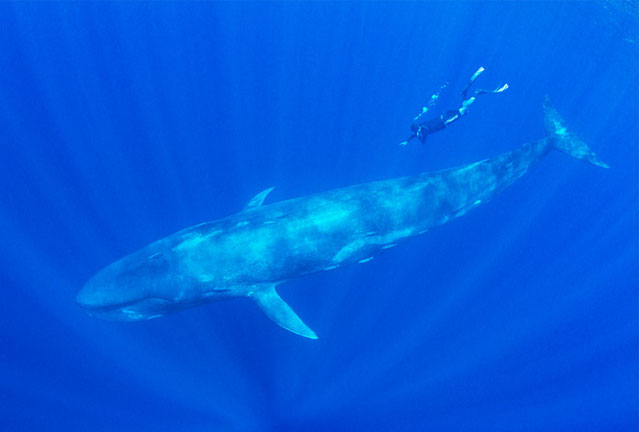 Trinco Blue Whale - Big Animals Expedition
experience
12 years
where
Sri Lanka
max no. of guests
4 guests (two guests per boat)
departure 1
February 28 - March 12, 2013
departure 2
II. March 10 - 19, 2013
III. March 17 - 26, 2013
duration
I. 13 days
II. 10 days
III. 10 days
pricing
I. $ 9,400 per person
II. $ 7,400 per person
III. $ 7,400 per person
activities
free diving / snorkeling
Snorkeling and photography adventure within one paradox after another
Paradoxically, political turmoil has protected marine wildlife in the northeast waters of Sri Lanka for the past twenty-eight years. Since the government has forbidden civilians form fishing or traveling through the waters up to ten miles offshore, cetacean life has flourished, including the pygmy blue whale, sperm whale, and common + spinner dolphins.
Two years ago, the conflict ended. Now that peace has come to the area, worldwide interest in local tourism and whale-watching has boomed.
Big Animals Expeditions and local tour operator Nature Trails - John Keels Hotels was critical in advising the Sri Lankan Navy to establish new, higher eco-tourism standards, protecting the whales' privacy and developing safe adventure access for research, whale-watching, and diving.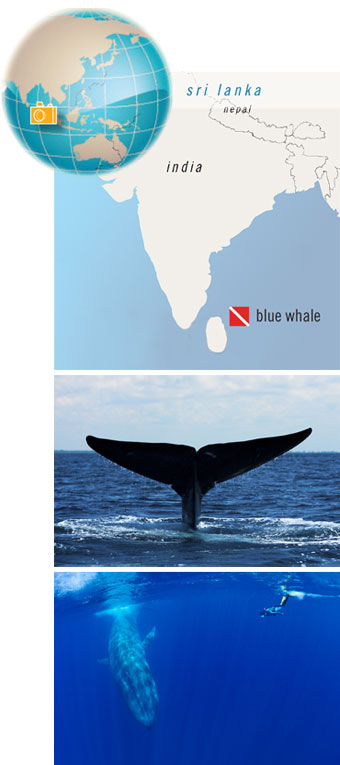 Allowing only two people per boar and two vessels at a time, Big Animals Expeditions provides stunning, intimate encounters and guided personal photography of these gentle sixty-foot giants passing only a few feet away.
While staying at four-star accommodations along the coast of Tricomalee, our vessels are equipped with state-of-the-art four-strokes engines, top-level communication and navigation systems.
General Itinerary
Day 1: DEPART your hometown for Colombo Sri Lanka.
Please note that Sri Lanka now requires VISAs before arrival - please check with your country's consulate or embassy for details.
Day 2: ARRIVE Colombo. Please provide Big Animals Expeditions with your arrival information: we will have a transfer waiting for you to bring you to the hotel in town for an overnight stay.
Day 3: DEPART in the morning to the airport for your flight to Trincomalee. Stay overnight in the Chaaya Blu hotel by the beach.
Day 4-13: Nine full days of searching the Blue and Sperm whales. There will be two vessels with two guests per boat for each embarkment, plus a visit from Amos visit every other day.
We will have plenty of water lunch will be served on board. You will need to bring maximum sun protection with you. We recommend long sleeved shirts, hats, sunglasses and SPF50+ sunscreen. We will spend at least 8 hours per day on board and long distance cruising.
Sea conditions are mostly calm to moderate, with rising wind in the afternoon.
Day 14: Midday flight back to Colombo, with the possibility of catching your own international flight home.
Most flights out of Sri Lanka are late at night, so Big Animals Expeditions has arranged for day room at a city hotel to clean up and relax before the international departure.
******
Diving Equipment:
Sri Lanka water temperatures are between 82 - 86F or 23C - 25C. You will need:
T-shirt (skin suit is also OK)
Mask
Snorkeling fins
Snorkel
Light windbreaker
There is no need for a regulator and BC. We may rent these locally if necessary.
Camera equipment
We will be only in deep water photographing large wildlife. It is recommended that you bring:
Wide angle lenses
Zoom lenses 16mm - 35mm (Canon), 14 - 24mm (Nikon) or fixed lenses such as 14mm (Canon) 15mm (Nikon) 16mm (Fisheye, Nikon) or 15mm (Fisheye, Canon)
Topside camera, lenses with polorizer filter
small pelican case to secure your land camera onboard, space is limited
Travel Documents:
US citizens are required to have a valid passport, Sri Lanka VISA, and round-trip air ticket
Electricity in Sri Lanka:
Sri Lanka's electrical outlets are unique, and the local operator will provide you a wall convertor for you to plug in in your European or USA electronics. If you have multiple items to charge please bring a power strip.
Medication:
If you are currently taking any medication, please bring enough for the duration of the expedition.
Tour price includes:
Two night stay at Cinnamon Lakeside hotel in Colombo
Transportation between all hotels and airports
Nine night stay at the Chaaya Blu hotel in Trincomalle
Breakfast and dinner at the hotel. Lunches will be provided on board (at Trinco only)
Nine days of search and snorkeling with blue and sperm whales
Round-trip domestic airfare
Photo coaching and tour escorting with Amos
Not included in Tour Price:
International airfare
Meals and drinks not specified
Private transfers
VISA fee
Personal expenses such as phone calls, laundry, etc.
Customary gratuity at the end of the voyage for stewards and other service personnel aboard (guidelines will be provided)
Additional costs incurred due to independent travel arrangements
For more information
Contact:
Dive Discovery
@
1 800 886-7321
(415) 444-5100
or
Request Info