Home > Amos Nachoum > Big Animals Expeditions
Great White Shark Mexico
Big Animals Expedition, Isla Guadalupe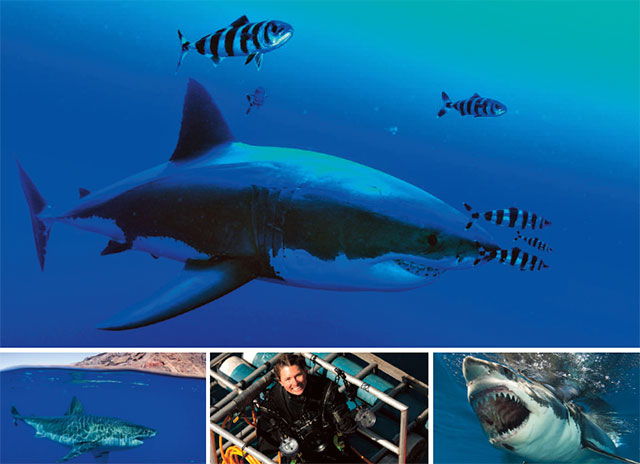 Great White Shark Mexico - Big Animals Expedition
Worldwide Great White Shark experience
30 years
where
Isla Guadalupe, Mexico
max no. of guests
10 guests
departure
Oct 19-25, Nov 11-16 and Dec 2-10, 2016 (peak predation, special departure, call in for details)
duration
7 days
pricing
$6,400 per person based on double occupancy, except of the third departure
vessel
110' Southern Sport
activities
Cage diving
temperature
In Water: 68 - 72°F; Air: 60 - 80°F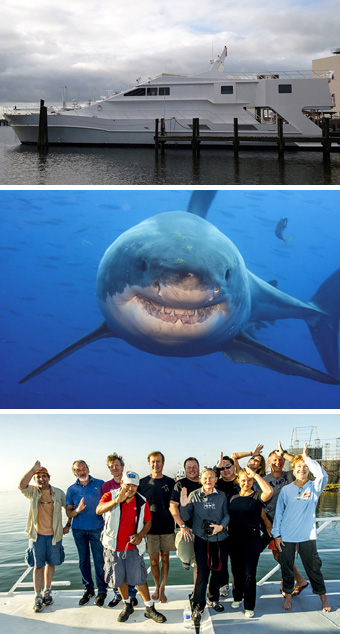 Divers must be certified to venture through open water to the cage lowered to thirty feet. Maximum time spent in the cage is an hour, more than most wetsuit encumbered body temperatures usually desire.
With two cages and only ten guests, it is possible to literally stay in the water from morning to night; the only limiting factor is your ability to stay warm. In order to make sure everyone gets time in both the surface cages and the depth cage, we devise a schedule that divides our divers into two groups that take turns in the 30-foot cage. The depth cage is lowered four times every day, and each group gets to use it twice daily. For example, on the first day of diving, Group 1 will enter the 30-foot cage at 8am and 12pm, and Group 2 will use the cage at 10am and 2:30pm.
The following day we will alternate times to ensure all our guests have the same opportunities to dive with these mesmerizing predators. In between deep cage divers, an almost unlimited amount of hours can be spent in the surface cages, and most people only take breaks to warm up in the sun before returning to the beautiful blue waters of isla Guadalupe.
Chumming
We catch our own fish to make a fresh, highly scented, bloody mixture to drift in the current behind the boat. While we may cast a skip jack or mackerel to an oncoming shark for a photo opportunity, this is not done when the lower cage is in the water. We do not want to create a feeding frenzy.
Isla Guadalupe Island
Departing our gateway city of Ensenada, Mexico, a 90-minute van drive south of San Diego, California, isla Guadalupe is an overnight 150 miles boat journey. The island's pine and cypress trees condense cloud moisture into fresh water springs, supporting a community of plants along the top ridge of the island. Sealers introduced goats to the island, and when their enterprises failed, the island was wiped clean of most vegetation.
Every shoreline bend has a unique sheer lava rock formation. Fur seals perch on large boulders, elephant seals, also with pups are inclined to slumber on rocky beaches.
The Vessel - Southern Sport
Mexican-owned Southern Sport is a 110' dive liveaboard with five double ensuite cabins on its upper deck, a master bedroom on the main deck, and two cabins with a shared bath on the lower deck. There is a large living room housing a full entertainment system and computer. The boat is fully air conditioned, has a water purification system, plus a Nitrox blending system. The vessel can accommodate 20 passengers, but we only take 10 guests to make sure everyone gets a unique, personalized experience with as much time in the water as they can handle.
Southern Sport has the capacity to carry two shark cages allowing our minimum number of guests to enjoy all the time they want to be in the cage without having to wait or take turns. An automatic hoist raises and lowers the cages, two at water level with one at a depth of thirty feet. The all-mexican crew is extremely knowledgeable and they are extremely proud of their sharks. Adding a cultural taste of mexican cuisine to our experience, we can also accommodate other food preferences.
An added bonus is Amos' availability to share his expertise on the various aspects of photographing great whites in this environment. A two-time winner of the BBC Wildlife Photographer of the year award, he pays special attention helping each diver to obtain the finest quality of photography using both strobes and ambient-light.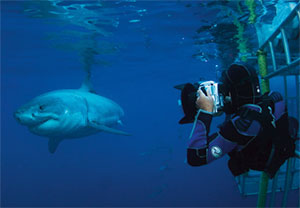 The Great White Shark
Growing to an average length of 15 ft (4.6 m), and weighing as much as 5,000 lbs (2,268 kilos), the great white's slate-gray upper bodies blend with the Pacific's rocky coastal sea floor. They are named for their white underbellies. Streamlined, torpedo-shaped swimmers, their powerful tails can propel them to speeds up to15 miles (24 km) per hour.
Highly adapted predators, their mouths are lined with more than 300 serrated, triangular teeth arranged in several rows. to detect prey they have an exceptional sense of smell. Their organs can sense tiny electromagnetic fields generated by prey. Found in cool, coastal waters throughout the world, there is no reliable data on the great white's global population. Their numbers are decreasing precipitously due to overfishing and accidental gill net entanglements. Great whites are listed as an endangered species.
General Itinerary
Day 1: ARRIVE: San Diego and stay overnight at a hotel of your choice near the airport. Wyndham Bayside (1355 North Harbor Drive San Diego)
Day 2: By 7:30 AM you meet at hotel lobby the van that takes us to Mexico we head for Ensenada. This is usually a 90-minute ride, depending on border crossing, visa formalities and traffic. As soon as we reach the port in Ensenada, we board our vessel. We leave at midday for our 18-20 hours crossing to isla Guadalupe.
Day 3 - 6: ARRIVE Guadalupe around 10AM and as soon as the three cages are in the water, great white shark diving begins. During our four days on site, the dive deck is open for action and excitement from 8AM to 5PM.
DEPART Guadalupe by 2PM on the last day of diving and start the 18-20 hour cruise back to Ensenada.
Day 7: ARRIVE Ensenada at midday and return across the border to your hotel in San Diego or to the airport if you have a connecting flight on that day.
******

Tour price includes:
6 days great white shark diving (according to your departure) on board the Southern Sport
All diving equipment (tanks, weights, and belts)
leadership by experienced expedition staff
All meals throughout the voyage aboard the ship including snacks, coffee and tea
land travel arrangements; transfers to and from the vessel
Comprehensive trip preparation bulletin will be sent after deposit is made.
Not included in tour price:
Airfare to and from San Diego
hotel charges on arrival and departure days
Personal charges such as Nitrox, laundry, meals ashore, bar, and telecommunication charges
insurance – it is mandatory you buy your own travel, health, and diving insurance
Park and Visa fee – about $100
Gratuities
For more information
Contact:
Dive Discovery
@
1 800 886-7321
(415) 444-5100
or
Request Info