Home > Amos Nachoum > Big Animals Expeditions
Special Expedition: Antarctica
Big Animals Expedition, Antarctica Peninsula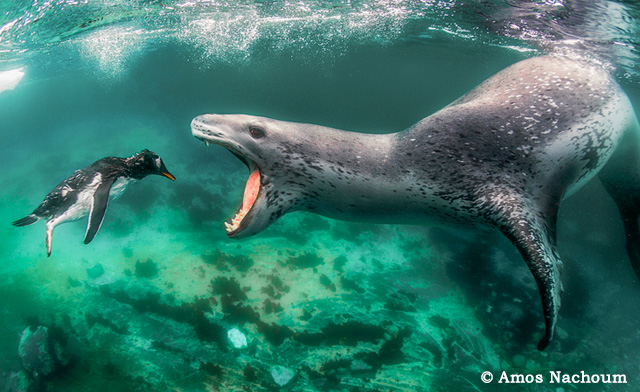 Special Expedition: Antarctica - Big Animals Expedition
Antarctica experience
18 years
where
Antarctica Peninsula
max no. of guests
4 guests
expedition leader
Amos Nachoum
departure
2017: Feb. 12 – Mar. 8
duration
26 days
pricing
$35,600 per person
facility
120' RV Braveheart
activities
Live-aboard expedition dive boat, leopard seal and orca diving, ice berg cruising, hiking among penguin colonies and historic explorer sites
temperature
In-Water: 28 – 34° F ( -2 – 1° C), On-Water: 10 – 40° ( -12 – 4° C)
Exclusive Leopard Seal & Orca Encounters
From mid-February and early March fledgeling penguins begin exploring the waters to practice their swimming skills. The adults, meanwhile, venture out in to the open waters to hunt for food to feed the chicks. This is the perfect time for one of the two only apex predators in Antarctica - the leopard seal - to feed. Posing motionless as harmless rocks, the seals wait in shallow waters to take advantage of the playful young penguins. On the other passage a pod of Orcas, in an amazing cooperate maneuver predate a on Crab Seal that rest on a drifting iceberg. Witnessing these two epic feeding behavior can only be achieved from on board a small vessel. Intimate team like of BigAnimals is permitted to stay multipole days among remote bays in which such action is taking place.
With Amos' guidance, you will dive and photograph these extraordinary, dramatic encounters.
Our Journey
RV Braveheart is well equipped for our Antarctica expedition. Based in new Zealand, the 120-foot (39 M) steel ship has the ability to carve through Antarctica ice and, if necessary, handle oceans swells as high as 45 feet (16 M). she is capable of steaming non-stop for as long as a month. RV Braveheart's deck includes a helicopter pad. hosting expeditions for national Geographic, the united Kingdom government, and new Zealand Department of conservation, she can perform better than any ship in Antarctica. offering five double berth cabins, all air-conditioned or heated, she has two showers supplying adequate hot water. her crew of five includes a cook. she was built to accommodate twelve guests, but we only take eight. The ship's dive compressor can fill four tanks simultaneously allowing as many as twenty tanks in the water in two or three zodiacs.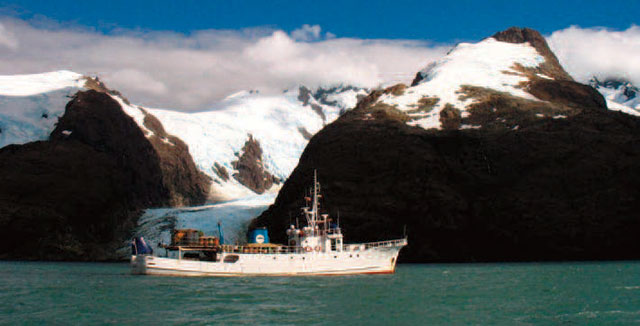 General Itinerary
Day 1: ARRIVE in Buenos Aires, Argentina and connect with the flight to Ushuaia. Take a taxi from the airport to your designated hotel. Based on abundant experience, we begin this important expedition a day early for an equipment assessment. Before boarding the ship, we review all your personal diving and photography gear to ensure that you have everything you need to get the most out of your Antarctic expedition. We meet in the evening for a briefing and dinner with the crew, expedition staff, and your new diving friends.
Days 2-6: We board the ship on the afternoon of Day 2 in Ushuaia, we will cruise through the Beagle channel to the Drake Passage. Despite its reputation for rough seas, our records show over 60% of crossings take place in relatively calm seas. In any case, our ship is well-suited for all weather conditions. As we cross the Antarctic Convergence, we arrive in the upwelling zone, where we are likely to see the Wandering Albatross, Grey Headed Albatross, Black-browed Albatross, Light-mantled Sooty Albatross, Cape Pigeon, Southern Fulmar, Wilson's Storm-petrel, Blue Petrel, and Antarctic Petrel.
Day 7-20: These are fourteen amazing days of cruising and leopard seal and orca diving as we explore the vast islands of the southwest Antarctic Peninsula. From Deception island in the north (weather permitting, we will land at Bailey head with its colony of tens of thousands of chinstrap Penguins) we sail through the breathtaking Gerlache strait and Lemaire channel. We have a good chance of encountering humpback whales, minke whales, fin whales and orca predation. At Pleneau island, we sail among the stunning vestiges of once-massive icebergs, an 'iceberg graveyard.'At Pleneau we frequently bring back the best images of leopard seal predation, as well as from coverville, Port Lockroy, Astrolabe and Gourdin island. During this time, activities include zodiac cruises, snorkeling, scuba diving, hiking, photography workshops, and lectures.
With only 8 guests on board, we can be flexible in our itinerary to take advantage of the best that Antarctica has to offer, and better respond to weather and ice conditions to pursue wildlife encounters and photographic opportunities: visiting secluded bays, seeking out remote sites for penguin colonies and leopard seals, staying out long hours for shooting in rare bright light conditions. All in all, we've created a perfect platform for both amazing photography and unforgettable life experiences.
Day 20-24: We leave the Antarctic Peninsula and start our cruise back to ushuaia, crossing the Drake Passage again, at which you're now an old hand. Leave the vessel to catch the connecting flight from ushuaia to Buenos Aires and onward.
******
Tour price includes:
Voyage aboard the RV Braveheart for 25 days and 24 nights
All meals throughout the voyage aboard the ship including snacks, coffee and tea
All shore excursions and activities throughout the voyage by Zodiac
All diving services, tanks and weights Photography presentation and instruction
Leadership by experienced expedition staff
All miscellaneous service taxes and port charges throughout the program
Not included in tour price:
All airfare
overnight in ushuaia, Argentina
Land travel arrangements
Passport and visa expenses
Government arrival and departure taxes
Baggage, cancellation and personal insurance (strongly recommended)
Excess baggage charges on all flights
All items of a personal nature such as beverages and telecommunication
customary gratuity at the end of the voyage for stewards and other service personnel aboard (guidelines will be provided)
unused portion of the itinerary above is not refundable
Additional costs incurred due to independent travel arrangements
*Subject to change, inquire on availability*
For more information
Contact:
Dive Discovery
@
1 800 886-7321
(415) 444-5100
or
Request Info