Home > Diving Malpelo Island > Malpelo Island Dive Tours
Malpelo Dive Expedition & Shark Diving
9 Nights/10 Days

News update from M/V Yemaya
It is with a heavy heart that we are informing you of our decision to cease our operation to Malpelo effective January 2018.
The Colombian government decided end of last year to change the rules for the permits to Malpelo National Park. From 2018 onwards, only boats operating from Colombian ports will be allowed to visit Malpelo, citing the need to implement and guarantee the national sovereignty of their country as the primary reason for this change.
This undoubtedly changes everything in our operation. The whole operation that we built up over the years, including our crew, logistics, permits and company in Panama as well as a steadily growing clientele, all our efforts and the results of our hard work, energy and love for what we were building up will come to naught in 2018.
We will of course operate from Panama until our last trip departing on December 24th, 2017.
We have spaces left on our trips in 2017. So if you want to discover the place on earth with more sharks than any other, you still have a chance!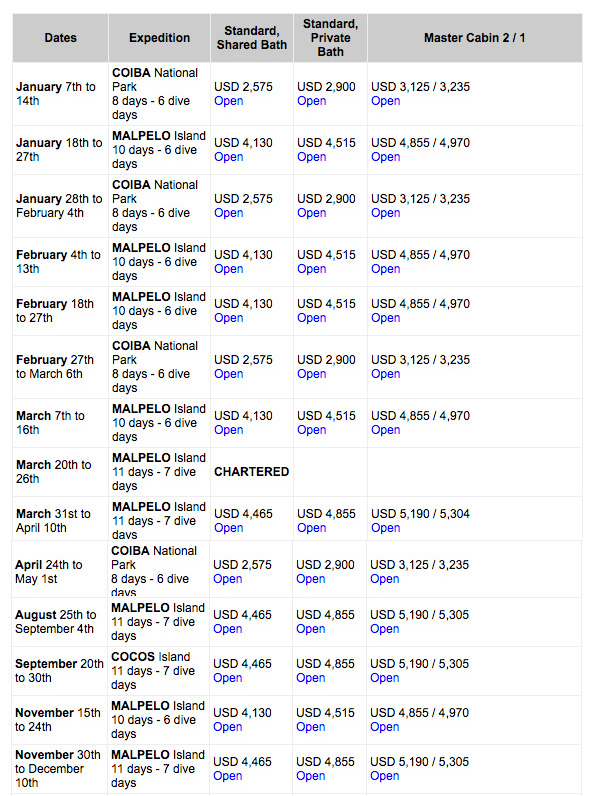 Itinerary
Day 1 – Orientation
At 6:30 am you will be met by our representative/guide at the arranged meeting points at hotels in Panama City. Our representative/guide will accompany you on the coach ride to Puerto Mutis, a small inter-tidal river port in the province of Veraguas. This journey takes around 3.5 hours.
Upon arrival, a 30-minute transfer by tender to M/V Yemaya, at anchor amongst the ancient mangrove forests of the Gulf of Montijo, a RAMSAR Site, recognized for its international importance for marine birds.
Once aboard, we set sail for Malpelo Island, the Mount Everest of Sharks. During the cruise, lunch will be served. You will have time to settle into your cabin, prepare your dive and camera equipment. We will introduce our crew and deliver briefings on safety aboard M/V Yemaya and an introduction to the dive deck and dive program aboard.
Day 2 – Crossing to Malpelo
Time to relax, look for dolphins, take some sun and enjoy the hospitality of M/V Yemaya and her crew. We arrive at Malpelo in the evening.
Day 3 – Arrival at Malpelo
We leave at 8:00 am to make our check out dive on one of the easier dive sites at Isla Malpelo. Afterwards, we take in two (2) more of Malpelo's famous signature dive sites.
Day 4-7 – Malpelo Island
Three (3) dives a day at Malpelo Island.
Day 8 – Last Day at Malpelo
Three (3) dives at Malpelo Island, with choice of dive sites in Malpelo depending on sea state and weather. In the afternoon and upon completion of a full day's dive agenda, our crew will secure M/V Yemaya for departure and the overnight cruise back to Panama.
Day 9 – Crossing Back to Puerto Mutis in the Gulf of Montijo
Time to pack your dive gear and camera equipment and relax as we cruise into Panamanian waters. We arrive at our anchorage in the evening.
Day 10 – Transfer Day
After breakfast, our crew will assist to transport you and your luggage to the waiting coach and back to Panama City. You will be in Panama City by early afternoon.
Notes
The sample expedition agenda detailed above is based on 9 nights/10 days duration. Some Malpelo Expeditions are of 11 days duration, and includes additional days in the area visited.
We always endeavour to stick to our expedition agenda. However, for safety, ocean and weather conditions or on the advice of the National Park administration, certain destinations and locations could change during the expedition.
We suggest you arrive in Panama at least one day before vessel departure. You will be met at Tocumen International Airport by our representative and transported to your hotel. You will be able to enjoy the cafes, restaurants, bars and night life of this bustling Latin city. The following day we collect our guests from two (2) pick-up points at Panama City hotels and depart for Puerto Mutis. The coach ride will give you an opportunity to observe some of Panama's spectacular scenery of lush green mountains and forests.
Panama City is enjoying a boom in tourism. As a consequence of this, the earlier you book the greater possibility exists to confirm accommodation in one of the city's centrally-located hotels. If hotels are full, we will provide other accommodation of same standard in or outside Panama City. Many tour operators in Panama are now renting private apartments as an alternative to hotel rooms. Apartments are centrally located, well equipped, clean, comfortable, and have a private bath and all amenities.
For more information
Contact:
Dive Discovery
@
1 800 886-7321
(415) 444-5100
or
Request Info