Home > Dive Discovery Group Trips
Scuba Dive Galapagos aboard Majestic Explorer - August 10-17 2019 Group Trip
Not escorted by: Cindi LaRaia
Video: Galapagos Islands Sept 29-Oct 5 2014 aboard Humboldt Explorer
Camera & Edit: Josh Jones
***PEAK WHALE SHARK SEASON*** Galapagos is HOT HOT HOT!
We have chartered the Majestic Explorer for 7nts, this boat offers 3 full days diving at Wolf & Darwin, the primo places to see whale sharks!! Not to be outdone are the thousands of schooling hammerheads, Battalions of Eagle Rays, hundreds of schooling yellow fin tuna, super pods of bottle nose dolphins, huge amounts of fish and marine life abound in these waters!!!
"The Majestic will be offering a unique dive where we can dive with the Marin Iguanas!!"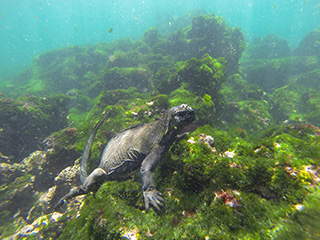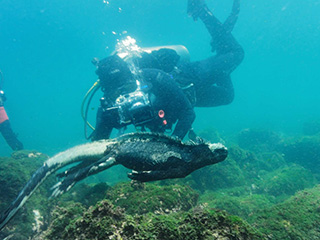 Book now, don't be disappointed, all boats sell out 2yrs in advance for the PEAK Whaleshark season! I also highly recommend an extra week visiting the islands for the amazing land walks to see the rare and 'unafraid of humans' flora and fauna of these amazing islands! Walk in the footsteps of Charles Darwin!
Itinerary
Please note: the below day to day itinerary which offers 3 full days at spectacular Wolf & Darwin, where ALL the big action is! The best time just after the full moon for all the WHALESHARKS will be on this departure! Thousands of hammerheads, spotted Eagle rays, Galapagos Sharks (Sherman tanks), black tip sharks, dolphins and loads of schools of fish of many species, including Tuna and jacks zooming around!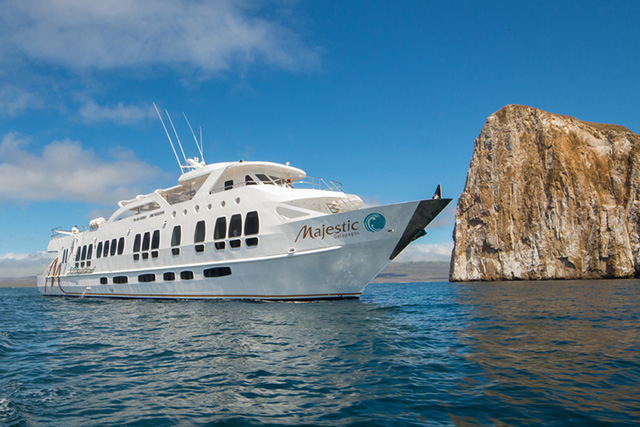 Saturday: Baltra (1 Check Out Dive at Punta Carrion)
Guests fly to the Galapagos Islands from Mainland Ecuador, arriving in the late morning. The dive guides will meet the guests at the airport and escort them to the Majestic Explorer. Guests will board the vessel, have lunch and listen to the briefings. After the briefings, the guests will do a check out dive at Punta Carrion. After dinner the vessel will depart to the next scheduled destination.
Sunday: Baltra North (2 Dives)
6:30 and 9:30 dives
Sightings include rays and schools of fish.
Afternoon North Seymour land visit. Walk the path around North Seymour Island to see the large colonies of Blue Footed Boobies and Frigate Birds. Sighting of Sea Lions and Marine Iguanas are also common.
Depart for Western Islands. (long transit)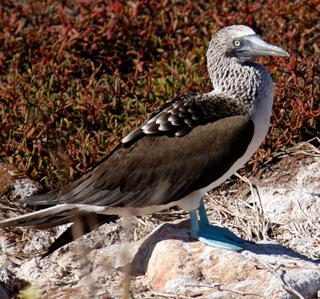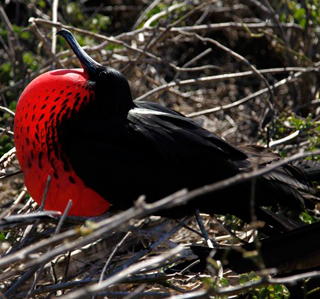 Monday: Cabo Douglas (2 Dives)
Transit to Punta Vincente Roca.
Sightings include marine iguanas.
Punta Vincente Roca ( 2 Dives).
Sightings often include mola mola, turtles, macro life Depart for Western Islands. (long transit)
Tuesday: Wolf Island (4 Dives)
6:30, 10:30, 2:00 and 4:30 dives. Possible night dive.
Sightings often include hammerheads, whale sharks, eagle rays, sea lions, Galapagos sharks and silky sharks.
Night anchor at Wolf Island.
Wednesday: Darwin Island (4 Dives)
6:30, 10:30, 2:00 and 4:30 dives
Sightings often include hammerheads, whale sharks (in season) eagle rays, Galapagos sharks and silky sharks.
Transit to Wolf Island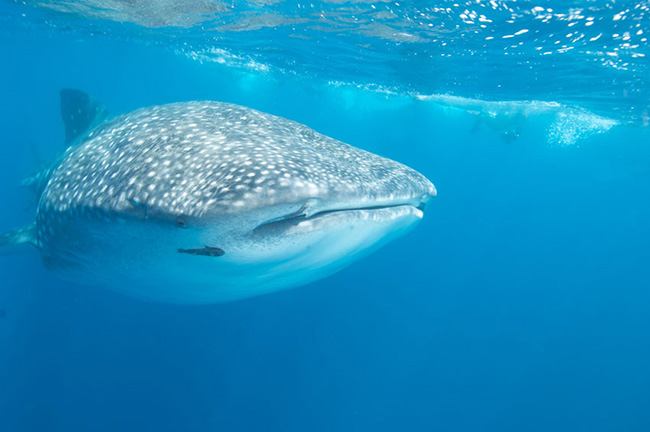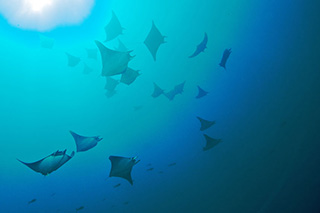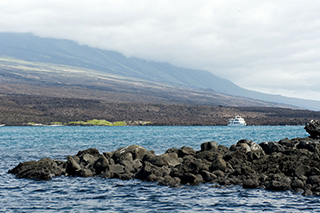 Thursday: Wolf Island (3 Dives)
6:30, 9:00 and 11:00 dives
Sightings often include hammerheads, whale sharks (in season), eagle rays, Galapagos sharks and silky sharks.
Long transit to Cousin's Rock (20+ hours)
Friday: Cousin's Rock (1-2 Dives)
6:30 and 9:30 dives (number of dives dependent on travel time from Wolf Island) This is a great macro diving with an excellent chance of seeing sea horses, sea lions and eagle rays.
Lunch will be served while transiting to Santa Cruz (3 hours). Travel by bus to the Santa Cruz Highlands to visit the giant tortoises in their natural habitat.
Transfer to the town of Puerto Ayora. Dinner on your own in Puerto Ayora. Return to the Majestic Explorer at 8:30pm.
Saturday: Baltra
Depart the vessel by 9 am. Transfer to airport.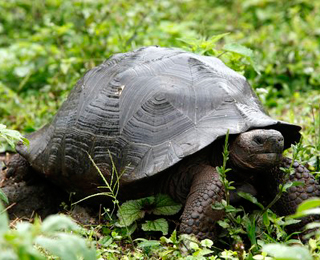 View our trip report:
Galapagos Islands Sept 29-Oct 5 2014 Humboldt Explorer;
Island land walks on Santa Cruz & Isabella Island Oct 5-11 2014 Trip Report
COST:
$6,095 per person double occupancy
Plus: Galapagos National Park Fee ($100), Chamber Support Fee ($35), Tourist card ($20) and fuel surcharge. Airfare to Galapagos Islands and land options before/after cruise additional.
Package includes: 7 nights/8 days aboard the vessel; up to 4 dives daily (weather permitting);
3 meals daily, except last evening's meal; between-dive snacks; towels, linens, etc.; use of tanks, weights and weight belts; all air fills; transfers within Galapagos Islands for same day arrivals & departures; alcohol and non-alcoholic beverages (premium alcoholic beverages available for an additional charge).
*** All pricing are in US Dollars and subject to change ***
For more information
Contact:
Dive Discovery
@
1 800 886-7321
(415) 444-5100
or
Request Info