Home > Diving Cocos Island > Cocos Island Liveaboards
Wind Dancer
Dancer Fleet's Liveaboard

Cruising the scenic waters of Cocos Island, Wind Dancer is a 120-foot steel mono hull vessel that accommodates 18 passengers.
Wind Dancer features 9 well appointed staterooms each air-conditioned and with ensuite facilities. Wind Dancer also features all the standard perks of the Dancer Fleet® and has plenty of areas to relax and hang out in between dives.
When not diving, guests can gather at the wet bar on the Lido Deck, sunbathe or just relax on the covered and uncovered sun deck or cool off in the comfortable, airconditioned salon. Wind Dancer dives are made from 2 dive tenders, each capable of carrying 11 divers plus crew.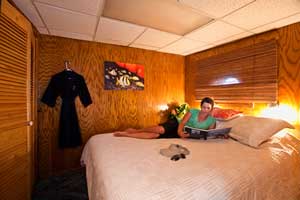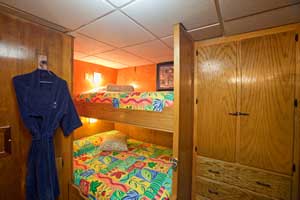 Welcome to Cocos Island
This is a very unique itinerary. The 300 mile voyage to a natural wonder of the world. Cocos is the only island in the tropical eastern Pacific with a tropical rainforest. Its position as the first point of contact with the northern equatorial counter-current, and the myriad interactions between the island and the surrounding marine ecosystem, make the area an ideal laboratory for the study and observation of life both above and below the surface.
The unique Wind Dancer itinerary covers the Cocos Island National Park. Limited to a very few divers at a time, this coveted drift diving destination delivers you to one of the most concentrated large animal marine encounters in the world. The convergence of multiple ocean currents bring in massive schools of hammerheads, tuna, jacks and more. Passing dolphins, whale sharks and manta rays are sighted as well as an occasional sailfish.
Truly an incredible live-aboard journey and a visual feast above and below the waters of this World Heritage Site. The marine diversity also includes turtles, octopus, morays and creole fish. Cocos Island must be at the top of every divers 'Bucket List'.