Home > Diving Arctic & Antarctic > Dive Tours
North Spitsbergen (Arctic) | Basecamp Plancius

Expedition is our passion. The ship becomes our base camp for these voyages. "Base camp" is by definition a temporary storing and starting place, from which an activity starts. We offer "activity modules" which go beyond our normal shore program. The vessel will stay for two or three days at specific locations to serve our active passengers as a comfortable hub to allow more time than usual for wide ranging activities: mountaineers to climb mountain ranges (soft climbing), hikers to participate in long walks, photographers to explore photo opportunities, campers to enjoy life at shore base camps, kayakers and zodiac passengers to explore near shores where the ship cannot go. Passengers who do not wish to become physically active will enjoy our zodiac excursions and follow the normal shore program and land excursions (easy to moderate walks and hikes with focus on wildlife). We aim for visiting active and manned research stations in the Antarctic and Arctic.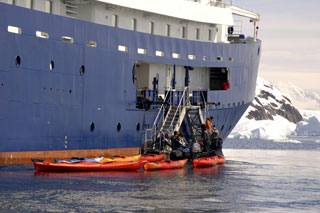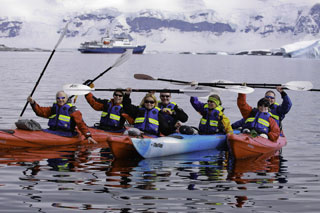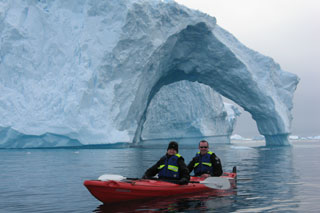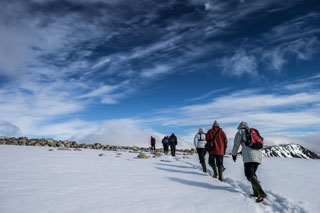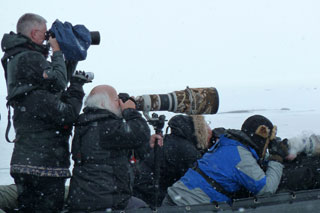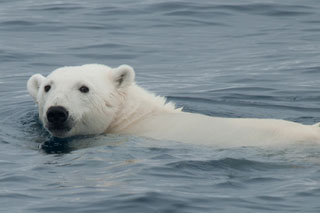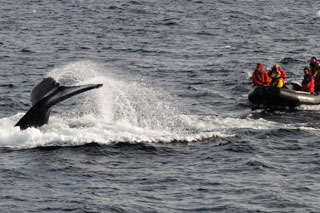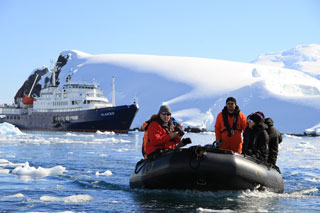 North Spitsbergen (Arctic) | Basecamp Plancius
Day by Day Itinerary
Day 1 - Departure From Longyearbyen
Arrive in Longyearbyen, the administrative capital of the Spitsbergen archipelago of which West Spitsbergen is the largest island. Before embarking there is an opportunity to stroll around this former mining town, whose parish church and Polar Museum are well worth visiting. In the early evening the ship will sail out of Isfjorden.
Day 2 - Enroute To Ny Ålesund
Heading north along the west coast, we arrive by morning in Krossfjorden, where we board the Zodiacs for a cruise along the faceof the 14th of July Glacier. On the slopes near the glacier, a colourful variety of flowers bloom, while large numbers of Kittiwake and Brünnich's Guillemot nest on the nearby cliffs. There is also a good chance of spotting Arctic Fox, patrolling the base of the cliffs in case a chick falls from its nest, and Bearded Seal, who cruise this fjord. In the afternoon we sail to Ny Ålesund, the world's most northerly settlement. Once a mining village - served by the world's most northerly railway, which can still be seen - Ny Ålesund is now a research centre. Close to the village is a breeding ground for Barnacle Goose, Pink-footed Goose and Arctic Tern. Visitors interested in the history of Arctic exploration will want to walk to the anchoring mast used by Amundsen and Nobile, in the airship Norge in 1926 and Nobile in the airship Italia in 1928, before their flights to the North Pole
Day 3 - Ytre Norskøya & Raudfjord
On the offshore island of Ytre Norskøya, we visit a 17th century Dutch whaling site, whose large graveyard is a reminder of the hardships and dangers of life here at that time. The island's bird life is prolific, with colonies of Little Auk, Black Guillemot, Brünnich's Guillemot, Puffins and Arctic Skua accessible to visitors. Eastward, we visit Raudfjord on the north coast of West Spitsbergen, a beautiful fjord dominated by spectacular glaciers and favoured by Ringed and Bearded Seal. The cliffs and shoreline of the fjord also support thriving seabird colonies and a surprisingly rich vegetation, which flourishes in sheltered spots.
Day 4 - Kayaking & Hiking
We will be the whole day in the Raudfjord system, with ample opportunities for kayaking and hiking (with or without snowshoes) on short or long walks (easy, moderate and challenging hikes are on offer).
Day 5 - Andøya
Depending on the weather we may now sail to the mouth of Liefdefjorden and go ashore for a walk on the tundra island of Andøya. Many Common Eider and Pink-footed Goose nest here, and the rarer King Eider may also be seen. We hope to sail into Liefdefjorden, cruising near the 5 km long face of the impressive Monaco Glacier. The waters of the glacier front are a favourite feeding spot for thousands of Kittiwake and on previous voyages Polar Bear have been seen on the glacier, providing wonderful opportunities for photography. The whole day we will have good opportunities for kayaking, and short (easy) to longer (moderate to challenging) hikes (with or without snowshoes).
Day 6 - Bockfjord & Woodfjord
At Bockfjord there are warm water springs with colourful sediments, close to the shore and about 10 km inland. There we can climb a volcano which erupted some thousands of years ago. This is about the warmest area of Spitsbergen with stands of Cassiope and Dryas vegetation. The shores of Woodfjord are littered with hundreds of large timber logs from Siberia. Another day full of Basecamp activities: kayaking and hiking!
Day 7 - Hinlopen Strait
Today we will sail into Hinlopen Strait, home to Bearded Seal, Ringed Seal, Polar Bear, and Ivory Gull. We'll navigate the ice floes of Lomfjordshalvøya in our zodiacs and explore the bird cliffs of Alkefjellet with thousands of Brünnich's Guillemot. On the east side of Hinlopenstrait, we'll attempt a landing at Palanderbukta on Nordaustlandet, home to reindeer, Pink-footed Goose, breeding Ivory Gull, and Walrus.
Day 8 - Seven Islands
Today we will reach the northernmost islands of Svalbard: the Seven Islands north of Nordaustlandet. We will attempt to land on Phippsøya which often have walrus hauled out on land. We will then try to find the pack ice to take in the spectacular surroundings and search for wildlife such as Polar bear and perhaps even the illusive Ross gull. We will reach the area of 81 degrees north – just 540 km from the geographic North Pole.
Day 9 - Prins Karls Forland
We land at the northern tip of Prins Karls Forland near Fuglehuken, where Barentsz probably set foot on Spitsbergen for the first time. Seabirds nest on the cliffs and along the coast we see Harbour Seal, the only population found in Spitsbergen. Further we also will observe the remains of the Polar Bear hunting era, with demolished set guns and bear traps. At the opposite site of Forlandsundet at Sarstangen is a haul out place for Walrus. Alternatively we sail into St. Johns Fjord or south to the mouth of Isfjorden and land at Alkhornet. Seabirds nest on its cliffs and Arctic Fox search the cliff base for fallen eggs and chicks, while Spitsbergen Reindeer graze the relatively luxuriant vegetation. The reindeer may seem unbothered by human presence, but this is not really the case. The animals must survive the harsh winter, when temperatures plummet and food is hard to find, so they preserve what energy they can, fleeing only when it is absolutely necessary. In the afternoon we cruise through beautiful Borebukta, following a glacier front before continuing to Longyearbyen.
Day 10 - Arrival In Longyearbyen
We disembark in Longyearbyen, the administrative centre of Spitsbergen, for the flights south to Oslo and onward home.
For more information
Contact:
Dive Discovery
@
1 800 886-7321
(415) 444-5100
or
Request Info