Home > Diving Seychelles > Seychelles Liveaboards
Sea Bird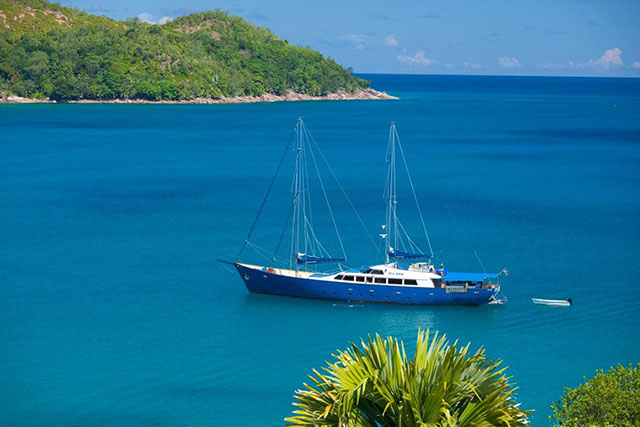 The Sea Bird is modern custom-built yachts that combine space, comfort and authentic hospitality-at-sea for weekly live-aboard cruises and private charters around the inner Seychelles islands.
The Sea Bird is a twomasted 42m custom-built yacht with four Bermuda sails.
The Sea Bird serves as ideal platforms for discovering the islands' most exclusive and hardto- reach places, from tiny granite islets to beautiful hidden coves.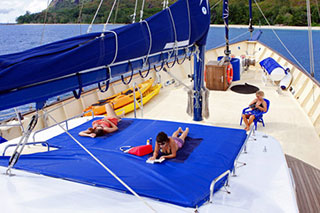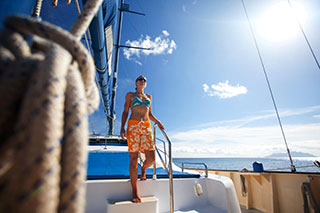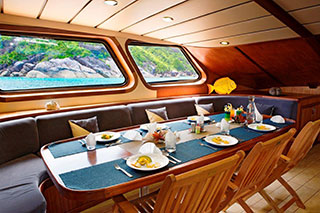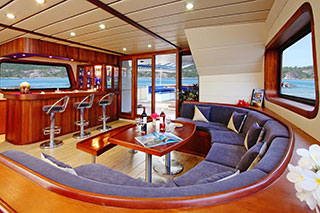 Accommodation
Sea Bird boasts 9 spacious airconditioned guest cabins, all between 9-11 square metres.
Each cabin features an ensuite bathroom, as well as reading lights, storage cupboard and power connections for charging computers and cameras or using other electronic devices such as hair-dryers. Cabins are cleaned daily by our crew.
A number of different areas onboard, from the two-tiered sundeck toward the bow, to the covered back deck and leisure area, ensure ample space for passengers to unwind.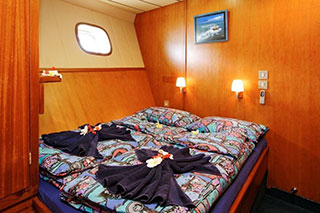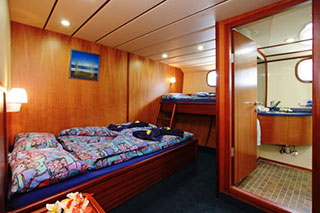 Specifications
Facilities & Amenities
Spacious decks and upper sun deck
Covered back deck with table for open-air dining
2 deck showers
Air conditioning in all interiors (cabins, dining salon & lounge/bar)
Bottled water, soft drinks, beer, wine and spirits are all available for purchase
Laundry on request (additional charge)
TV, DVD, stereo in main salon
Overnight Capacity
Sea Bird is licensed for a maximum of 22 passengers on overnight stay plus 10 crew.
There are 9 air-conditioned ensuite cabins - berths are as follows:
6 double-bed cabins with 1 single bed (sleeps 3)
3 double-bed cabins (sleeps 2)
Electricity
Electrical outlets are conveniently located in all guest cabins as well as in the salons, using 220V power, with European two prong, round pin plugs.
Diving
Diving and snorkelling in the Seychelles reveal the best of the magical underwater world that the Indian Ocean has to offer. Unique granite boulder formations, coral reefs and wrecks are home to colourful tropical fish, turtles, sharks, rays and many other species.
Some of the best dive sites in Seychelles' inner islands are easily accessible on our cruises. The boat has a dedicated PADI dive instructor onboard to accommodate the needs of both seasoned and novice divers alike. Introductory dives for first-timers and even PADI Open Water (or Advanced Open Water) courses can be conducted onboard.
The vessel is equipped with two dive compressors, 18 cylinders + refills, weights, assorted wet suits (shorties) and 8 full diving sets for hire.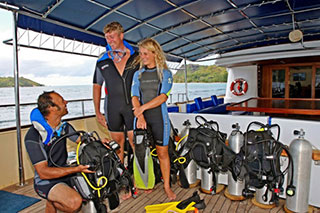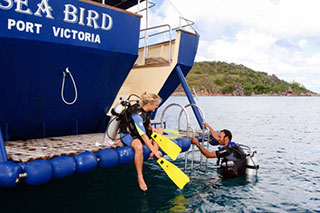 Island Excursions
Each day onboard presents a new opportunity to explore isolated bays and coves, colourful marine parks, and protected nature reserves or uninhabited islands. Spotting the incredibly rare Magpie Robin and other endemic birds, visiting the UNESCO World Heritage Site of Vallée de Mai, or getting up close and personal with a giant tortoise, are just a few of the many special experiences that await on the islands we visit.