Home > New Zealand > New Zealand Tours
16 Day Wilderness Adventure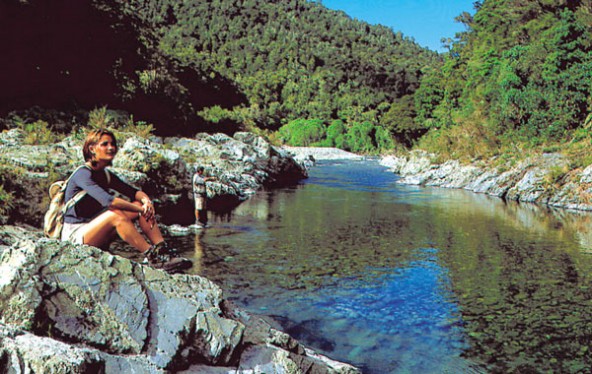 This 16 day itinerary offers a slightly "off the beaten track" look at New Zealand. Although you may be away from the main stream, we don't compromise on those creature comforts, giving you the opportunity to explore a natural luxury that is the New Zealand's wilderness. While some may be seen as a little eccentric, this will give the opportunity to meet local people or 'kiwi's' as they are known and experience their down to earth hospitality. Staying in a variety of accommodations, including a bush camp, eco-lodges, and even remote beach cottage, we give you a 'real' experience of this land.
ITINERARY
Day 1 - Auckland "The City of Sails", collect rental car
Auckland – 'City of Sails' is regularly voted one of the best lifestyle cities in the world. Set on the shores of the Waitemata Harbour (meaning 'sparkling waters' in the Maori language), New Zealand's largest city boasts a diverse Pacific Rim and European cultural mix with opportunities to sample outstanding restaurants, shopping and nightlife. Explore cultural experiences at museums, galleries and Waiheke Island's idyllic food, wine and scenery tours; through to adventurous excursions such as sailing an Americas Cup yacht or exploring its rugged west coast for mountain biking, hiking trails or surfing at black sand beaches.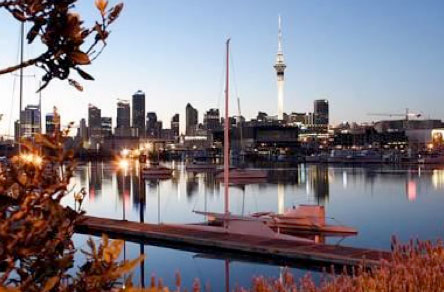 Waldorf Stadium Apartments – 2 nights
The Stadium Waldorf Apartments are located in the centre of Auckland City, New Zealand. Located at Quay Park just meters from Auckland's Vector Arena Stadium and just minutes walk from Queen Street, the Stadium Waldorf Apartments are situated on a prime waterfront location.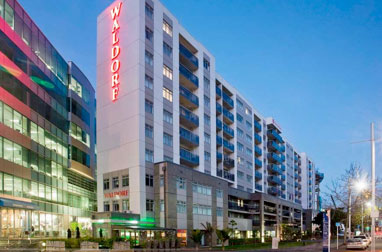 Day 2 - Auckland's West Coast Wilderness Half Day tour
The unique Waitakere rainforest is a thirty minute drive from Downtown Auckland. Escape from the city and experience the wild west coast black sand beaches and lush native bush on this premier eco-tourism adventure. Walk the easy bush tracks amongst New Zealand's famous kauri trees and giant tree ferns. Walk the beautiful black sanded Karakare beach made famous by the film "The Piano" Unwind by spectacular cascading waterfalls or swim beneath them. Enjoy an intimate and memorable experience of Auckland's wilderness without any impact on the environment and wildlife. Each tour is led by an experienced guide with extensive knowledge of native flora and fauna.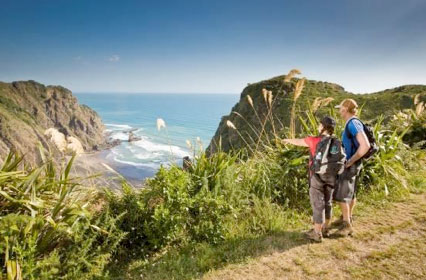 Day 3 - Travel 2.5 hours to Waitomo Caves
St Benedict's Caverns
The caves at Waitomo are one of New Zealand's most commanding wonders - a celebration of nature's work over the last one hundred thousand years. In 1880, the discoverers of this 'domain of beauty in forbidding darkness' found hundreds of miles of labyrinthine caves, glow-worms, stalactites and stalagmites, and all manner of limestone formations.
St Benedict's Caverns requires a vocabulary of superlatives and with every step, nature provides even more beauty on which to feast your eyes. With pure white formations that gradually changed to rich golds, back to white, then dark reds, and finally just before a cemented rock fall is a massive white stalagmite that stands guard before a group of bristling with stalactites it is named the Bodkin.
Abseil and then explore what is one of New Zealand's most special and picturesque places. No glowworms here, but St Benedict's Caverns is regarded by many as the country's prettiest cave or 'best dressed' cave. The trip is relatively gentle, dry and physically not that hard. It's a great option if you are looking for something not too cold and wet, but still sporty with lots of activity and fun! St Benedict's includes 2 abseils and a spectacular underground flying fox. Just imagine yourself flying past the stalactites!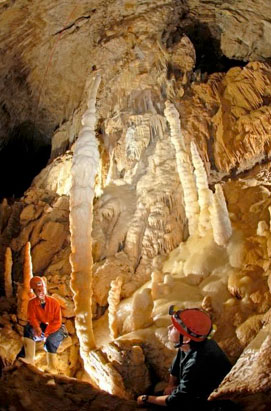 This is a three hour dry trip into New Zealand's prettiest Cave. Commencing with two abseils to get into the cave system and a walk through the 'Mines of Moria' to reach the Cathedral - a chamber 40m high and 100ft long - just bristling with stalactites.
Waitomo Wilderness Cottages – 1 night
These Wilderness Cottages where built to capture the unique beauty of its surroundings. As a family, we felt we should share with others the magic of what has kept us here on the family farm for 5 generations. In any kind of weather the views are breath taking. The area includes; 1000 acres of farm and 660 acres of native bush which has been put into the QE II Trust to protect it for generations to come. Our farm is a fantastic example of what Waitomo is renowned for; caves glowworms, rough limestone out-crops, lush green fields and friendly people. At present we have a number of walking tracks through our native bush. There are also a number of rock climbing areas which are mapped out for those interested. Caves are scattered throughout the farm and can be accessed by guided trips organised by us.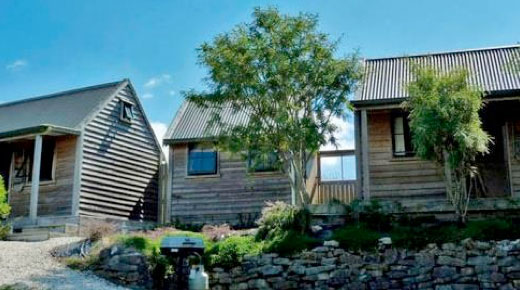 Day 4 – Spellbound – A Tour of Waitomo's Wondrous Glow Worm Caves
Sir David Attenborough on the series Life in the Undergrowth described these caves as an "Astonishing Cave" And "one of natures most Magical Illuminations!"
This small group personalized tour allows you to spend 40 minutes under glow worms. This tour is one of the most unhurried glow worm tours in New Zealand. We allow time (up to 20 minutes is needed) for your eyes to adjust to darkness. During the raft ride your night vision will begin working to its best ability and you will be amazed at the effect of thousands of softly shining glow worms. We think you will be totally entranced. Those little glow worms are so interesting as well as beautiful and we will show you all their life cycle stages, you can watch them move about and see them use their clever silk fishing lines to catch prey. Following a visit to the glow worm cave, a gentle walk along a gorge path brings you to the Cave of the Spirit. Te Ana o te Atua, is quiet and contemplative, soft light reveals a time vault preserving evidence of past explorers, extinct animals, and abandoned stream passages. Both caves complement each other beautifully for a really memorable cave experience.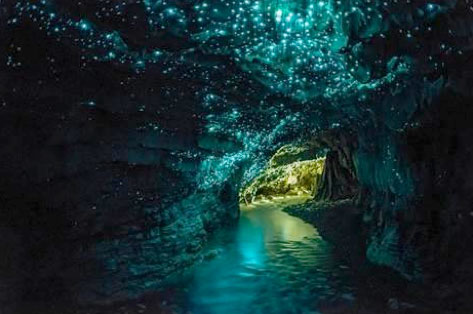 Travel 2 hours 15 mins to Bayview Chateau Tongariro – 2 nights
The Bayview Chateau Tongariro sits nestled in the shadow of three towering active volcanoes, and at the very foot of the majestic and sacred Mount Ruapehu. The 800 square kilometre Tongariro National Park – a dual listed World Heritage Area – provides a stunning natural playground bursting with diverse landscapes for visitors to the Chateau to discover. With arid badlands, crater and alpine lakes, sparkling rivers, breath-taking lunar landscapes, lush rainforest and alpine meadows to be explored, staying at the Chateau Tongariro is an all-seasons, utterly unique experience not to be missed. The Bayview Chateau Tongariro is classed as a Category One Heritage Building, and offers lavish décor and furnishings, heavenly cuisine, and a superior standard of service, all set against a back drop of remarkable scenery.

Day 5 - Breakfast on a Volcano: Pre-Dawn Tongariro Crossing
With the Milky Way at your fingertips and shooting stars screaming in the clarity that only the pre- dawn can achieve, come and see the sunrise at the Red Crater Summit and enjoy breakfast on Mt Tongariro. The route is the similar to the one followed during the day with the main difference being ...NO CROWDS! The 12-mile Tongariro Crossing is considered the best hike in New Zealand. This untouched volcanic terrain offers a fascinating look at a very alien environment, complete with twisted lava formations, volcanic steam vents. vast craters, active volcanoes, boiling lakes, barren desert, lush forest, crystal-clear mountain streams, steaming geysers and emerald green lakes. Phew! The scenery is so otherworldly that Lord of the Rings was filmed there. Experience a diversity of landscapes unlikely to be found together anywhere else in the world. This is a fully guided trip and departs at approximately 1-2am and returns at approximately 9-10am.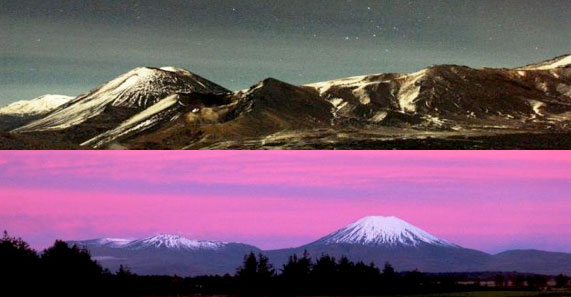 Day 6 – Travel 2 hours to Wanganui "Historic River City"
The famous Whanganui River flows from one of New Zealand's highest volcanoes, Mount Tongariro, through the spectacular Whanganui National Park, to the bustling city of Wanganui. Wanganui is a delightful provincial city rich in both Maori and European history. The town abounds with historic buildings, preserved from the early days of European settlement, along with beautiful parks and gardens. Wanganui is situated on the West Coast of New Zealand's North Island. The City has a rich cultural heritage reflected in both the world renowned Whanganui River, it's architecture and many amenities providing a wealth of cultural experiences and creative entertainment opportunities for everyone.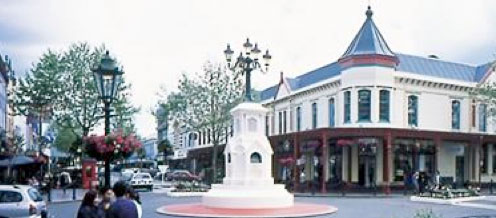 The Flying Fox Retreat – 1 night
Arrive by flying fox or boat to The Flying Fox Retreat; a place where the history of early Maori, who were the original inhabitants of this river valley, and the European people who followed them in the 19th century , combine in a legacy of physical and spiritual reminders of their presence. Stay in a lovingly hand-built cottage surrounded by century old walnut trees on a terrace which overlooks the river. Framed by native forests and organic gardens and orchards, the cottages are comfortably furnished with a collection of rescued furniture and family treasures. Or sleep under the star filled night sky in a secluded camping area. During the day canoe on the river, explore the organic certified property, with lush vegetable gardens and heritage fruit trees surrounded by the native forests of The Whanganui National Park or simply relax.

Day 7 – Travel 2 hours to Paraparaumu Beach
Ferry to Kapiti Island (Island Fortress & Nature and Marine Reserve)
Kapiti Island stands as 'the jewel in the crown of New Zealand's conservation estate' as it provides the necessary 'pest and predator' free environment for many of New Zealand's most endangered bird species. Rectangular in shape, Kapiti Island is 10 km long and 2 km wide, stands 5km off shore, and the island covers an area of 1965 hectares. Rich in Maori history, many tribal groups have left their mark on Kapiti Island during a long and colorful history. For instance, from here the famous chief Te Rauparaha controlled his middle NZ Empire between 1830's - 60's. Here on Kapiti you can stay with the local Maori family's and enjoy guided walks, bird watching and bush walks, diving the marine reserve - or relax for the evening and enjoy the magnificent sunset. Experience also the spectacular sunrise and dawn chorus of early morning bird song.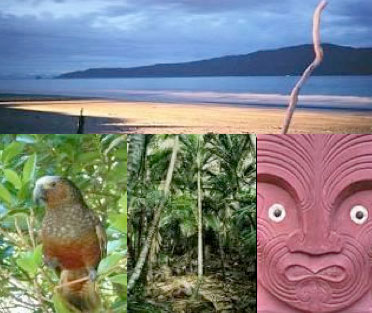 Overnight Kiwi Spotting Tour
Whether you're a local or visiting from overseas, seeing Kiwi in their natural habitat is an experience not to be missed. Kapiti Island is home to over 1,200 Little Spotted Kiwi, making it one of the densest population of Kiwi to be found, and one of the easiest places to see them in the wild.
Spend the night and enjoy our famous hospitality and delicious chef cooked meals, surrounded by stunning native bush and some of our most rare and beautiful native birds.
Our package gives you 2 days on the island, spending your first day at Rangatira in the middle of the island, and your second day at the North End.
Kapiti Island Nature Lodge – 2 nights
Kapiti Nature Lodge offers visitors a comfortable, relaxing unique nature experience in one of the world's great conservation environments. Amazing birdlife is at the door, allowing visitors to be as active (i.e. taking bushwalks, swimming, snorkelling or scuba diving) or inactive (i.e. breakfast with the seals, seafood gathering and preparation) as you would like to be.
Staff are committed to providing the best of professional service, with great meals, comfortable surroundings, the best of natural wonders. Simple, clean and functional, the accommodation is provided in cabins, which each contain four bunks. Ensuite ocean view accommodation also available.
The dining room, reading/recreation room, conference room and bathroom facilities are located by the main building within 50 meters of the cabins. Eating at the lodge is a family affair, so be prepared to be joined by extended family at meal times. Our chefs prepare buffet meals making best use of fresh, seasonal, local product and seafood.

Day 8 – Day 2 on Kapiti Island
Day 9 – Travel 50 mins to Wellington – Arts Capital
Nestled between a dramatic harbour and bush clad hills, Wellington was recently dubbed as 'the coolest little capital city in the world'. The city is the country's centre for culture, politics, and home to the National Museum, Te Papa. Wellington's thriving cafe scene is globally recognised by coffee cognoscenti, and of course is a centre for movie production with Lord or the Rings taking centre stage.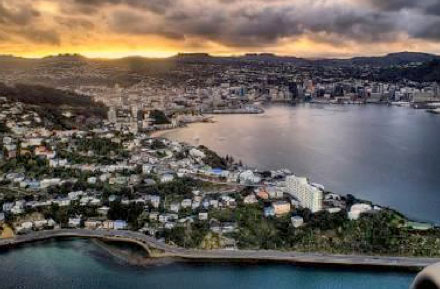 Cook Strait Ferry Crossing – Wellington to Picton
The three hour journey across Cook Strait which connects New Zealand's North and South Islands is one of the most scenic in the world. For one third of the crossing you cruise through the majestic Marlborough Sounds a haven of sheltered inlets, coves and crystal clear waters. For visitors and locals alike cruising into the Sounds is a breathtaking introduction to the South Island's beauty that lies ahead.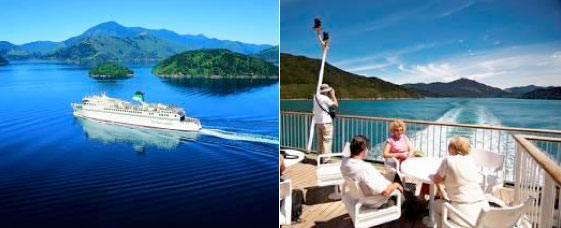 Travel 3 hours to Kaiteriteri and water taxi transfer to Awaroa Lodge - Abel Tasman National Park – 2 nights
Nestled in a National Park in the northern tip of the South Island, This 5 Star lodge is 100 meters from one of the most pristine white beaches in the country. Careful attention is made to preserving this pristine and unique natural environment with white beaches, seal colonies, wetlands, native kanuka forests and birdlife. Enjoy the multitude of activities, or simply relax on the beach, and enjoy local wines while waiting for friends to return from the Abel Tasman walk. Foodies can revel in the combinations of beef, game bird, seafood, plus seasonal greens and produce sourced from the lodges own gardens. Voted in the New Zealand Tourism Awards (2005) as Best hotel In Eco Tourism.

Day 10 – Free day exploring the Abel Tasman National Park - A National Treasure
The Abel Tasman is New Zealand's smallest national park at 225sq km. Small in size but big on beauty! Golden beaches border the translucent turquoise sea, and sandy estuaries fringed by natural forests. The walking tracks here, both in land and costal, are world famous for their out standing beauty. You can walk the coastal track from top to bottom in 3 - 5 days, or enjoy one of the many shorter day walk options using a cruise boat, sailing catamaran, water taxi or sea kayak to enter into the Abel Tasman. If that all sounds just a little too energetic, then just kick back on one of the many unspoilt beaches you will discover along the way. Plus you have the added bonus of face-to-face encounters with marine wildlife and birds. Tonga Island is located in the Marine Reserve or the Abel Tasman National Park and is home to the ever-entertaining seal colony. And who knows you may be lucky enough to spot visiting dolphins and Orcas playing in the Abel Tasman National Park waters.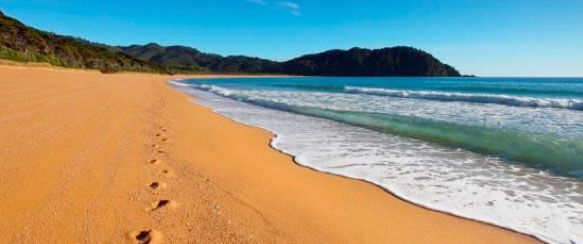 Day 11 - Travel via Punakaiki (Poo-na-kai-key) Pancake Rocks and Blowholes
The heaving swells of the Tasman Sea have carved the coastline of the West Coast for millions of years. Nowhere is the effect on the landscape more spectacular and profound than at Punakaiki. These rocks really are remarkable pieces of natural sculpture, a series of stratified limestone stacks which, over many thousands of years, have been eroded to give the effect of giant piles of neatly stacked pancakes. Another prominent feature are the blowholes that, at high tide or in heavy weather, regularly throw up columns of dazzling spray high out of the blowholes - Best seen after wonderful westerly storms when the sun is reasserting itself in the face of fantastic cloud formations on the horizon.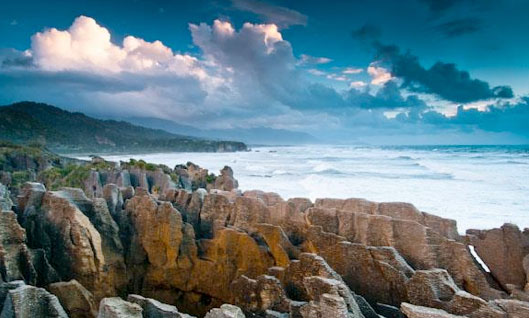 Continue to Greymouth (4 hours total)
Greymouth is the West Coast's largest town and it is a central location for exploring the area which is famous for its spectacular scenery and adventure activities including 'black water' rafting (through caves) white water rafting, jet boating, caving, hiking, fishing and much more. The coastal waters off Greymouth are well known for Hectors Dolphins, seabirds and NZ fur seals Once the site of a major Maori pa (fort) in pre-European times Maori passed through Greymouth on their travels to find greenstone or 'pounamu' (a type of jade) and built major Maori pa (fort), Greenstone is a popular local product. The town it-self came into prominence during the great gold rush of 1865 and has a history of coal mining and also forestry. Greymouth is world famous "In New Zealand" for its pubs and also the Coasters (the locals) for their hospitality.
Overnight Thermal Bush Camp - Wanganui Camp
The Thermal Bush Camp is a unique overnight experience for those seeking for beautiful landscapes, an original accommodation and the kiwi cool way of life. The trip is in an alpine river valley that starts in the heart of NZ's spectacular Southern Alps. The views of mountains peaks and glaciers are simply astonishing and the tour goes through some of the most scenic areas. The easy guided walk up the Thermal River Valley winds it way through tussock river flats and ancient fern covered forest. You will have to carry your gear and food and help to set up the camp on arrival. The camp, only accessible by walk, is hidden behind a riverside terrace below a small gorge carved through the tock by centuries of water. It consists of a large communal dining, with hot pools all around in which you can relax with a glass of wine and excellent. The pools are natural rock spas with hot water bubbling up from underground. The next morning, a raft option is available for the way back (extra cost option).

Day 12 - Alpine Train Journey - Greymouth to Christchurch
Rated as one of the top six scenic train journeys in the world, the famous Tranz Alpine train will take you deep into the heartland of the South Island… a coast to coast journey through some of the world's most extreme and beautiful scenery. The Tranz Alpine winds its way over massive viaducts and through spectacular gorges and river valleys, tracking slowly across the country's greatest mountain range, the Southern Alps. It stops in the heart of the Southern Alps at Arthur's Pass before descending to the Canterbury Plains and on to Christchurch.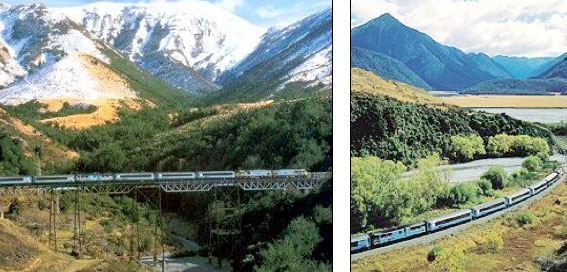 Overnight at Christchurch Airport hotel.
Day 13 - Collect new rental car and travel 3 hours 15 mins to Oamaru
Evening: Little Blue Penguin Colony
Oamaru is home to the little (often known as fairy or blue) penguin. This is the smallest species of penguin in the world. The little blue penguin is nocturnal as far as its land activities are concerned and can only be viewed after dark. The Oamaru Blue Penguin Colony provides you with the perfect opportunity to watch blue penguins as they return from a busy day at sea. You will see them arrive on the beach, climb the steep rocks and make their way inland to their burrows.

Penybryn Lodge – 1 night
Pen-y-bryn Lodge is a small luxury hotel offering exclusive lodge style accommodation in five elegant and superbly appointed guestrooms with modern ensuite facilities, in a hillside location overlooking historic Oamaru with views of sea and mountains. The Lodge offers unrivalled visitor accommodation, fine dining and the warmth and humour of famed Kiwi hospitality. Guests gather in the evenings, warmed by blazing log fires to savour first class table d'hôte cuisine. Choose from a wide variety of outdoor activities or simply indulge and relax at the Lodge, play billiards on the genuine slate table in the magnificently panelled billiard room, or curl up with a good book in the library.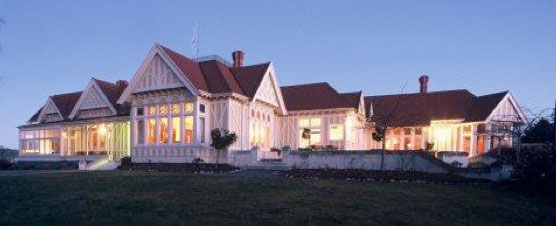 Day 14 - Moeraki Boulders - The Orbs of Arai Te Uru
The famous Moeraki boulders lie scattered along a beach 40 kilometres south of Oamaru. According to Maori legend, the boulders are gourds washed from the great voyaging canoe Araiteuru when it was wrecked upon landfall in New Zealand some 1000 years ago.
Scientists explain the boulders as septarian concretions formed about 65 million years ago. Crystallization of calcium and carbonates around charged particles in muddy undersea sediments gradually formed the boulders in a process taking as long as four million years. The soft mudstone containing the boulders was raised from the seabed around 15 million years ago and sea erosion is exposing the erosion-resistant boulders.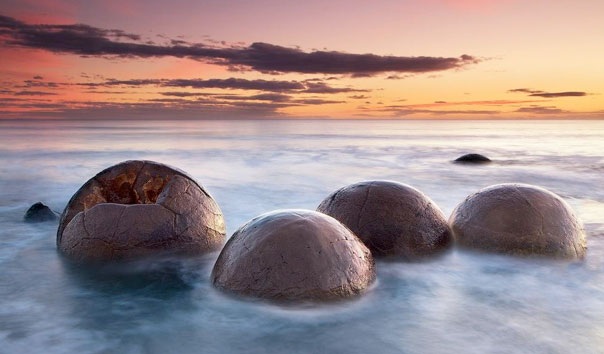 Continue to Dunedin (1.5 hours)
Albatross Colony Tour, Dunedin
The sight of a soaring Albatross is unforgettable - a spectacle touched with a dignity and majesty no other bird can excel. Held aloft on slim wings up to 3 metres (9'6") across, the great Albatross is capable of swooping speeds of at least 115kph+. Its pure ecstasy in the air, yet distinctly clumsy on the ground. You'll find the social and family life of the breeding colony fascinating. Chicks are fussed over by devoted parents, adolescent's party, courtships proceed with lots of kissing and cuddling, and "marriage" is usually for life despite long separations at sea. And the life of an Albatross is indeed long - one bird at Taiaroa, fondly known as "Grandma," raised her last chick at age 62! Enjoy the 6o minute tour and view the Albatross from the Richdale Observatory at the Royal Albatross Centre and watch the introductory "Attenborough" video. A proportion of every ticket sold at the Royal Albatross Centre goes directly towards the fostering and protection of the Northern Royal Albatross.

Continue 3 hours to Bluff
Helicopter Bluff to Stewart Island
In depart from Bluff, enjoy your helicopter trip and discover the beautiful Stewart Island. To all our visitors, whether from New Zealand or further afield, our Island offers a special experience a glimpse into a simpler, slower lifestyle, in rhythm with the sea and the tides, attuned to the natural world of bush and beach. In 2002 the very qualities that make this a great place to treasure were recognised in the formation of the Rakiura National Park, comprising 85% of the Island. The Island's special qualities - its clear, clean waters, the lush rainforest, sweeping sands, flora and fauna and the unspoilt natural beauty that are constant in our lives. Whether you have come to enjoy the land and seascapes, view the wildlife, walk, boat, fish, dive, kayak, hunt or just relax, a Stewart Island holiday will be an experience that will draw you back here again and again.

Stewart Island: New Zealand's Best-Kept Secret
It is almost a cliché to call it one of New Zealand's best-kept secrets, but given that so few people are aware of its unspoiled tranquillity, it probably deserves this label more than any other place in the country. Roughly triangular in shape, it is 65km (40 miles) long and 40km (25 miles) Only 1% of the island is inhabited -- the rest is given over to natural native bush, exquisite white-sand beaches, bird sanctuaries, and rugged mountains. All this makes it a naturalist's and tramper's paradise and the perfect place for a remote yet accessible holiday. You need to be here only a few hours before the rest of the world melts away and you find yourself adopting the unhurried, laid-back approach of the locals. The wildlife and rare plant life is some of New Zealand's best, where you will see seals, penguins and dolphins all from the roads. Kiwi spotting is very popular here as they are common over much of the island. The forest is a haven for bird-life, as there are fewer predators than on the mainland. Kaka, parakeets, tui, and bellbird give a wonderful dawn chorus in spring. New Zealand's national bird, the kiwi is found all round the Island.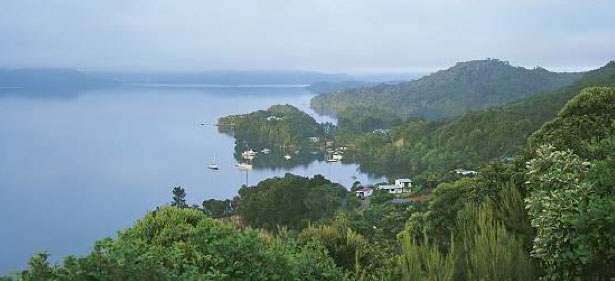 Port of Call B&B – 2 nights
This is a unique, quality B&B in a relaxed and tastefully decorated home overlooking Halfmoon Bay and Foveaux Strait. On 20 acres of native bush it has abundant birdlife, several walking tracks and the historic Stone House. Being a 6th generation Stewart Island family, they are keen to show you Stewart Island, home of the new Rakiura National Park, and the special things and places this island has to offer.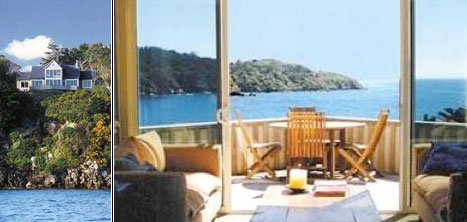 Day 15 - Paterson Inlet Cruise and Walk
Discover Stewart Island from the water. Enjoy a leisurely cruise of beautiful Paterson Inlet viewing hidden coves and unspoilt beaches, plus the historic whalers base at Prices Inlet. Our skipper and nature guide provide detailed commentary throughout the cruise and are happy to answer any questions. Disembark at Ulva Island - a renowned wildlife sanctuary - for a 45-minute guided walk with a specialist nature guide. View rare plants and the abundant bird life during your guided walk. Then relax on board our modern catamaran for the remainder of the cruise around Paterson Inlet and back to base. Cruises depart from the Stewart Island Visitor Terminal.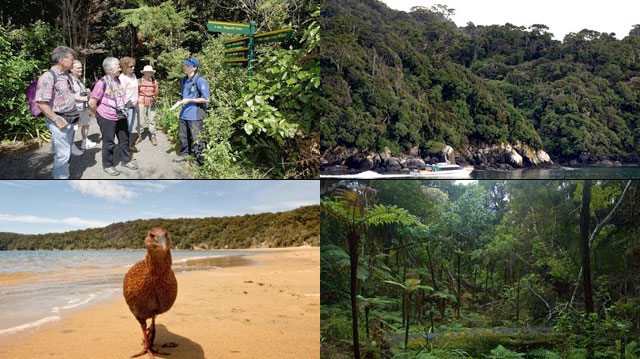 Day 16 - Return by Helicopter to Bluff and drive to Dunedin.
*** End of tour ***
COST: Request for pricing
For more information
Contact:
Dive Discovery
@
1 800 886-7321
(415) 444-5100
or
Request Info