Home > Dive Discovery Group Trips
Mobulas and Orcas, Sea of Cortez, Mexico, June 14-21 2025 Group Trip
Spotter Airplane Supported Ocean Safaris
Onboard Nautilus Gallant Lady
Escorted by: Cindi LaRaia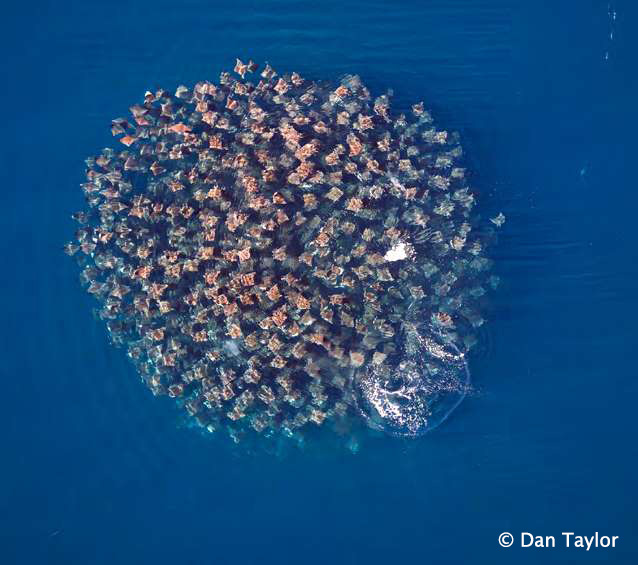 Join us on this wild and crazy snorkel adventure in the Sea of Cortez! Peak season for Mobulas and Orcas! Get ready to jump and swim to be rewarded with thousands of Mobulas and Cow Nose Rays, plus a plethora of surprises only the Sea Of Cortez can offer!
Our mobula and orca trips are an incredibly true adventure, in a world where there is not much adventure left to discover. Are we going to see mobulas on the first day? There's a good chance! We're going to have to search for them and we're going to have to work for it. You might have to do ten splashes before you get that amazing, once-in-a-lifetime experience where you're in the center of a squadron of mobulas who are swimming unconcernedly around you.
Credit : Gerry Soifer
Don't be fooled by the pictures, these mobulas are big! They can measure up to five feet across. Orcas? Swimming with the orcas is the same thing - if the mobulas are there, the orcas are most likely there. To find the orcas, we will be using our own aircraft for aerial spotting every day of the trip! Our pilot has spent the last 4 years flying low level patrols and specializes in finding orcas; she loves whales and is an expert at spotting them.
Just like the mobulas, it's quite common for the orcas to do ten to 15 swim-bys before they finally relax and they decide they want to interact with you. And when they do interact with you, it will be a magical experience that you will never forget! Combining the knowledge and skill of our pilot, increased time in the air, and speed and range of our dedicated spotter plane, we're hoping for higher than 60% probability to jump with orcas. Interaction is always on the animals' terms. We do not chase or allow harassment of the animals and depend on them to choose to interact with us. We have had excellent success with interactions.
COST:
Superior Cabin: $4,200 inclusive of tax + $35 port fee
1 premium cabin at $4,830 per person + $35 port fee
For more information
Contact:
Dive Discovery
@
1 800 886-7321
(415) 444-5100
or
Request Info