Home > Dive Discovery Trip Reports
Antarctic Peninsula Basecamp, On board the M/V Plancius
March 3-14 2015 Trip Report
Escorted by: Cindi LaRaia
Page One
Cetaceans of Antarctica (HD) by Aquaholic
This wonderful trip log was sent to us when we arrived home. I could not have done a better job,
I did however add our own special experiences at the bottom of each day. ****
I also integrated some of my own pictures, Dieter Vogel & Shari Hopson's to this log!
Enjoy!!!
Cindi LaRaia
MV Plancius was named after the Dutch astronomer, cartographer, geologist and vicar Petrus Plancius (1552‐ 1622). Plancius was built in 1976 as an oceanographic research vessel for the Royal Dutch Navy and was named Hr. Ms. Tydeman. The ship sailed for the Royal Dutch Navy until June 2004 when she was purchased by Oceanwide Expeditions and completely refit in 2007, being converted into a 114‐passenger expedition vessel. Plancius is 89 m (267 feet) long, 14.5 m (43 feet) wide and has a maximum draft of 5 m, with an Ice Strength rating of 1D, top speed of 12+ knots and three diesel engines generating 1230 hp each.
Day 1 – Tuesday 3rd March 2015
Embarkation – Ushuaia, Argentina
GPS 08.00 Position: 054°48'S / 068°18'W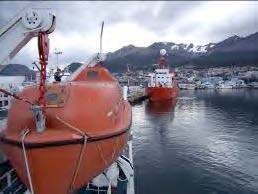 So here we are at last in Tierra del Fuego, at the bottom of the world. Well, from Ushuaia we'll be going south of south...a long way south. But for today, we walked around this lovely Patagonian city, savouring the local flavours and enjoying the sights.
Ushuaia marks the end of the road in Argentine Tierra del Fuego, but also the beginning – the beginning of once‐in‐a‐lifetime adventure. During the summer this rapidly growing frontier town of 55,000 bustles with adventurous travellers. The duty‐free port flourishes with tourism but also thrives on a sizeable crab fishery and a burgeoning electronics industry.
Ushuaia (lit. "bay that penetrates to the west" in the indigenous Yaghan tongue) clearly benefits from its magnificent, yet remote setting. The rugged spine of the South American Andes ends here, where two oceans meet.
For many of us this is the culmination of a lifelong dream. The excitement comes in different forms for each unique person, but even the most experienced of us feels genuine excitement to depart for such a remote destination.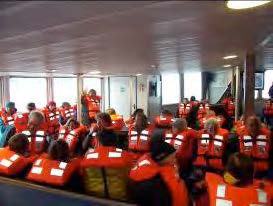 It was a lovely afternoon with sunshine and light winds as we made our way along the port and most passengers were promptly at the gangway at 16.00, ready to board our ship MV Plancius, home for the next few weeks. We were greeted by members of our Expedition staff who sorted our luggage and sent us on board to meet Hotel and Restaurant Managers, Andre and Beverley. We were then checked into our cabins with the assistance of our fabulous Filipino crew.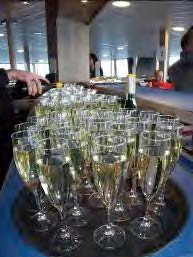 A little while after boarding we convened in the lounge on deck five to meet Expedition Leader Kelvin Murray who welcomed us on board the ship. Andre, our Hotel Manager, then took over the microphone and gave us a general overview of the ship. A short while later we were able to watch as the lines, the ropes were lifted and Plancius made her way out into the Beagle Channel. Our Antarctic adventure has begun!
Once we were underway Chief Officer led us through the details of the required SOLAS (Safety Of Life At Sea) Safety and Lifeboat Drill, assisted by the crew and staff. On hearing the alarm we reconvened for the mandatory safety briefing and abandon ship drill donning our huge orange life jackets that will keep us safe should the need arise. With the knowledge and comfort of knowing that we are in good hands with this multinational crew, we returned to the outer decks to watch the Beagle's rugged coastline glide past.
At 19:00 we met in the lounge once again and it was chance to meet our Captain, Evgeny Levakov, our Expedition Leader, Kelvin Murray and the rest of the Expedition team and toast our voyage to Antarctica. A short while later we were invited to the dining room to enjoy the first of many delicious meals onboard, prepared by Chefs Heinz, Ricky and their galley staff. This first evening on board was occupied with more exploration of the ship, adjusting to her movements, and settling into our cabins. In the early hours of the morning we would be out into the open waters of the Drake Passage.