Scuba Diving Mozambique
Diving Mozambique, Bazaruto, Inhambane, Quirimbas ... with Mantas and Whale Sharks
Diving in Mozambique is very unique, a true adventure just getting there. Mozambique is a large country and we talk about diving in the middle section of Mozambique which entails, Inhambane & Tofu area for the mantas and whale sharks, again that season is October thru May.
Bazzaruto and Quirimbas Archipelago
Further north lie the Bazzaruto and Quirimbas Archipelago's. If luxury is on your mind for a stunning getaway with amazing beachfront accommodation, white sand, azure blue water, gourmet dining and romance, then north you go, the diving is not the main focus here, but who cares!
Inhambane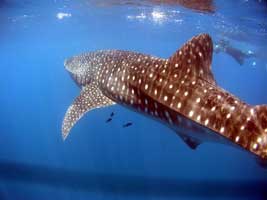 It has 2500 km of pristine coastline, with pristine beaches and virgin reefs. Having been colonized by the Portuguese, it has a rich and diverse culture, a mixture of African, Arab and European influences. Hear the Afro-lating beat of the local music. Walk on miles of deserted beach, surrounded by coconut palms leaning in the breeze, and you'll know you've truly come to paradise!
The 2500km coastline is scattered with endless coral reefs, tropical beaches and is a mecca for scuba and snorkel divers, sun worshippers and adventures explorers. The pristine coast is one of the few unexplored pleasures of the Indian Ocean and host a dazzling display of marine life. Whatever your needs to have fun in the sun in Mozambique, you have come to the right place!
October through February is whale shark season, and these peaceful giants of the ocean are often seen (but not touched) by lucky dives and snorkelers.
Maputaland, Ponta do Ouro
There is a place in southern Mozambique, which borders onto South Africa, which offers the most spectacular shark diving. The dive site that pops to the forefront of the mind is "Pinnacles".
Pinnacles is alive with action in the summer months spanning December - May, with water temperatures averaging 23 - 27°C. The depth of this site averages from 29m (top) down to 46m.
Many shark species can be sighted on this diverse site and these are: Bull / Zambezi shark, Tiger shark, Oceanic white tip, Great White shark, Hammerhead shark, Silvertip shark, Blacktip shark.
Other exciting sightings are: Barracuda, Wahoo, Giant kingfish - the entire kingfish species can be seen
Manta Rays, Devil Rays, Spotted eagle rays
Feb 2010 Dive Report:
"We spent 3 nights at Ponta d'Ouro and did 6 dives there. Each day we would do the Pinnacles in the morning to sight sharks, of which we got Hammerheads, Zambezi (Bull sharks) and on the 1st day we had one particular Bull shark that came in a few times to get a closer look. She had a cut off dorsal fin which made her easily identifiable. She came as close as she could on numerous occasions, making this deep dive an exciting one indeed.
The 2nd dive of the day was a reef dive and we had great encounters with macro and larger specimens at Checkers, Aquarium & 3 Sisters. We must give a special thanks to our hosts for accommodation O Lar do Ouro, Janice & Terry, who made us feel so much at home that we did not want to leave. From our air-conditioned accommodation, absolutely amazing food, relaxing swimming pool, cosy pub environment, to the sundowners at the lake and our efficient transfers, this made our stay so enjoyable and hassle-free."