Best of New Zealand Tour Top to Bottom
14 days self drive itinerary for October/November
Request for dates and current pricing
*please ask about other months of the year, tour can be easily modified.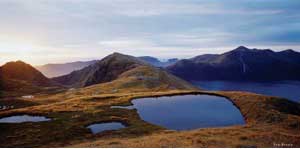 Here is a small country, a double island nation that has at least a dozen or more different topographies in one!
For Nature Lovers, Birders, light trekking, wine lovers, cycle through vineyards, whale watching, Lord of the Rings fans, Glacier walks, Fiordland National Park untouched nature, it is all here in this amazing pristine country. Get ready for a delightful arrangement of sceneries, 40 some extinct volcanoes, islands and endless shorelines. Experience cultural history of Maoris and Polynesians.
Pristine Landscapes
New Zealand has known human habitation for less than a thousand years. Before then, it was a land of forests, mountains and beaches. The loudest sounds were birdsong, wind and waves. Fourteen spectacular national parks preserve New Zealand's natural heritage. Enshrining a huge variety of landscapes, vegetation and wildlife, our parks allow you to discover the heart and soul of a country that will never be totally tamed.
Day 1 - Auckland "The City of Sails"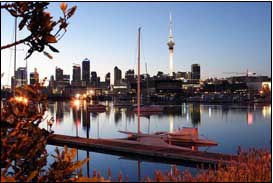 Imagine an urban environment where everyone lives within half an hour of beautiful beaches, hiking trails and a dozen enchanted holiday islands. Add a mild climate, a background rhythm of Polynesian culture and a passion for outstanding food, wine and shopping and you're beginning to get the picture of Auckland, also known as the City of Sails - a title gained from the view of yachts seen against the cityscape.
Tiritiri Matangi Island - World Renowned Wildlife Bird Sanctuary (Cruise & Tour)
Situated 1 1/4 hours by ferry from Auckland City is the world renowned island sanctuary of Tiritiri Matangi. This precious jewel set in the Hauraki Gulf is home to many of New Zealand's most endangered plant and bird species. Managed by the Department of Conservation in partnership with Supporters of Tiritiri Matangi, the island has the status of an open sanctuary. This allows the public to visit and enjoy the natural splendour of rapidly regenerating native forest and ever increasing birdsong.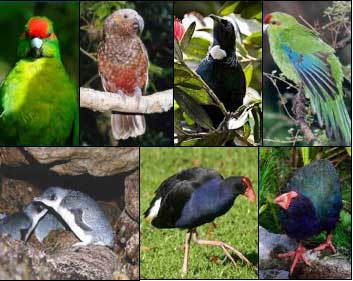 Stay 1 Night – Hilton Hotel Auckland
Hilton Auckland, a boutique-style deluxe hotel, located 300 metres out to sea on Princes Wharf, is a welcoming haven within 5 minutes' walk from the city's main shopping precinct, the ferry terminal, the Viaduct Basin (Auckland's main tourist and entertainment stretch) and within a stone's throw of more amenities.
The rooms are stylish and contemporary, with chic furnishings and custom woven carpets. Local timber finishes are a feature, as are the spacious bathrooms. Each room has a walk-out balcony, in-room safe, coffee and tea making facilities, mini bar, satellite television, pay movies, a working desk with data points, two voice lines, one data and high-speed internet connection.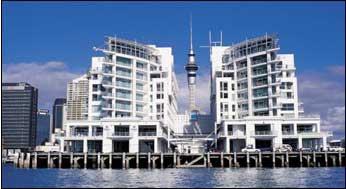 Day 2 - Drive to Waitomo - Cave Country (3 Hour Drive)
The green rolling landscapes of the Waikato region that lies to the south of Auckland form some of the most fertile land in New Zealand, yet this is one region in particular which holds more than just surface appeal… literally. For Waikato also boasts an extensive labyrinth of underground caverns that formed millions of years ago and are now a major tourist attraction. To the south of Hamilton, the small and pleasant town of Waitomo is the focal point of the region's subterranean wonders. The caves at Waitomo are one of New Zealand's most commanding wonders – a celebration of nature's work over the last one hundred thousand years. There are hundreds of miles of labyrinthine caves, glow-worms, under ground lakes, stalactites and stalagmites, and all manner of limestone crustaceans - a lost world waiting to be discovered. Above ground, the area around Waitomo is also popular for horse riding and bush walking.

Spellbound – A Tour of Waitomo's Wondrous Glow Worm Caves
Sir David Attenborough on the series Life in the Undergrowth described the Waitomo Glow Worm Cave as "This Astonishing Cave" and "one of natures most Magical Illuminations!"
This small group personalized Spellbound tour allows you to spend 40 minutes underground with the glow worms. This tour is one of the most unhurried glow worm tours in New Zealand. We allow time (up to 20 minutes is needed) for your eyes to adjust to darkness. During the raft ride your night vision will begin working to its best ability and you will be amazed at the effect of thousands of softly shining glow worms. We think you will be totally Spellbound. Those little glow worms are so interesting as well as beautiful and we will show you all their life cycle stages, you can watch them move about and see them use their clever silk fishing lines to catch prey. Following a visit to the glow worm cave, a gentle walk along a gorge path brings you to the Cave of the Spirit. Te Ana o te Atua, is quiet and contemplative, soft light reveals a time vault preserving evidence of past explorers, extinct animals, and abandoned stream passages. Both caves complement each other beautifully for a really memorable cave experience.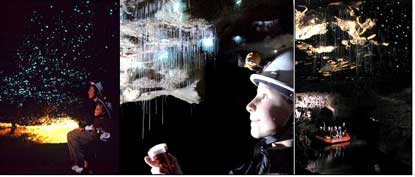 2 Nights A-Kahu House (Rotorua)
A-Kahu House is as much an encounter with Te Arawa Maori people and culture as it is an intimate haven from which to explore Rotorua. A-Kahu House at Kawaha Point on the edge of Lake Rotorua is lake edge luxury with the relaxed vibe of a B & B. The guest rooms are large, beautifully appointed and flooded with lake views. There are just four guest suites to A-Kahu, so it is not a huge property but it seems to be just the way our guests like it. A total of four large en suited guest rooms – comprise A-Kahu.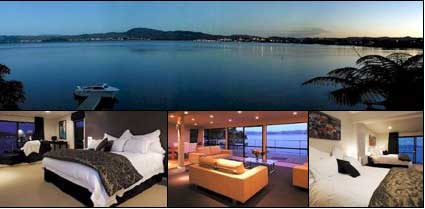 Each guest room is beautifully appointed with LCD television, luxurious linens and furnishings, handmade Maori herb and oil infused soaps as well as stunning examples of both contemporary and traditional Maori art work. Views of historic Lake Rotorua, Ohinemutu Village, Rotorua Township and Mt Tarawera pour in the windows of each guest room.
Day 3 - Discover the Geothermal Wonderland of Rotorua
Rotorua, the heartland of New Zealand is the host to some of the world's most incredible earth forces. Surrounded by the unmistakable smell of bubbling sulphuric geysers, clouds of steam magically appear around the city giving it an incredible 'other worldly' feel. Here lives wonders like the Pohutu geyser, which erupts 20 times a day and can spout up to 100 feet. All around this geothermal hotspot there are spouting geysers, acrid-smelling mud pools that bubble and belch, and warm geothermal pools and ponds and hot spring bath's that create a kaleidoscope of colour.
With a deep-rooted Maori cultural heritage spanning from the 14th century, Rotorua is still considered Maori cultural centre of New Zealand. The first Maori inhabitant's constructed villages and made use of the thermal areas boiling water. This natural resource successfully aided them in the use of cooking and warmth for houses, eliminating the dependence of fire. Here you can explore the unique culture of New Zealand's Maori people.

Dawn Chorus Tour - Rainforest at Dawn
Dawn Chorus Tour is the perfect trek for early risers to experience the rainforest dawn chorus. You will have the opportunity to hear beautiful bird songs and possibly see the kokako, this unique to New Zealand bird is now listed as an endangered species. Listen to the beautiful chime of the bellbird and the more melodious tui song as you enjoy breakfast in the rainforest. During the 4 hour tour, the successful work being undertaken to protect these endangered birds and their rainforest habitat will be explained to you. The guided walk reflects the diversity of the region and the professional guides will provide you the opportunity to get off the beaten track to experience the best of the region's nature, history, heritage and culture.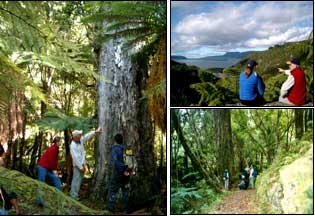 Day 4 - Drive to National Park (2 Hours Drive)
Established in 1887, Tongariro was the first national park in New Zealand and the fourth in the world. It is also a dual World Heritage area, a status which recognises the park's important Maori cultural and spiritual associations as well as its outstanding volcanic features.It is a place of extremes and surprises, a place to explore and remember. From herb fields to forests, from tranquil lakes to desert-like plateau and active volcanoes - Tongariro has them all. In the summer you will find available all kinds of that allow you to get out and enjoy the Tongariro National Park - hiking, biking and kayaking and in the winter National Park has fantastic skiing on the Whakapapa and Turoa Ski fields on Mt Ruapehu.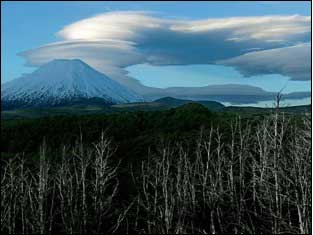 Fancy a walk on the moon? Try the Tongariro Crossing
Well here's a much cheaper option (and you won't have to wear a goldfish bowl on your head while you're there): Tongariro National Park. The 12-mile Tongariro Crossing is considered the best hike in New Zealand. This untouched volcanic terrain offers a fascinating look at a very alien environment, complete with twisted lava formations, volcanic steam vents. vast craters, active volcanoes, boiling lakes, barren desert, lush forest, crystal-clear mountain streams, steaming geysers and emerald green lakes. Phew! The scenery is so otherworldly that Lord of the Rings was filmed there. Experience a diversity of landscapes unlikely to be found together anywhere else in the world.

Tongariro was New Zealand's first national park and is a World Heritage site in the Lake Taupo region. It was created in 1887 when the three magnificent volcanoes – Ruapehu, Tongariro and Ngauruhoe – were offered to the people of New Zealand by the Tuwharetoa tribes. It now covers a total area of 78, 651 ha. This can either be done as a freedom walk (only in summer), or a guided trip including transfers, refreshments and lunch.
1 Night - Bayview Chateau Tongariro National Park
The Bayview Chateau Tongariro sits nestled in the shadow of three towering active volcanoes, and at the very foot of the majestic and sacred Mount Ruapehu. The 800 square kilometre Tongariro National Park – a dual listed World Heritage Area – provides a stunning natural playground bursting with diverse landscapes for visitors to the Chateau to discover. With arid badlands, crater and alpine lakes, sparkling rivers, breath-taking lunar landscapes, lush rainforest and alpine meadows to be explored, staying at the Chateau Tongariro is an all-seasons, utterly unique experience not to be missed. The Bayview Chateau Tongariro is classed as a Category One Heritage Building, and offers lavish décor and furnishings, heavenly cuisine, and a superior standard of service, all set against a back drop of remarkable scenery.

Day 5 - Fly to Blenheim – The Heart of Marlborough's Wine making district
Blenheim is the largest town in the Marlborough region in the heart of this premier wine making district making it a very popular visitor destination. The town is well serviced, with several fine restaurants focusing on local food and wine, a stylish public art gallery, a museum and colonial village, glorious public gardens, as well as theatres and cinemas. However, the real lure of the town is undoubtedly the wineries and the convenient access that Blenheim provides. The Marlborough region is New Zealand's largest producer of wine and is particularly famous for it Sauvignon Blanc. Of the numerous vineyards in the area, about 30 are open to visitors, offering tastings and tours of the property. The region boasts one of the most stable climates in the country and experiences and above average sunshine record. During the second week of February, Blenheim plays host to the Marlborough Food and Wine Festival.

Marlborough - Vineyard Cycling Tour
The Marlborough Region is New Zealand's premier wine growing region and world famous for its Sauvignon Blanc and Chardonnay varieties. Today visit a selection of Marlborough's famous vineyards, enjoy the tastes and soak up the atmosphere. Blenheim, the provincial capital, is located in the lower Wairau Valley and enjoys excellent sunny weather suitable for both outdoor activities and ripening grapes. Over 40 wineries can be explored by bike along quiet back roads, and all within a 10km radius. We will select a route that caters to the preferences of our group to partake in wine tasting, gourmet food, crafts or just cycling on these quiet country roads.
2 Nights Sennen House - Picton's finest Colonial Villa
Built in 1886 and registered under the New Zealand Historic Places Trust, this magnificent 2-storey villa is one of Picton's original colonial homesteads. Extensively restored in keeping with its gracious style and era, Sennen House offers guests a truly unique accommodation experience, set in 5 acres of National Trust protected native forest and grounds, yet only a short stroll to Picton's restaurants, shops, ferries and foreshore. The superior accommodation provides the discerning traveller with a haven of relaxation, privacy and tranquillity together with a wealth of historic features, character and charm with an unexpected rural twist.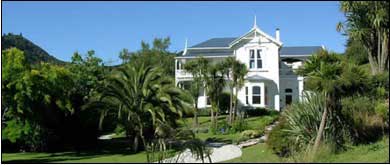 Day 6 - The Queen Charlotte Track - One Day Walk (4.5 hour walk)
Located in the Marlborough Sounds, at the top of the South Island of New Zealand, the Queen Charlotte Track is 71km long and normally walked over four days. The Queen Charlotte is New Zealand's finest and most diverse coastal track. It combines bush clad shoreline walking with views from skyline ridges. Take a boat cruise from Picton to Ship Cove past salmon farms and sea birds on a beautiful voyage to Ship Cove, an historic and scenic reserve that Captain Cook visited several times in the 17th Century. Enjoy a walk along the Queen Charlotte Track from Ship Cove to Endeavour Inlet (14km - five hours approx.). Bush is mainly a mixture of stunning podocarp and beech forest with punga ferns and other New Zealand native foliage. This day is regarded as the premier section of the Queen Charlotte Track. Many beautiful views are to be had across the Marlborough Sounds.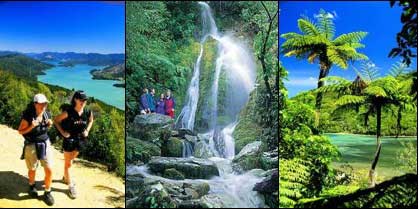 Day 7 - Drive to Kaikoura - The Serengeti of the Sea (2.5 Hour Drive)
Few places in the world can boast of such natural wonders as those offered by land and sea in Kaikoura. Situated midway between Christchurch and Picton on the rugged east coast of New Zealand's South Island, Kaikoura is overlooked by majestic mountains, which are snow-capped for many months of the year. This unique combination of ocean and mountains offers stunning coastal alpine scenery and a host of eco-tourism oriented activities, including Whale watching, Dolphin and Seal swimming, walks, and much more!

Whale Watching Kaikoura "The Serengeti of the Sea"
A spectacular marine playground exists off the coast of Kaikoura and living in this environment is the mighty Sperm Whale. It is here that resident bachelors dive to immense depths in search of Giant Squid, so accessible to Sperm whales but still elusive to mankind. Visitors are drawn to Kaikoura by the ability to view these magnificent mammals in their own environment 12 months of the year and Kaikoura The rich diversity of wildlife found means that every day is a chance to see something different and unique - and you will - from seabirds to cetaceans (whales and dolphins), seals, or even Orca.

Pelagic Bird Watching Kaikoura
Kaikoura is not only famous for whales and dolphins but arguably one of the world's most exciting arenas for pelagic (ocean going) birds. Within close proximity of the beautiful Kaikoura Peninsula, range a considerable array of albatross, petrels, shearwaters, terns, shags and gulls. You will take a cruise to view these birds with a well known local authority. Kaikoura has one of the greatest numbers of different types of seabirds within a small area than anywhere along the New Zealand coastline. The list of seabirds below have been sighted in an are from Kaikoura Peninsula south to a distance of 10 miles off the Conway river mouth, roughly a triangular area. One of the reasons for such a large number of different types of seabirds is the presence of a deepwater trench (the Kaikoura Canyon), close inshore and upwellings of cold nutrient rich water over the shallower coastal waters (supporting flocks of tens of thousands of Hutton's shearwaters which breed in the nearby Seaward Kaikoura mountains).

Stay 1 Night at the Kaikoura Tree Houses
Sleep in the canopy of Hapuku Lodge's native manuka grove. Rising over 9 metres above the ground, the Tree Houses enjoy views of the Pacific coastline, Kaikoura Seaward Mountain ranges, surrounding deer farm and olive orchard. Designed by Tony Wilson and Peter Wilson the Tree Houses are a compliment to the spectacular surrounding environment. A unique accommodation experience of sleeping amongst the branches is matched with the luxury of our custom-crafted and ultra-comfy king bed, large spa bath and efficient Danish log-burning fireplaces. Wide-screen televisions, Bose and Ipod stereo systems, rain-fountain showers and heated floors complete the high-level (excuse the pun!) of guest comfort. With stunning mountain and sea views, the individual TreeHouses are named after the native birds which have quickly adjusted to their new neighbours in the trees. Each Tree House includes a large spa bath, fireplace, rain-fountain shower; unique handcrafted furnishings and the Lodge's great sleeping king beds.

Day 8 - Drive to Franz Josef Village (6 Hour Drive)
Franz Josef village is small (only 500 locals) and is located only ten minutes from the Glacier. The Franz Josef is a glacier located in Westland National Park on the West Coast of New Zealand's South Island. Together with the Fox Glacier 20 km to the south it is a unique in the fact that it descends from the Southern Alps to just 200 metres above sea level amidst the greenery and lushness of a temperate rainforest. The glacier is currently 12 kilometres long and terminates 19 km from the Tasman Sea. The glacier exhibits a cyclic pattern of advance and retreat, driven by differences between the volume of meltwater at the foot of the glacier and volume of snowfall feeding the neve.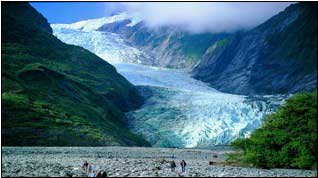 2 Nights: Holly Homestead B & B Franz Joseph Glacier
Originally a farmhouse built for the Paganini family in 1926 and now lovingly restored and extended. This impressive colonial homestead is now perfect for guest comfort with a touch of luxury. Conveniently located 1.5km north of the Franz Josef village, a short drive or an easy 20 minute walk. A delicious full breakfast will get you started each morning. Holly Homestead has five stylish guest rooms. Only after you have stayed, will you come to understand the pleasure that South Westland can bring.

Day 9 - Rainforest Nature Tour & Scenic Jetboating
The Waitangi Roto Nature Reserve is home to plenty of natural wonders and unique wildlife. View the magnificent Kotuku (White Heron), the Kotuku Ngutu Papa (Royal Spoonbill), the Kawapaka (Little Black Shag) and other Bird life - all in their natural environment. The 3 hour tour begins with a short minibus ride to the river to connect with the jet boat. During the scenic ride along the way on the Waitangi Taona River, you will view magnificent stands of ancient Kahikatea Forest (800 to 1000 years old). Enjoy the relaxing cruise through some of the world's most intriguing scenery, learning how to preserve the delicate balances within one of natures' oldest ecosystems. A short walk ill then take you to the native bush where native birdlife abound, with Tui, Bellbird, Wood pigeon and Fantail. During summer months, view New Zealand's only White Heron and Royal Spoonbill nesting site. The Rainforest, the Mountains, the bird and plant life are absolutely superb during the winter months.

West Coast - White Heron Sanctuary Tour
Waitangi Roto Nature Reserve is the only place in New Zealand where the Kotuku (White Heron) come to nest. This beautiful bird breeds only in a single secret location in what is one of the most romantic parts of the country. The continued survival of white herons has been one of the major successes of the early stages of wildlife conservation in New Zealand. In New Zealand, the present population is about 80 breeding adults and 50-60 first and second year birds. To the Maori it was "He kotuku rerenga tahi", a kotuku "of a single flight", a kotuku to be seen perhaps once in a lifetime. To compare a visitor to a kotuku was a compliment of the highest order. This 3 hour tour operates during the nesting season, which means from late October to the end of February. From the jetty it is just a short boardwalk (500mtrs) through native bush to where you can stay for 30-40 minutes to view the White Heron, the Royal Spoonbill, the Kawapaka (Little Black Shag) and other Bird life, all in their natural environment.

Day 10 - Lake Matheson - A Reflection of Perfection
One of New Zealand's great scenic icons lies just 6km from Fox Glacier. On a still, clear day it reflects the unforgettable image of New Zealand's highest peaks, Aoraki (Mount Cook) and Mount Tasman. The surface is a perfect natural mirror. An easy 40 minute walk takes you to the first viewing platform, and a complete circuit of the lake can be completed in one and a half hours. Lake Matheson is a kettle lake formed by a decaying glacier as it retreated back to the existing valley. The best time to go is either early in the morning or in the evening.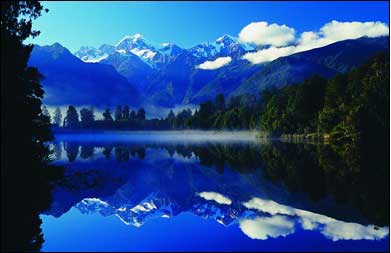 Drive to Queenstown - Adventure Capital (6 Hours)
We've all heard the endless hype about it being the adventure capital of the world, and there are certainly enough crazy activities here to challenge the strongest, but Queenstown offers much more. Don't be put off by comments that it's touristy and un-Kiwi. Sure, the streets are dominated by booking offices, but Queenstown has excellent shopping, restaurants, cafes, and clubs as well. And in many adrenalin-seeking ways, it encapsulates much of what New Zealand is about. Famed for its international winter ski profile, Queenstown is also a brilliant spring, summer, and fall destination. This is when you get the best of its scenic beauty, easy walks, and endless opportunities to relax. Thrill seeking may be touted as the major attraction, but you can just as easily go fishing, golfing, gold panning, wine tasting, or boating. One thing is certain: You won't run out of things to do.
1 Night: Brown's Boutique Hotel
Relax in the friendly and comfortable atmosphere of Queenstown's boutique accommodation complex. Designed along traditional European lines, this small intimate Hotel is only three minutes walk to the center of town and each room has its own balcony with stunning views of Queenstown and the Remarkables mountain range. Complimentary breakfast daily is included.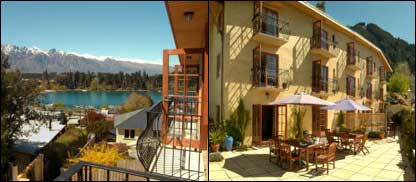 Day 11 - Doubtful Sound Wilderness Cruise
Doubtful Sound located in a World Heritage Area, is an overwhelming place. You can feel the power of nature here - the remoteness, the wildness and the peace. Known for its wilderness and wildlife, Doubtful Sound is the second largest of the 14 fiords in Fiordland National Park and it is three times longer and 10 times larger than Milford Sound. When you discover Doubtful Sound you will be struck by its silence – a silence broken only by birdsong, or maybe the rushing of a distant waterfall. Your Doubtful Sound adventure begins as you cruise the crystal clear waters of Lake Manapouri. Then it's over Wilmot Pass, stopping along the way to experience some of Fiordland's densest rainforest and to view the colourful alpine moss gardens.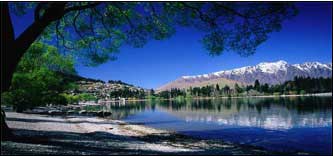 On reaching Deep Cove, you will board our spacious catamaran for a three hour cruise that takes in the most dramatic scenery of Doubtful Sound. Keep a look out for wildlife as bottlenose dolphins frequently come alongside our vessel, fur seals bask on the rocks around the fiord and rare penguins can at times be observed.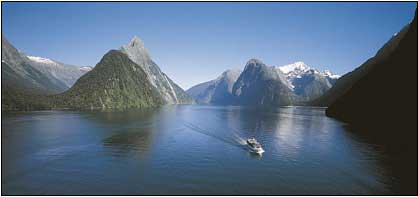 1 Night: Fiordland lodge
The open architecture of Fiordland Lodge reflects the vastness of the Fiordland National Park. Echoes of the forest are found in the striking natural timber construction; high ceilings, full trunk pillars and a massive riverstone fireplace provide a warm spacious environment. A commanding staircase leads from the impressive lounge to a peaceful inviting mezzanine, complete with library and fly tying area. On forty acres of land, Fiordland Lodge is set on a superb site with commanding views out across Lake Te Anau. This is a rural setting with rolling grass lands surrounding the Lodge, Lake Te Anau being a mere ten minute walk away. Across the lake to the west lie the mountains of Fiordland National Park, an area of over three million acres of untouched wilderness and part of the much larger South West New Zealand World Heritage Area. The ten luxury guest rooms - one an executive suite with separate lounge area for private entertaining are simply luxurious.

Day 12 - Drive to The Catlins - Wilderness & Sub-Antarctic Creatures (2.5 Hour Drive)
The Catlins is a corner of New Zealand untainted by the modern world - a place where time has stood still and a visitor may enjoy the forests and wildlife and life-style of a bygone era. Here, close to the rich Sub-Antarctic, feeding grounds can be found some of the world's rarest marine animals - three penguin species (including Hoiho, the Yellow-Eyed Penguin), Hooker's Sea Lions, Hectors Dolphins, Elephant Seals, as well as New Zealand Fur Seals. Notable also are the seabirds: Mollymawks, Shags, Gannets and millions of Titi (Sooty Shearwaters). Rocky platforms carved by the sea, secret coves and sweeping beaches of gleaming, wave-combed sand are all part of the exhilarating variety of coastal scenery.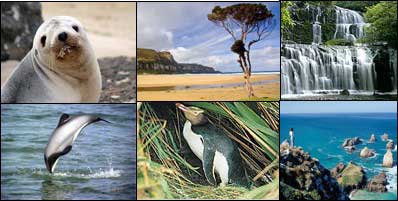 1 Night: Mohua Park Eco-Cottages
Experience The Catlins for yourself, at your own pace and in a comfortable, safe and environmentally sustainable cottage. The Mohua Park Cottages at Tawanui are four independent energy-efficient luxury cottages in scenic Catlins River Valley near walks and river fishing. On a hill surrounded by 10 hectares of native forest – privacy, bird song, forest walks, valley views and garden. Environment-friendly features include: passive-solar design, double-glazing, solar hot water heating, extra insulation, self-contained water supply and sewage disposal, energy-efficient light bulbs and heat-pump heating. The cottages are designed for two people, however a pull-down divan in the living area allows up to four people in a cottage with a curtain room divider.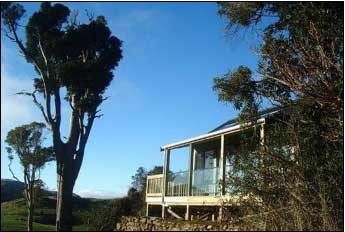 Day 13 - Stewart Island: New Zealand's Best-Kept Secret
It is almost a cliché to call it one of New Zealand's best-kept secrets, but given that so few people are aware of its unspoiled tranquillity, it probably deserves this label more than any other place in the country. Roughly triangular in shape, it is 65km (40 miles) long and 40km (25 miles) Only 1% of the island is inhabited -- the rest is given over to natural native bush, exquisite white-sand beaches, bird sanctuaries, and rugged mountains. All this makes it a naturalist's and tramper's paradise and the perfect place for a remote yet accessible holiday. You need to be here only a few hours before the rest of the world melts away and you find yourself adopting the unhurried, laid-back approach of the locals. The wildlife and rare plant life is some of New Zealand's best, where you will see seals, penguins and dolphins all from the roads. Kiwi spotting is very popular here as they are common over much of the island. The forest is a haven for bird-life, as there are fewer predators than on the mainland. Kaka, parakeets, tui, and bellbird give a wonderful dawn chorus in spring. New Zealand's national bird, the kiwi is found all round the Island.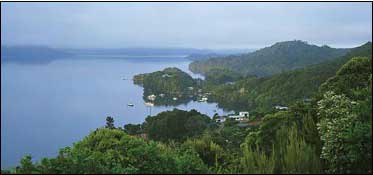 2 Nights: Stewart Island Lodge
Nestled in native bush, Stewart Island Lodge offers a peaceful sanctuary from the modern world. Located just five minutes walk from the Stewart Island's small village, our up-market Bed and Breakfast is private and secluded with commanding views of Halfmoon Bay and the surrounding ocean. The lodge's grounds are home to many native birds, including kaka (native parrots), which can be viewed from the lodge's terrace. Relax in the extensive gardens, or explore further afield and discover Stewart Island's beautiful scenery and fascinating native birdlife. In the evening, your hosts will join you in the guest lounge for a pre-dinner drink and a selection of appetisers representing the best of local fare. A full breakfast is served each morning including cooked and continental options, and seasonal fruit.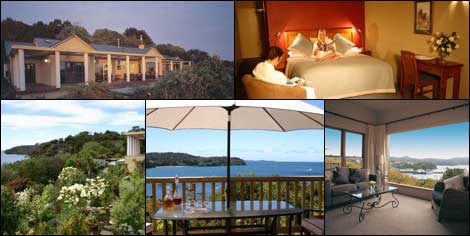 Day 14: Stewart Islands - Ulva Island Half & One Day Walk
Ulva Island is a must do for everyone who enjoy a walk in native forest and beautiful beaches and especially for birdwatchers. It is situated in Paterson Inlet, a large body of water lying in the centre of Stewart Island. There are few places in New Zealand like Ulva Island where a variety of native birds can be viewed at such close range. You will hear kaka, our native parrot calling their liquid honey notes, interspersed with the bellbird's exquisite notes and the wonderfully varied calls of the tui, with lime green parakeets flying amongst the tree tops. During the half-day tour, you will view near-pristine native podocarp forest ant its majestic trees, its delicate ferns and various orchid species. Of course, many rare or threatened bird species embellish your walk. The full day tour includes a coastal walk along Stewart Island beaches to Maori Beach, once the site of a Maori village.

***We can also add a scuba diving trip to the Poor Knights for those interested, just ask!
| | |
| --- | --- |
| Map of New Zealand - the North Island | Map of New Zealand - the South Island |
For more information
Contact:
Dive Discovery
@
1 800 886-7321
(415) 444-5100
or
Request Info