Scuba Diving Solomon Islands
The Islands Lost in Time...
Diving The Solomon Islands; unique cultures, warm water, an amazing diversity of sea life, WWII ship wrecks abundant with beauty. The Solomon Islands chain is steeped in history. World Renowned diving, offering a hidden wealth of cultural and natural wonders... The beauty and untouched cultural background will capture your soul!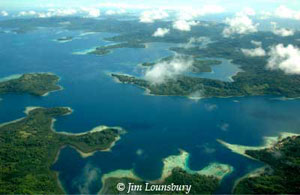 Located between 7 degrees and 12 degrees south of the equator, the Solomon Islands lie 1250 miles (2,000 km) northeast across the Coral Sea from Queensland, Australia. The islands are generally reached by air from Cairns or Brisbane in Australia. Auckland, New Zealand, or Nadi, Fiji. Most flights from North America route through Fiji, either via Los Angeles or Honolulu.
The Solomon Islands are a widespread archipelago of mountainous islands and low-lying coral atolls stretching approximately 900 miles southeast from the North Solomons (Papua New Guinea) into the southwest Pacific and Coral Sea.
The Solomon Islands consist of over 900 volcanic islands and coral atolls spread across the blue tropical waters. The major islands, where most of the 302,000 Solomon Islanders live, are generally mountainous with lush, tropical forests.
The largest and most heavily populated island is Guadalcanal with 88,000 people. It is also the location of Honiara, the Capital city. Other major islands are Choiseul, Santa Ysabel, Malaita, Makira, and New Georgia.
We often conduct group dive tours to Solomon Islands, since we love to go there ourselves.
Check for our current Solomon Islands group dive trips on our Dive Discovery website!