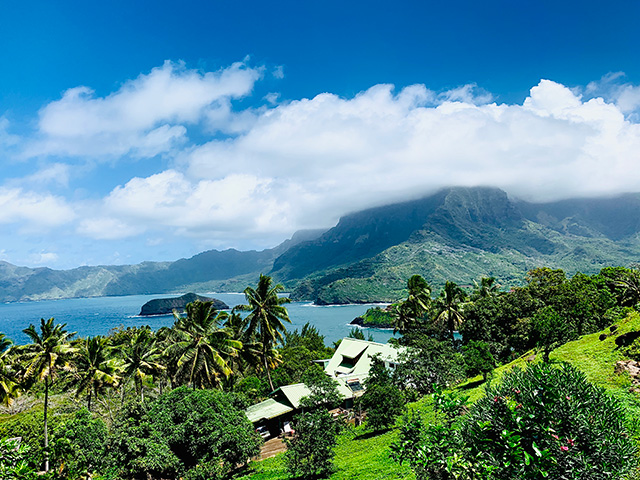 Where can Americans travel to now?
So,,,, who is SICK TO DEATH of this Covid-19 mess? ME!! ME!! ME!!
I had to run away to French Polynesia and just returned on Labor Day weekend,
I went to check out 2 islands I have not been to before; Marquesas, Hiva Oa to check out the diving and the culture; then onto Moorea to check out the whale watching operators and diving!

The country opened July 15; I have been planning trips! They require 72 hr negative Covid test before boarding the plane, they offer a free self-test kit 4 days after arriving in the country.  Very good protocols, masks, sanitizing and spacing.  All great!
I was thoroughly impressed! I will be working on my trip report and it will be up on our website soon!  I also made 3 Facebook posts; 1 from Marquesas, 2 from Moorea with images and pictures, please have a look:
** See my French Polynesia posts on Facebook!
** French Polynesia: Marquesas & Moorea, August 25-September 6 2020 Trip Report 
It is a great place to run away to, its barely 8hrs from LAX and SFO!
If you want to swim with the whales, I was very lucky with a singing male underwater
then the other whale day I had 3 whales, mama, baby and male escort!
If you want to run away NOW, the whales are there through to mid October!!
Check this out on FB and view the video below!
Mama holding up baby to keep her safe from the male escort – the white underside

Posted by Cindi Laraia on Monday, September 7, 2020
Some other great ideas to travel to!
Scuba diving~ Sun and Fun & SPECIALS:
We have some great places Americans can travel to NOW!
Baja Mexico- Magdalena bay- Striped Marlin and more, October 04 -11 ,2020
12 stateroom berths available: $1795 per person before tax- plus 65/port fee paid on board.  We're super excited to announce new 7-night Mexican Sardine Run trips on the Nautilus Under Sea. Join a trip of a lifetime to magical Magdalena Bay to snorkel/dive/photograph the sardine run, bait balls, zippy striped marlin, 2 newly discovered wrecks and a whole lot more! Intro rate of $1795. Per person. Ask me asap on this, this is a fantastic deal, close to home and FUN!!! See pictures below.

Maldives– lovely liveaboards and land-based resorts all with heavy discounts!
Red Sea– many liveaboard offers here and very well priced. We also offer Egypt touring on luxury Nile cruise ships and Cairo city touring.
Galapagos & Ecuador– You need a negative PCR from the US within 10 days of arrival in Ecuador and another PCR on arrival in Ecuador. You need 2 nights in Quito or Guayaquil to allow for this.
There are a couple dates for 2020 with 25 to 30% off!
Oct 24-31, 2020 and Nov 7-14, 2020 Tiburon Explorer only $4495 plus $150 fuel tax ($1900 savings). Specials cannot be combined with other discounts or group comp policy and do not count toward the 6th trip credit. Additional booking terms and requirements apply, contact us for details. More savings to come for Dec-March but not finalized yet. Please inquire.
Costa Rica & Coco's island– some USA states are allowed to travel here with updates coming. As of September 1, 2020, U.S. citizen tourists who are residents of New York, New Jersey, Maine, Connecticut, New Hampshire, Vermont, Maryland, Virginia, and the District of Columbia may enter Costa Rica on limited flights departing from the United States. As of September 15, residents of Colorado, Massachusetts, and Pennsylvania can also enter Costa Rica on limited flights departing from the United States.
Africa ~ Seeking Seclusion on an African Safari & great deals!!
ZAMBIA!!! I am all about Zambia!
Zambia is open for business! Ethiopian and Emirates are flying into Lusaka, we have limited domestic schedules and several camps that are open and operational, most importantly we are issuing tourist visas to anyone arriving with a negative COVID test that is no more than 2 weeks old.
We have several options for safari with South Luangwa, Lower Zambezi and Kafue; all different price points, from budget meaning REAL BUSH experience (yes please) to more moderate priced to stunning Luxury!
This is such a game rich country, the least visited and the golden Secret of Southern Africa!
IF you really want to get the heck out and feel free and find your meaning in life again.
Just do this…! You will love me forever! 😊
See some samples we have on our Africa Discovery Website.
We have so many lovely camps with outstanding game; walking safaris in the bush was invented here!
The best guiding for those who want to walk and see life as the animals do!
Stunning & beautiful landscapes! Abundant wildlife, LEOPARDS, Wild dog! Canoe the Zambezi!
NO OTHER PEOPLE! YOU do not see other people! What a concept!
Tanzania and Kenya are open and this is prime time for the annual migration! We have beautiful camps waiting to welcome you and be alone, Africa and the wildlife to yourself!
Rwanda for Gorillas is open now!
Uganda will open October 1.
Zimbabwe will open October 1.
Namibia opening soon!
Morocco is open!
West Africa opening international airports, hardly any covid there!! Excellent Culture!
South Africa is still pondering what to do, they will not look at opening until OCT 15.
We are all so disappointed in this news as of yesterday!
We are here for you to help you decide the best place you can escape to!
Trust me, my runaway trip to French Polynesia was very much needed and
what a great escape I had for 10nts.  It is worth it. The airports are very empty not many people, everything is sanitized, the airlines are doing a fine job with allowing spacing, offering sanitizer, wipes and masks!  I was extremely impressed!!
Let me help you keep your sanity and run away to some place cool!!!
Stay safe, follow the rules, wear a mask, and let me send you away!
Cheers!
Cindi
Dive Discovery
P.O. Box 9807
San Rafael, CA 94925
(800)886-7321
(415)444-5100
www.divediscovery.com