**Attention scuba divers and snorkelers**
Lindblad Expeditions/ National Geographic Orion
partners with
Dive Discovery Travel for 2018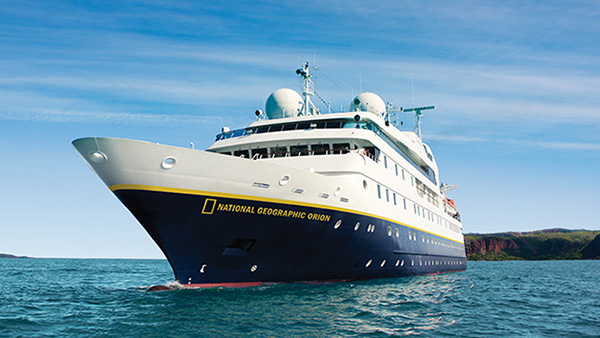 What does this mean?
Because of this union, we are able to offer you an 'exclusive' $200.00 on board credit per person booked only through Dive Discovery.  (*new bookings only)
Also, SPECIAL OFFERS:
Book 2 or More and Save 10%
Book two or more South Pacific voyages aboard National Geographic Orion and take 10% off each voyage. Savings is applicable to back-to-back or non-consecutive voyages.
***This savings is available on voyage fare only, and is not valid on airfares or extensions.
Our South Pacific & Polynesia Trips
* links to PDF files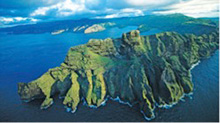 Azure Seas from Tahiti to the Marquesas
17 days Jun / Aug, from $15,680 to $33,440
Easter Island to Tahiti: Tales of the Pacific
19 days Mar / Aug, from $17,990 to $37,990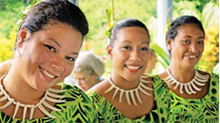 Epic Polynesia: Cook Islands to Fiji
17 days May, from $15,680 to $33,440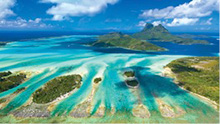 French Polynesia: Beyond the Postcard
10 days Apr / Jun / Jul / Aug, from $7,690 to $16,840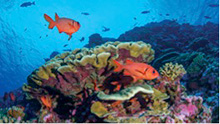 Isles, Atolls, and Pristine Corals: Southern Line Islands
10 days Apr / May / Jun / Jul / Aug, from $7,690 to $16,840
Diving / Snorkeling Note:
We have Dive Equipment onboard 24 with compressors, tanks and all equipment required. Masks/fins/snorkels/dive weights/dive computers etc. Plus, snorkel gear for all 102 guests.
***There is an additional charge of $95 per person for each dive.
Overview
Actively explore every day
Hike tropical trails to some of the most Insta-worthy waterfalls on Earth, or venture inland on a lazy bike ride. Join a glass-bottom Zodiac cruise, glide along verdant shorelines on a kayak or stand-up paddleboard, then cool off with a dip in a crystal-clear lagoon. If you prefer to stay aboard to read in the stillness of the library or indulge in a massage at the Health Spa, that is equally encouraged. There's no one-size-fits-all scheduling ever: you choose your activities, activity levels, and staff members to join daily.
Revel in the remarkable undersea experience – Diving and Snorkeling
From the Southern Line and the Pitcairn Islands, both identified as Pristine Seas sites, to fantastic Fakarava, part of a UNESCO Biosphere Reserve, the South Pacific offers an unparalleled opportunity: to witness intact, vibrantly healthy marine habitats unlike anywhere else on the planet. All of our itineraries take full advantage of this underwater bounty and you'll have numerous chances to dive, snorkel, and swim among brilliantly-hued coral, playful clownfish, gentle mantas, blacktip reef sharks and much more.
Orion carries complete snorkeling gear (yours for the duration of the voyage) for every guest and scuba gear for 24 divers, plus dive masters to oversee every excursion. And, we travel with an onboard undersea specialist and an ROV which takes video images up to 1,000 feet below the surface, far beyond the range of divers. So you'll get incomparable, up-close access to the dazzling marine environments and their inhabitants. For those who prefer to stay dry, the addition of a glass-bottom craft to our fleet of Zodiacs provides perfect undersea viewing opportunities without the need to dive or snorkel.
Connect with the Polynesian culture and people
Thanks to the nimbleness of Orion, and the commitment, logistic skills and connections of our staff, we'll have the peerless opportunity to meet and interact with the friendly and hospitable people who inhabit these remote islands and learn much about their traditional lifestyles. As we sail into a new port we will often be greeted with festive ceremonies native to that particular island. Throughout our itineraries we've arranged to visit ancient archeological sites like the many maraes (sacred meeting grounds), explore intricately carved tiki's, witness traditional dances, and delve into the distinctive cultures for which this part of the world is so well-known.
The following link will allow you to download the Video I for Orion and her voyages!
https://youtu.be/uXFbatys4TU
---
Call Dive Discovery and book today to explore the South Pacific & Polynesia and get your 'exclusive' $200.00 per person on board credit.
(415) 444-5100,
1-800-886-7321
Or email CindiLaRaia@divediscovery.com