Where to stay in Indonesia…
And save 10%?
Triton Bay Divers in Triton Bay, West Papua, Indonesia
DEMA Special
Where the wide range of underwater scenery mirrors the incredible biodiversity!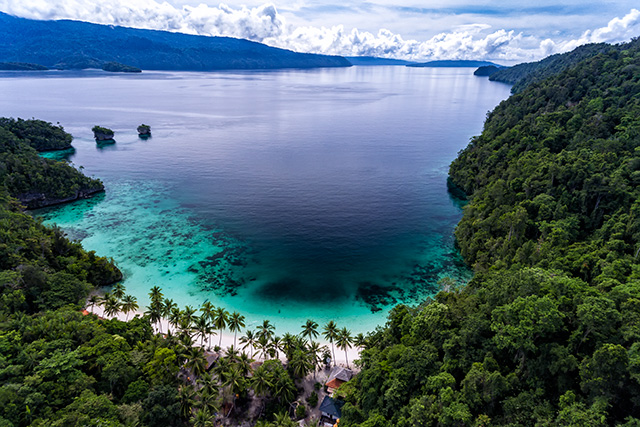 Triton Bay Divers
DEMA Special
10% discount off for bookings made/confirmed before the end of 2019.
Travel anytime.
Cindi says "Everything is bionic, with goliath groupers and platter sized angel fish.
Triton Bay offers very social, photo friendly, big fish!"
Get ready to escape from the stresses and strains of everyday life and enjoy the tranquility above and below the waves on Aiduma Island with Triton Bay Divers!
Being the only dive resort in the area, with just 6 spacious detached bungalows,
they aim to offer a very personalised service and a holiday never to be forgotten.
Dive sites in the bay are home to giant groupers, napoleon wrasse, eagle rays, schooling barracuda
and jacks and a huge range of other reef fish, including clouds of baitfish, anthers, fusiliers and surgeonfish which gather in large numbers to feed on the rich plankton.
Triton Bay is also home to some very interesting macro diving –
including flasher wrasse and pygmy seahorses – and is great for spotting wobbegong and walking sharks.
Triton Bay's dive sites are characterized by beautiful colourful soft corals,
huge black coral bushes that appear green underwater, sheltered bays and reefs,
dramatic overhangs and caverns, walls and pinnacles.
To get more information or to take advantage of this special
Dive Discovery
P.O. Box 9807
San Rafael, CA 94925
(800)886-7321
(415)444-5100
www.divediscovery.com