Home > Diving Tahiti > Tahiti Liveaboards
Haumana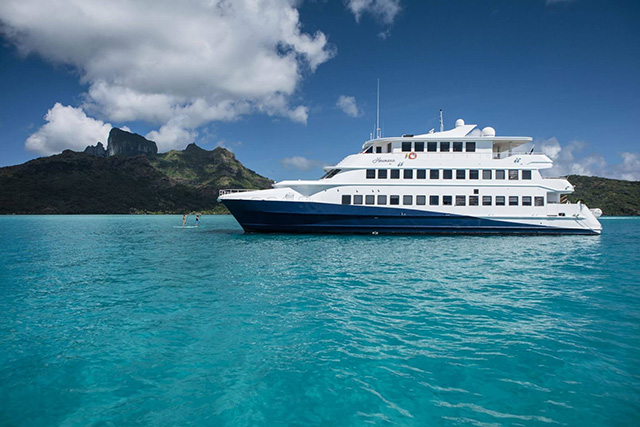 The Haumana is a 35 meters long catamaran built in Australia. It offers 3 nights cruises between the islands of Raiatea, Taha'a and Bora Bora. The ship houses 3 decks with large common spaces, 11 double cabins and one panoramic suite. The small size of the Haumana and its short draught allow us to cruise peacefully and away from the crowds.
At the rear of the ship, on the lower deck, a hydraulic platform gives an easy access to the lagoon, making the use of the water sport equipments (kayaks, paddle boards, snorkeling gear) even easier. From the platform you can also embark aboard our tender to reach the main islands. On the lower deck you will also find the restaurant of Haumana ship where the chef will make you taste the exquisite flavors of the polynesian gastronomy. Our Ninamu cabins are located on this same deck, and at the front of the ship, the sundeck. It is the ideal place to relax and sunbath during the day or to enjoy a romantic dinner under the moon light.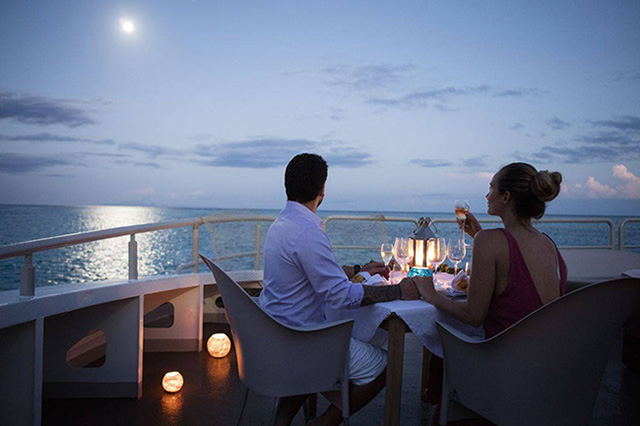 Deck number 2 offers a small outdoor area and the reception of the ship. The 9 Mahana cabins follow and at the front our unique panoramic suite.
From the outdoor staircase you can access the top deck where the bar is located. Booths and lounge chairs are available to watch the stunning panorama passing in front of you. Cocktails can be made upon requests and the chef always makes sure to serve something tasty at tea time. The large air conditionned lounge is great to watch a movie or play games. Eventually at the front of the ship, you may be able to meet our captain on duty at the bridge who will be delighted to share his knowledge about navigation in the Pacific waters.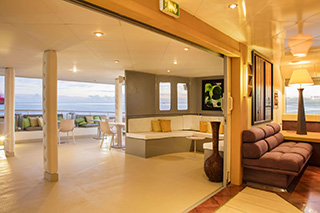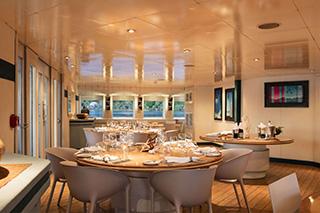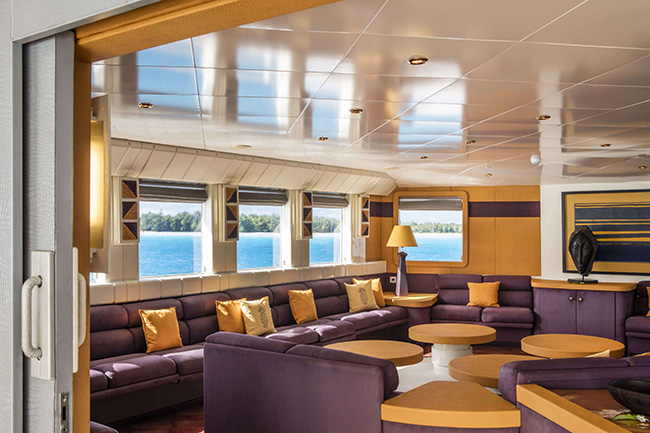 Cabins
Ninamu Cabins (Deck 1)
Mahana Cabins (Deck 2)
Area: 15m²
Large portholes
Queen size bed
Air conditioning
Bathroom with shower, hair dryer and toiletries
Flat screen TV and CD/DVD player
Safe and minibar
Cabin serviced twice daily
Voltage onboard is 220 v/110 v is available in bathrooms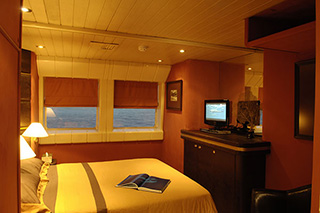 Panoramic Fetia Suite
Area: 35m²
Panoramic view over the front of the ship
King size bed
Air conditioning
Bathroom with shower, hair dryer and toiletries
Flat screen TV and CD/DVD player
Safe and minibar
Cabin serviced twice daily
Voltage onboard is 220 v/110 v is available in bathrooms