Home > Diving Tahiti > Tahiti Liveaboards
French Polynesia Master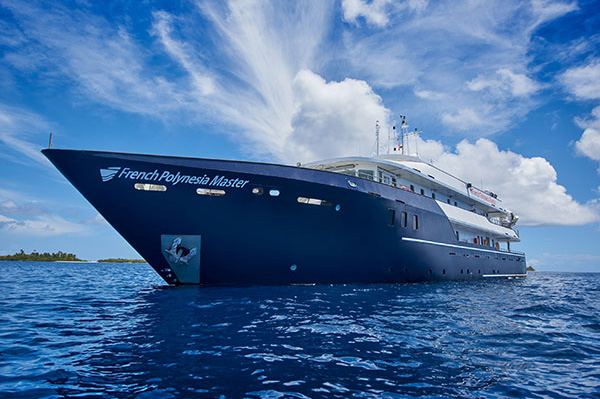 Built of steel, the French Polynesia Master plies the waters of this island archipelago, welcoming aboard 25 guests for 7 or 10 night dive safaris. Our 4 decks provide ample space for relaxation and dive equipment and camera preparation. Our experienced crew will ensure you receive only the highest quality service on your diving vacation.
Built in 2016, the French Polynesia Master has joined the Master Liveaboards' fleet and has now become a fully fledged member. The building process was managed by the experienced yacht building team of Worldwide Dive and Sail, Jan & Frank van der Linde.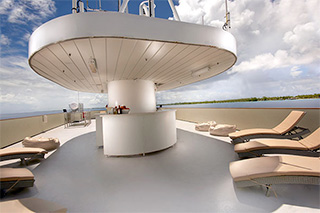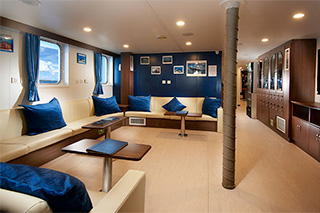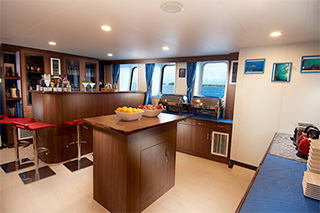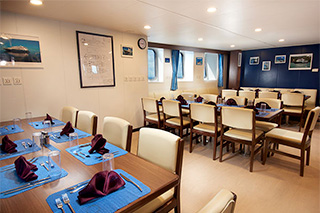 Guests may choose between lower deck and upper deck cabins, each with en-suite and individual air conditioning units. Communal relaxation areas are split between the middle and upper decks; comprising a spacious indoor lounge area, camera set up station and guest storage drawers, with pillowed bench seating and a plasma screen. There is an extra shaded outdoor lounging area to the rear of the upper deck with more cozy seating. Finally, there is a sun deck on the upper level with comfortable lounge chairs from where you can unwind and soak up the stunning views of the French Polynesian islands.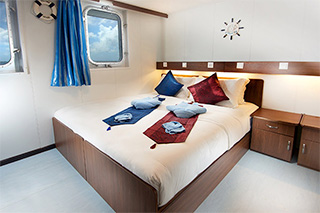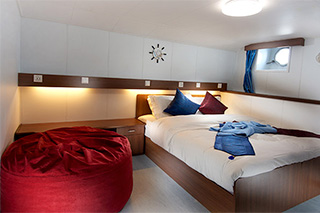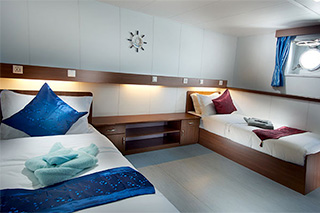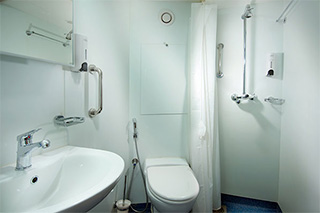 Dive equipment is set up and stored at the rear of the main deck in a dedicated shaded outdoor area. All guests are allocated an individual set up station, with under bench storage for masks, fins and other personal items. A camera table can be used to store prepared equipment ahead of the dive, with dedicated rinsing tanks provided. Divers can make use of the shower hoses on deck or rinse off between dives with the port side deck heads.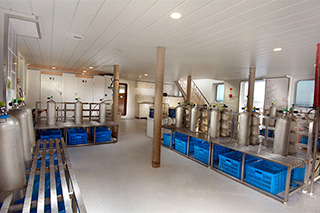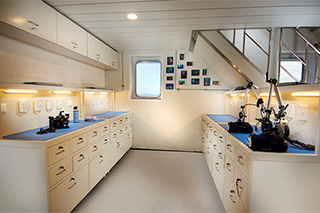 Diving Itinerary
On a typical day we offer up to 4 day dives however the 4th day dive may be substituted for a night dive when the boat is anchored within a lagoon. A 7-night itinerary provides for between 18-20 dives, whilst during our 10-night itineraries, up to 30 dives will be possible.
The diving day aboard the French Polynesia Master is scheduled as follows:- Light Breakfast followed by a briefing and Dive 1. Full Breakfast, relaxation period, briefing and Dive 2. Lunch, relaxation period, briefing and Dive 3. Snack relaxation period, briefing and Dive 4, where possible. Dinner. Guests may also take the opportunity to visit the islands and walk upon the pristine beaches.
Our diving itineraries take you through the Tuamotu Island chain, from Rangiroa to Fakarava, with a choice of 7 or 10 night safaris between these two hot spots, as well as a Fakarava-Fakarava 7-night loop which maximises the time spent in this UNESCO Biosphere Reserve.