Home > Diving South Africa > South Africa Dive Resorts
Rocktail Beach Camp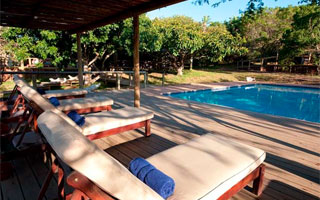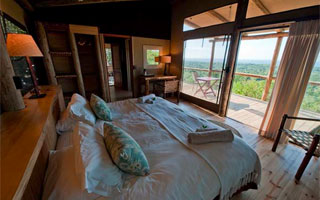 KwaZulu-Natal, South Africa- Pristine is an understatement for this dive eco resort. There is no one else on the gorgeous sand beach and the diving is completely untouched with excellent opportunities for so many marine species all arriving different times of the year. Depending on what time of year you are there, you will have chance to see Ragged tooth and other shark species from December through March with good visibility also whale sharks pass through then as well and turtles hatching on the beach!
December and January into February offer Leatherback and Loggerhead turtles laying eggs, it is a site to see them in the water they are HUGE! Dolphin activity is year round. Humpback whale viewing is June, July & August.
From a scuba diving perspective, Rocktail Bay is unique. Not only is the diving conducted within a Reserve and World Heritage Site along unspoiled reefs, but divers have the luxury of knowing that they alone have access to these sites and are the only underwater visitors along this stretch of the coastline.
Rocktail Beach Camp, en-suite chalets with private verandas are tucked away in coastal dune forest. The main area of the camp offers an inviting lounge, dining room and bar, as well as a wooden deck and pool area. An in-house accredited dive centre and a range of activities make for an inspirational experience.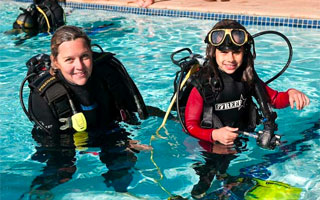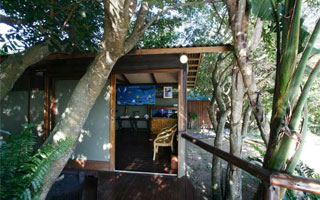 Activities
Diving and Snorkelling
Diving and snorkelling along unspoilt, pristine reefs is accessible to Rocktail guests only, affording opportunities to see colourful marine life, dolphins, whale sharks and the gentle giants of the ocean: humpback and southern right whales. A fully accredited PADI dive centre, run by Mokarran Dive Charters, is located at the camp with a range of scuba diving courses offered, from beginners to advanced diving.
Diving is excellent all year round, with the different seasons bringing a variety of wonders to the coast. One of the highlights in the summer months is diving with docile, pregnant Ragged-tooth Sharks when they migrate up north to our area and rest in the caves in the reefs. For the diver wanting an exclusive diving experience, with small numbers of divers on the reef and the dive boat, Rocktail Beach Camp is the ideal destination.
Trails and Birding
There are a number of forest trails, and of course long walks on the beach, for those wishing to stretch those legs and take in the flora and fauna and abundant birdlife. Guided trails of the beach and forest are also on offer.
Fishing
Keen fishermen, bring along some tackle and try your hand at surf and rock fishing.
Excursions
Trips to Lake Sibaya, Black Rock, the surrounding community and the Gugulesizwe Community Centre are available (at extra cost). Activities at Gugulesizwe include sangoma visits, quad biking and Zulu dancing.
Turtle Drives
The Camp is integrally involved in the Maputaland Sea Turtle Monitoring Project: between mid-October and March, our guides patrol the beach in search of nesting leatherback and loggerhead turtles. Guests can join them on these "turtle drives"; the sight of a 750kg Leatherback heaving herself up and down the beach to lay her eggs must rate as one of the most moving wildlife experiences anywhere.