Home > Diving PNG > PNG Cuture
Goroka Classic Tour, 10 - 22 September 2020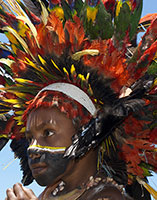 Our "Goroka Classic Tour" is an unescorted 13 day/12 night program. Escorted programs have the same guide throughout whereas with unescorted programs, you still have guides to assist you at each location, the only difference being that guides change at the different locations.
Your journey begins in Mount Hagen in the upper Waghi valley with a night at the luxurious Rondon Ridge, overlooking the Wahgi Valley, a valley unknown to the outside world until 70 years ago. From Mount Hagen travel by charter aircraft into the Sepik Region, for a 3-nights aboard our "floating lodge" the Sepik Spirit. Explore the waterways of the Sepik River and its tributaries.
From there travel across the majestic Central Ranges to Lake Murray Lodge where you will have the opportunity to witness and interact in a number of traditional activities including traditional weaving, face and body painting, and tribal warrior demonstrations.
On the Friday of the show weekend, your charter aircraft will fly you to Goroka for two full days of show festivities before traveling back to Port Moresby.
Itinerary
Thu 10 Sept
Arrive in Port Moresby connect Air Niugini to Mount Hagen. Overnight Rondon Ridge
Sat 12 Sept
Transfer to Sepik Spirit. Afternoon Tour. Overnight Sepik Spirit
Fri 18 Sept
Charter flight to Goroka. Overnight Bird of Paradise Hotel
Sat 19 Sept
Full Day Goroka Show. Overnight Bird of Paradise Hotel
Sun 20 Sept
Full Day Goroka Show. Overnight Bird of Paradise Hotel
Mon 21 Sept
Fly with Air Niugini to Port Moresby. Half Day Tour. Overnight Airways Hotel
Tue 22 Sept
Transfer to international flight out
COST: $8,180 per person (twin share). $9,018 single throughout except twin share on the Sepik Spirit and Bird of Paradise.
Charter Flights: $2,100 per person
Fri 11 Sept Mount Hagen/Karawari
Tue 15 Sept Karawari/Lake Murray
Thu 17 Sept Lake Murray/Mt Hagen
Fri 18 Sept Mt Hagen/Goroka
Special Note Regarding Charters:
Maximum baggage allowance is 10kg per person and a maximum of 5kg carry on baggage per person.Large, hard sided suitcases are not permitted on charter aircraft.
This is an Unescorted Program and Land Cost Includes:
Accommodation,airport transfers and tours on a seat in a bus basis, meals from dinner on 10 September 2020 to breakfast on 22 September 2020, local guides and show gate fees.
Land Cost Does Not Include:
Domestic and international flights, gratuities, visa fees and services of a personal nature such as beverage, laundry charges, phone and fax bills etc.
Important Note:
You are only to book and ticket the domestic Air Niugini flights together with your international flights. We will book the Air Charter flights.
The Air Niugini flights you are to book and ticket are:
Thurs 10 Sept PX186 Port Moresby / Mount Hagen
Monday 21 Sept PX161 Goroka / Port Moresby
For more information
Contact:
Dive Discovery
@
1 800 886-7321
(415) 444-5100
or
Request Info