Home > Diving Mexico > Mexico Dive Tours
3/4 Day Magdalena Bay Whale Watching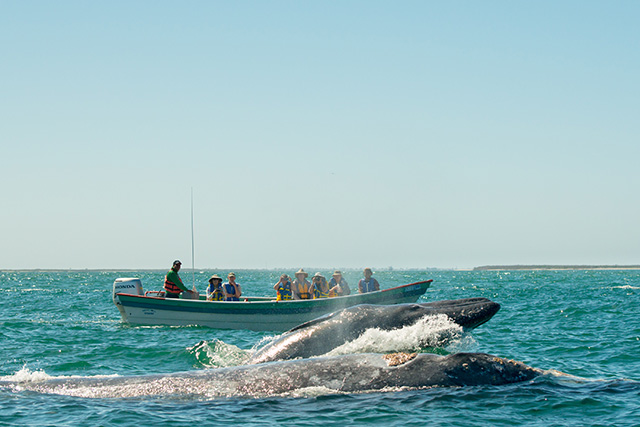 Magdalena Bay is a series of lagoons that are sheltered from the Pacific Ocean. This is where the California Gray Whale mate and bear their young, January through March. Hundreds of gray whales' come to these protected waters after traveling over 5000 miles from the Bering Strait.
On this tour, you can observe the gray whales and discover Magdalena Bay's diverse ecosystem: sand dunes, desert flora and mangrove-lined estuaries. Only ROW Sea Kayak Adventures has exclusive permission to camp on the island. This whale watching tour includes three or four-days at a safari-style base camp situated on a secluded beach at the center of whale activity.
The area around the camp has the highest concentration of whales in Baja. Each day motorized skiffs take you to the deeper waters of Magdalena Bay, where whales swim up to the skiffs to say hello. You can watch the whales and their newly born calves up close and personal. On shore, guides will take you dune hiking, to the beach, and birding in mangrove channels - a hub for migratory shorebirds.
3 Day Trips:
Jan 17, Jan 19, Jan 22, Jan 24, Jan 26, Jan 29, Jan 31,
Feb 2, Feb 5, Feb 7, Feb 9, Feb12, Feb 14, Feb 16, Feb 19, Feb 21, Feb 23, Feb 26, Feb 28,
Mar 1, Mar 4, Mar 6, Mar 8, Mar 11, Mar 13, Mar 15, 2020 - Mag Bay closed by March 20th
4 Day Trips:
Jan 21, Jan 28,
Feb 4, Feb 11, Feb 18, Feb 25,
March 3, March 10, 2020
3 Day Trip: $890 4 Day Trip: $1,160
Whale Watching
Camping
Family Focus
Loreto, Baja California /
Loreto, Baja California
Notes on Itinerary: The itinerary outlined below is our Loreto-based 3-day Whale Camp itinerary. This tour can also be run based out of La Paz. Your reservation letter will include details for your specific tour, including tour hotel, transportation information to either Loreto or La Paz, and more. However, please inquire with you Adventure Consultant if you have any questions at all.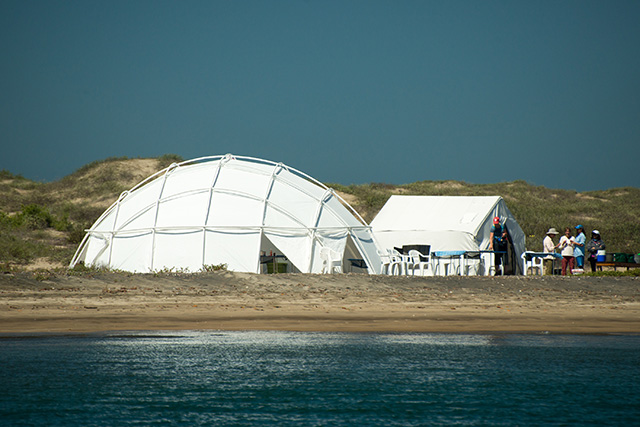 Itinerary
Day 0: Welcome to Loreto in Baja!
Accommodations: Not Included
Meals Included: 0 (travel day)
Day 1: Whale Watching in Magdalena Bay
Accommodations: Camping
Meals Included: L, D
Day 2: Whale Watching in Magdalena Bay
Accommodations: Camping
Meals Included: B, L, D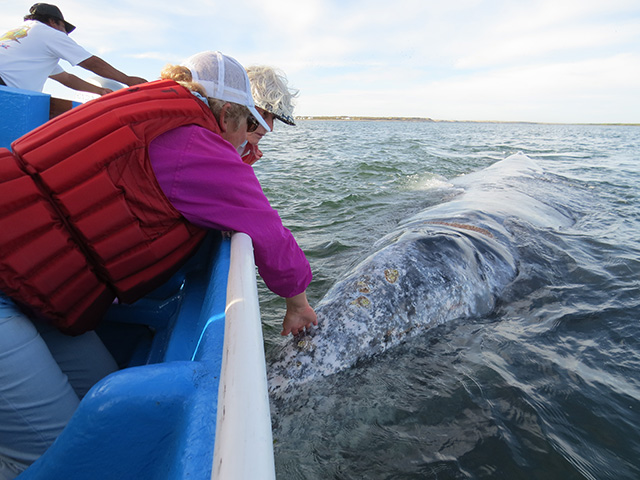 Day 3: Return to Loreto
Accommodations: not included
Meals Included : Breakfast, Lunch
Day 4: Depature Day
Please note: The 4-day Itinerary will follow the same schedule as the 3-day itinerary, but with one more day of whale watching and camping. The first and last day remain arrival (fly in) and departure (fly out) days.
For more information
Contact:
Dive Discovery
@
1 800 886-7321
(415) 444-5100
or
Request Info