Home > Diving Mexico > Mexico Dive Tours
Gray Whale Watching Trips
Baja, Mexico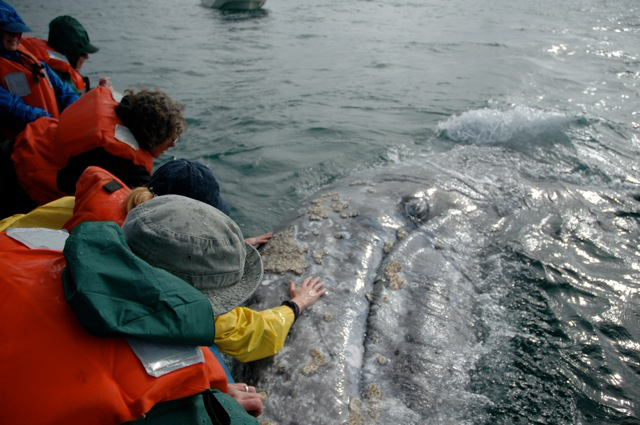 Whale Watching Experience
We offer the best gray whale watching safari camp experience in our Baja trip, in the very best location for gray whale watching in Baja, Mexico, and maybe anywhere. We camp right on the shore of Laguna Ojo de Liebre (Scammon's Lagoon for those of you who have explored the history of this area) and embark on boat trips within view of whale watching camp. You can enjoy the walk along the beach or we'll drive you up to the dock to board the boats in our Baja whale watching camp. This lagoon is a favorite place for gray whales to have their babies and teach them to get their swimming rhythm. This already may sound too good to be true if you've tried gray whale watching where the whales are just swimming by.
A fact that makes this trip great, the gray whales gather here (you might think of this as their winter vacation spot). Our guests have enjoyed the experience of watching baby gray whales, just after being born, learning to surface and take breaths. We watch gray whale babies come right up to our boats (as you can see in the images below), sometimes against the desires of their mothers; not to worry, when the mother is ready to move on, she guides the little one away, once she's had the chance to look around and meet inquisitive people above. The adults are often just as interested in the faces peering over the side of the boats and love the interactions as well.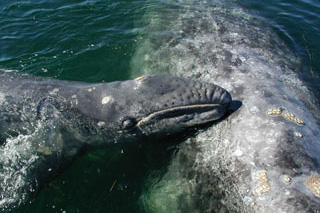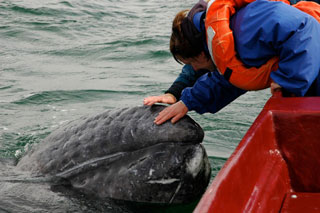 This tour will take you by airplane from Ensenada, Baja California Mexico to Guerreo Negro and our seaside camp at Laguna Ojo de Liebre. Here you can watch whales right from camp, but that is just the start. You boat trips will take you out for your up close whale watching experience. All of this will create a trip to remember. For your convenience you can also meet us in San Diego and we will transport you back and forth across the Mexico/USA border to meet the plane in Ensenada.
Camp Amenities
What's in our tents
Real bedroom size at 10' X 14' with standing headroom even for those of us 6 foot tall.
Rugs on the floor.
Comfortable beds with soft mattresses, fluffy comforters, warm fleece blankets & cushy pillows.
Warm and cozy robes to slip on for showering or relaxing as you watch whales from your bed.
Convenient clothing and gear storage with molded hangers convenient open basket style storage.
Showers & toilets
Gas fired water heaters to provide 24 hour instantly hot water. Large and convenient to use.
Real flush toilets like in most homes.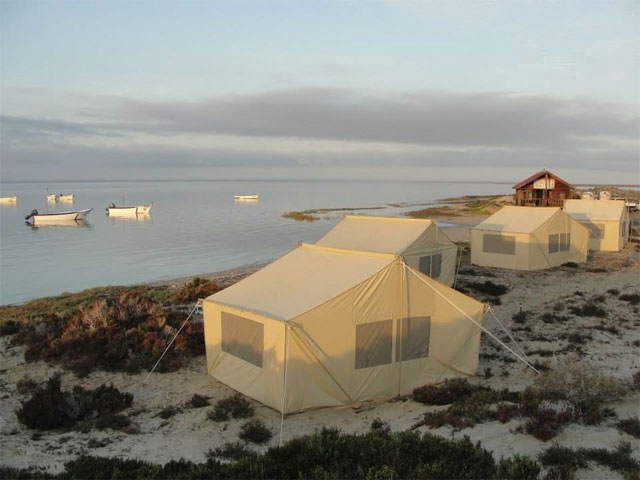 When:
February 5 through April 6, 2018
Where:
Laguna Ojo de Liebre, Baja California SUR, Mexico
Length of Trip:
4-days to 8-days
Itineraries:
Download detailed itineraries
DATES & COSTS: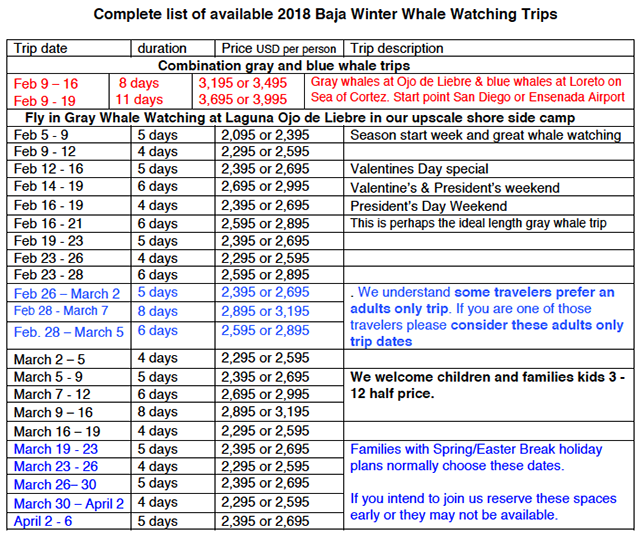 For more information
Contact:
Dive Discovery
@
1 800 886-7321
(415) 444-5100
or
Request Info